Rosa Khutor, Russia – It took only one kick-out at the top of a rugged moguls course on Saturday night for Canadian Justine Dufour-Lapointe to take the gold medal from the reigning Olympic champion and heavy Sochi favorite, Hannah Kearney of Norwich, Vt.
Canada (and Montreal's Dufour-Lapointe family) scored a one-two punch during a fierce women's moguls super final at the 2014 Sochi Olympic Winter Games on Saturday night as Justine's older sister Chloe took the silver.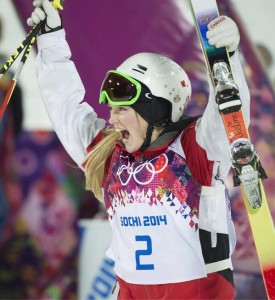 "It's just awesome," said Justine. "Today I gave my all, I gave my heart."
"We skied the best we could ski for Canada," added sister Chloe.
The veteran Kearney reigned in a wild run to earn an Olympic bronze. While not the gold that she wanted and expected, Kearney joined fellow American Shannon Bahrke as the second double medalist in her sport.
"I wanted that gold medal. And I skied great," said an emotional Kearney as she fought through tears at the post-event press conference. "But I made a few mistakes. And you don't win the Olympics when you make mistakes. I'm proud to contribute to the medals count for Team USA at the Olympics. But right now I'm very disappointed."
This year's competition featured a new format that required a total of three final rounds for the top six skiers. On Saturday the top 20 athletes, based on previous qualifications, skied a run apiece with the top 12 of that round advancing to finals. Then the top six from the first final round advanced to the super final round to compete for the podium. Hamden, Conn.'s Eliza Outtrim also advanced to the final, finishing sixth in her first Olympic appearance while Heather McPhie, of Bozeman, Mont., qualified for the semifinal Saturday but just missed the bump up to the 12-person final, finishing 13th.
"I think my best run was in the first final, unfortunately," said Outtrim. "This new format is a huge game of consistency, so I think it was hard for me to keep that consistency all the way through. And this course is not forgiving at all. You get a little bit off and it's really hard to get back, and I was pretty much just saving myself in that last run."
The men take to the moguls venue today.
OFFICIAL RESULTS
2014 Olympic Winter Games
Sochi/Rosa Khutor, Russia – Feb. 8, 2014
Women's Moguls

Rank
Start Order
Bib
Country
Name
Score
1
4
2
CAN
Justine DUFOUR-LAPOINTE
22.44
2
5
3
CAN
Chloe DUFOUR-LAPOINTE
21.66
3
6
1
USA
Hannah KEARNEY
21.49
4
1
12
JPN
Aiko UEMURA
20.66
5
3
8
AUS
Britteny COX
19.43
6
2
7
USA
Eliza OUTTRIM
19.37