Rosa Khutor, Russia – California's Jamie Anderson cleaned up her second run to earn the first-ever women's slopestyle snowboarding gold medal on Sunday at the 2014 Sochi Olympic Winter Games.
"This is definitely the biggest stage in the world for sports," said Anderson, 23, of South Lake Tahoe. "After getting second at X Games last week I was really passionate and determined to come out here and do my best and do everything I can to be my strongest, most grounded calm self even with the hype of everything on the outside world. It just feels out of control. I can't even explain what I'm processing now."
Following a disappointing first run score of 80.75, Anderson's smooth style during her final run secured her the gold with a much improved score of 95.25, vaulting her to the top of the podium ahead of Finland's Enni Rukajarvi and Great Britain's Jenny Jones, who took silver and bronze, respectively.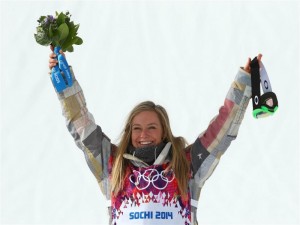 "There was so much anticipation leading up to this event, and you just have to be able to calm your mind and really believe and have that trust and faith that you are really capable of doing what you want to do," admitted Anderson, a pre-event favorite for the gold, following her medal-winning final run that consisted of a gap to noseslide, 50-50 back 180, cab 180 butter to back 180 off the cannon, cab 720 tail, switch backside 540 Indy and frontside 720 mute. "Especially after watching Sage take the gold yesterday, I was extra inspired to come out here and do my best."
With her third-place result, Jones, who at 33 was the oldest competitor in Sunday's medal event, earned the U.K.'s first-ever medal of any color in a snow event in 90 years of Winter Olympic history.
Team USA's Karly Shorr, of Milford, Mich., rode into sixth in the women's final, while Stowe, Vt.'s Ty Walker and Jessika Jenson, of Rigby, Idaho, finished 13th and 14th respectively, just missing the cut for the 12-person final.
Next up for Olympic snowboarding is men's halfpipe on Tuesday, followed by women's halfpipe on Wednesday.
OFFICIAL RESULTS
2014 Sochi Winter Olympic Games
Sochi/Rosa Khutor, Russia – Feb. 9, 2014
Women's Snowboard Slopestyle

Rank
Bib
Country
Name
Run 1
Run 2
Best Score
1
18
USA
Jamie ANDERSON
80.75
2
95.25
1
95.25
2
8
FIN
Enni RUKAJARVI
73.75
4
92.50
2
92.50
3
1
GBR
Jenny JONES
73.00
5
87.25
3
87.25
4
3
SUI
Sina CANDRIAN
77.25
3
87.00
4
87.00
5
17
CZE
Sarka PANCOCHOVA
86.25
1
20.00
11
86.25
6
22
USA
Karly SHORR
39.00
10
75.00
5
75.00
7
11
AUS
Torah BRIGHT
64.75
6
66.25
6
66.25
8
5
SUI
Isabel DERUNGS
58.50
7
15.25
12
58.50
9
20
SUI
Elena KOENZ
24.50
12
54.50
7
54.50
10
14
AUT
Anna GASSER
49.00
9
51.75
8
51.75