Salt Lake City, UT – Snow falling on the Wasatch yesterday is a sure sign that another Utah ski season is on its way. Utah's 15 ski resorts (yep, you read that right –Utah now has 15 resorts) have been hard at work all summer adding new terrain, new lifts, on-mountain enhancements, luxury accommodations, preparing anniversary celebrations and packages.
ONE WASATCH
In September, seven Utah ski resorts released a new map detailing lift alignments of a potential connection for an over-the-snow interconnect via chairlift and ski runs called ONE Wasatch. ONE Wasatch would offer the largest lift-served experience in North America – over 18,000 acres, 100 lifts and more than 750 runs, all on one pass.
For now, Ski Utah and its partner resorts are in the public opinion influencing stage for implementation of the ONE Wasatch concept. Actual construction would depend upon the willingness of the affected resorts to submit applications for the permits necessary to construct the lifts and marked ski runs necessary to link the resorts. Proponents assert, however, that all could be accomplished entirely on privately owned land.
PACKAGES AND VALUES
Hop on a flight to Salt Lake City and ski within 24-hours of arrival for 50% off at Alta Snowbird. With the Boarding Pass program, convert your boarding pass into a half-price lift ticket. This offer is valid only within 24 hours of arrival, Monday through Friday. Guests must pre-register online prior to flight departure. Upon arrival, present registration confirmation email, your boarding pass and photo ID.
Stay at Sundance Resort and Ski Free. Book your stay in a luxurious cottage at Sundance Mountain Resort and receive two free lift passes per night of stay; this offer also includes night skiing on Monday, Wednesday, Friday and Saturday evening. Tickets are also good for the Sundance Nordic Center.
Sundance is also celebrating their namesake film festival with a new package. Experience the Sundance Film Festival at Sundance Mountain Resort from January 15-25, 2015. Escape to the tranquility of the Sundance Resort and enjoy Film Festival Screenings, dining and skiing with your choice of the Sundance Resort Epic Package or the Epic Premier Package. The Sundance Mountain Resort's special Film Festival packages offer the best of both worlds.
At Brighton Resort, kids 7 and under always ski for free.
Savings can top 60% at Eagle Point Resort in Southern Utah with its new "Kids 17 and under ski/ride for free" lodging packages. Savings will vary, depending on lodging selected and a group's number of skiers/riders ages 7 to 17, each of which will receive a free lift ticket for each night's stay.
EPIC IN UTAH
Park City Mountain Resort (PCMR) is now part of the Epic Pass, after Vail Resorts purchased the resort this fall. The Epic Pass now offers skiing at two resorts in Utah, PCMR and Canyons Resort, and 20 additional resorts around the world. In addition, access to PCMR is also included on the Epic 4-Day, Epic 7-Day and Epic Local Pass this season. Ski over 7,000 acres in Utah this winter with the Epic Pass.
ANNIVERSARIES
Utah's newest resort, Cherry Peak Resort, is opening this season in Northern Utah and is the first ski new resort to be built in Utah in decades. Located just 15 miles from Logan, Utah, the resort features three triple chairlifts, a comprehensive snowmaking infrastructure, ice skating, tubing and night skiing.
Celebrating 75 years in business, Beaver Mountain Ski Area has stood the test of time as a great skiing and riding area. Located in the northeast corner of Utah, Beaver Mountain continues to be family owned and will celebrate throughout the season with events and lift ticket specials.
A lot has changed in the 50 years since Brian Head Resort opened with a single chairlift in the winter of 1964-65. Brian Head is now one of the best family friendly ski resorts in the country with extended terrain, tubing, night skiing and more. The resort is celebrating its golden anniversary with a much anticipated improvement: a high speed detachable quad chairlift, and lift ticket deals and events throughout the season.
NEW EATS
Deer Valley Resort opened The Brass Tag restaurant, located in the Lodges at Deer Valley. Serving dinner nightly year-round, this new restaurant will feature Deer Valley inspired comfort food and specialize in brick oven cuisine.
One of the newest dining venues in Park City is 'Burgers & Bourbon,' open from 3 to 10 PM at Montage Deer Valley and featuring the state's largest selection of whiskeys from all around the world – more than 100 large – and small-batch purveyors presented in a tome called 'The Book of Bourbon.' Hand spun shakes can be served with a signature 'spike' selected for each flavored malt. Eight signature burgers range from Wagyu to Ahi Peppercorn, Turkey, Bison and Veggie – crafted using artisan cheeses and vegetables from Utah farmers and dairies. Even the bun comes from the Pierre Country Bakery in Salt Lake City.
NEW TERRAIN
Alta Ski Area spent the summer re-grading the well-known Corkscrew run. This will make it possible for intermediates to have a wide-open descent from the top of Collins down to Alta's Wildcat Base and give expert skiers a chance to ski Alf's High Rustler uninterrupted from top to bottom after early snow fills in the run.
Nordic Valley Resort (previously known as Wolf Mountain) was acquired in 2014 by Skyline Mountain Base, LLC. Nordic Valley is being significantly upgraded with new trails, a makeover of the skier services barn, year-round events and more. Mapping and cutting of new trails will add 700 to 800 vertical feet to the current 1,000-foot ski hill.
Eagle Point is expanding their Park Lab Terrain Park, created by ParkFab. It will offer 12 new features with progressions for all levels. These will include several features from the Campus Rail Jam, which will complement Park Lab's existing 30-foot Junkyard Satellite Dish, 20-foot six-inch Single Barrel Rail and 10-foot Launch Rail, creating one of the largest terrain parks in the region.
NEW LIFTS
Brian Head Resort is replacing the existing Giant Steps lift, reducing the ride time to the top of Giant Steps Mountain from 12 minutes to just five, providing customers with more time on the slopes and less time on the chair.
Eagle Point Resort is installing a new surface lift for advanced and expert skiers and riders. The new Tushar Peaks Surface Lift will serve Southern Utah's steepest black diamond runs: Delano Drop, Satisfaction, Donner's Descent, Missing Linc, Runaway Carter and Vertigo. Previously, these tree-lined runs were accessible only by hiking or occasional snowcat service.
ON-MOUNTAIN ENHANCEMENTS
Deer Valley Resort refreshed the interior of the Main Street Signature store and expanded the Artisan Cheese making facility in Silver Lake Lodge. In addition, they invested heavily in on-mountain equipment including four portable full-automatic SMI fan snow guns, replacing 20 ultra-efficient stick guns and 2,000 feet of pipe, purchased five new Prinoth snowcats and 34 new EPA-approved Ski-Doo mountain snowmobiles.
Canyons Resort is completely re-vamping Cloud Dine for the 2014-15 season. It will almost double in size and increase seating capacity. The new building will be almost 7,900 square feet, with an outdoor deck space of about 850 square feet. Is it scheduled to open December 1, 2014.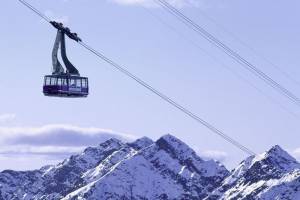 Snowbasin Resort is striving to improve its grooming with the addition of three Prinoth snowcats. With the addition of these three snowcats plus two from last year, Snowbasin's grooming will not only be the faster but more consistent and pristine. The resort also invested in new snowmaking equipment with 30 new Rubis Evo snow guns, an energy efficient gun that produces high quality snow.
Construction has begun on the new mountaintop facility on Hidden Peak at Snowbird Ski and Summer Resort. Although the facility will not be ready until winter 2015-16, guests can look forward to a new building that will house a restaurant, ski patrol, restrooms and space for guests to sit and enjoy the spectacular scenery.