Sandy, UT – The 2014 Utah Adventure + Gear Expo opens its doors for another season of outdoor adventure and mountain recreation this Friday and Saturday at the South Towne Expo Center in Sandy. The event is the largest public exposition in the state for outdoor action sports, recreation, outdoor gear, and resources, which includes skiing, snowboarding, cycling, mountain biking, running, camping, climbing, and adventure travel.
This season's Adventure + Gear Expo welcomes well-known extreme sports athletes from the X-Games, MTV's Nitro Circus, and Fuel TV's Thrillbillies to showcase their skills on a 30-foot mega ramp. Also, for the first time at the Adventure + Gear Expo, a 15-foot mini-mega ramp jump to a cushioned air bag landing and the Thrillbillies base-jumping experience will be open to the public all weekend.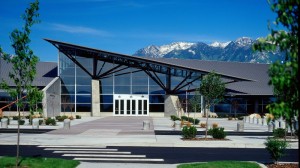 Sandy City has partnered with the Adventure + Gear Expo as Utah's exclusive host of the Mountainfilm in Telluride Festivals' Mountainfilm on Tour. As one of America's longest-running film festivals, Mountainfilm is dedicated to educating, inspiring, and motivating audiences about cultures worth exploring, environments worth preserving, adventures worth pursing, and conversations worth sustaining. The festival includes two films (Desert Ice filmed in Zion National Park and Off-Width Outlaw filmed in Indian Creek). Also screening at the expo is El Sendero Luminoso, a film created by the local film company Camp2Collective.
The Adventure + Gear Expo will also host the free Light Up Sandy 5K Fun Run at 6:30 p.m. on Friday. The 5K run will begin on the north side of the South Towne Expo Center and continue south for 1.5 miles on the Porter Rockwell trail. Runners are encouraged to don glow sticks, reflectors, and anything that lights up.
Additionally, the expo will feature other demos and activities, including an indoor mountain bike track by Wasatch Indoor Bike Park and Alpine Trails, fat bike demos by Mad Dog Cycles, Salsa Cycles and Quality Bike Products (QBP) demos, longboarding and half pipe demos, indoor climbing walls and an avalanche safety clinic by Black Diamond and Utah Avalanche Center.
With more than 80,000 square feet, outdoor enthusiasts can browse a wide variety of local retailers and manufacturers and get special offers on outdoor gear.  A few vendor highlights include Toyota's full line of adventure-ready mountain vehicles, and local outdoor companies such as Niche Snowboards, Cotopaxi, Kitten Factory Skis, WSD Custom Skis, Black Diamond Equipment, Discrete Clothing, Coalatree Organics and more.
The Expo will run from noon to 9 p.m. on Friday, and 10 a.m. to 8 p.m. on Saturday. The South Towne Expo Center is located at 9575 South State Street in Sandy. Admission costs $10 at the door, or $8 online at adventuregearexpo.com. Children ages 6-12 cost $5 to enter.