Harbor Springs, MI – Boyne Highlands Resort in Harbor Springs is offering the chance for ladies to ski with former U.S. Ski Team member and highly regarded coach and instructor, Lisa Densmore, with a clinic happening Jan. 30-31.
During the Your Turn Women's Ski Clinic, the weekend begins on Friday evening with a boot fitting analysis, followed by a meet and greet with Densmore.  Saturday's day starts with a presentation from Densmore on the "Trends in Women's Ski Gear" during a continental breakfast, before selecting demo skis to test out, and heading to the slopes for a total of four hours of group skiing, individual video analysis, lunch, and après ski reception.  A Saturday night dinner with Densmore is optional.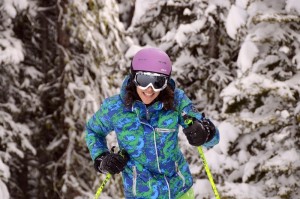 Densmore was a member of the U.S. Ski Team in the late 70s and a six-year veteran of the Women's Pro Ski Tour in the late 80s.  Today, she is a standout on the master's circuit with four world titles and 76 national titles across all alpine disciplines.  In addition to competition, Densmore has been a highly regarded ski instructor and coach for over 20 years.  Since founding Your Turn Women's Ski events, over 6,000 women have had breakthroughs in their skiing while participating in Densmore's clinics.
Participants should be able to ski intermediate to advance level terrain, comfortably tackling blue and black-rated slopes. The Your Turn Women's Ski Clinic at Boyne Highlands costs $140 per person, or $80 for 2014-15 Boyne passholders.  Space is limited.  For reservations, call the Boyne Highlands SnowSports Academy at (231) 526-3056.