Mammoth Lakes, CA – On August 24th, one of skiing's true living legends turned 100 years old.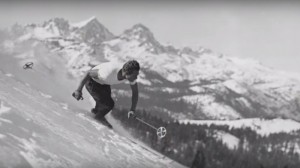 Dave McCoy began skiing in 1936 and racing in competitions throughout his home state of California until he sustained a serious leg fracture that sidelined his racing career. As a hydrographer for the City of Los Angeles scouting the snow pack, McCoy first visited Mammoth Lakes in the 1940s when a total of only six people lived in the town.  During World War II he first erected a rope tow on Mammoth Mountain's lower slopes. The development of Mammoth Mountain into the world-class resort that it is today would become McCoy's labor of love.
Today, Mammoth is the third most-visited ski resort in the country, and it's all because of McCoy's unique vision. He's absolutely beloved in the Eastern Sierra for his outstanding contributions to skiing in North America.
McCoy was inducted in to the U.S. Ski and Snowboard Hall of Fame in Ishpeming, Mich., in 1967, the year that his daughter, ski racer Penny McCoy, won the U.S. National Slalom Championship. She was herself added to the Hall's honored members in 1978.