Vadito, NM – Skiers can make their first turns of the season in New Mexico this weekend when Sipapu Ski and Summer Resort opens at 9 a.m. this Saturday, signifying its 13th consecutive season opening first in the state.
Sipapu's snowmaking crew began making snow last week and was able to produce snow almost every night since last Thursday.  These efforts will help establish a good base to supplement what Mother Nature provides.
"With all the mountain improvements happening at our resort, becoming the first ski area to open in New Mexico has always been a priority," stated John Paul Bradley, Sipapu's mountain manager. "In addition to making their first turns of the season, guests will also be able to see firsthand the progress we've made on Sipapu's new quad chairlift, which is opening soon."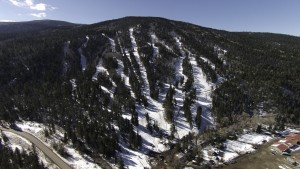 This winter, Sipapu will debut its first new quad chairlift, which services popular beginner and intermediate trails, and a new trail directly under the lift.  The new quad is the third lift the resort has installed in less than five years, and beginner and intermediate trails are also being widened.
Additional snowmaking infrastructure, including a new snow gun and a second booster pump at midway, has been installed to help bolster the snow base on Sipapu's trails that are the first to open and last to close at the ski area.  The new snowmaking equipment allows crews to cover its slopes more efficiently with more snow.
"Our hard working mountain team has been working around the clock to kick off New Mexico's ski and snowboard season this Saturday," stated James Coleman, managing partner of Sipapu Ski and Summer Resort. "With a strong El Niño in the forecast, Sipapu is set to have a phenomenal season."
Sipapu will open Saturday through Monday, from 9 a.m. to 4 p.m. each day.  The ski area will then temporarily suspend operations to allow mountain operations crews to continue making snow in order to open additional terrain. Sipapu will be open every day for Thanksgiving week starting Nov. 20 through Nov. 29.  Daily operations at the ski area begin Friday, Dec. 4.
All lift tickets are discounted for opening weekend:  $25 adults, $19 teens (ages 13-20), and $15 for kids (ages 7-12) and seniors (ages 61-69). Kids ages 6 and younger, and guests who are ages 40, 60 or 70 years and better receive a free lift ticket everyday of the season. Kids in fourth and fifth grades also get a free lift ticket simply by presenting a report card.
Additional information on lifts that will be operating and trails are open for opening weekend will be provided by Sipapu officials later this week.