Bozeman, MT – A lone backcountry skier has been hospitalized in southwestern Montana after being impaled in the groin by a tree branch.
The Gallatin County Sheriff's Office has confirmed that the unidentified skier, a man in his 20s, was skiing alone in the History Rock area of Hyalite Canyon south of Bozeman, a low-angle area popular with backcountry skiers, when the incident occurred on Wednesday.
"The impalement occurred in the groin and was bulging near the belly button," Sheriff's officials indicate.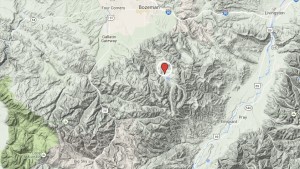 The skier began walking out on his own when he located another group of seven skiers, who assisted him in building a fire as they dispatched several members of the group to lead rescuers to the scene. Along with specially trained medics, members of Gallatin County Search and Rescue located the injured skier and used a backcountry rescue helicopter to transfer the victim to a waiting Summit medical helicopter.
The skier was then flown to Bozeman Deaconess Hospital, where he remains hospitalized as he recovers from his injury.
Gallatin County officials have already been busy this young ski season rescuing backcountry skiers. Last week, Sheriff's Search and Rescue units from searched for a 20 year old man from Big Sky who had been reported missing after backcountry skiing in Beehive Basin. Although the skier did not have a GPS or transceiver to communicate his location, Big Sky Search and Rescue personnel located the man unharmed and in good health at 9:31 p.m., nine and a half hours after he had been reported missing.
Gallatin County Sheriff Brian Gootkin is reminding everyone that skiing in the backcountry can be dangerous, and urges skiing with a partner, notifying people of your location and bringing the appropriate equipment.