Aspen, CO – Saturday was a historic day at the Nature Valley Aspen Winternational, as Colorado's Mikaela Shiffrin overcame her giant slalom disappointment from Friday and dominated her World Cup competitors by over three seconds to take the first American slalom win at Aspen since 1981.
It had been a high and dry 34 years, with no American standing on top of the Audi FIS Ski World Cup podium at Aspen since Tamara McKinney won in 1981. And Shiffrin didn't just break the record; she annihilated it, winning the race by 3.07 seconds. That margin broke yet another record—it was the largest women's slalom win margin since 1968.
"It's a special day. I was a little bit nervous, but I handled it well," said Shiffrin. "My skis were great. Everything set up perfectly. I don't know if the stars will ever align like that again."
Shiffrin finished ahead of Veronika Velez Zuzulova of Slovakia and Frida Hansdotter of Sweden. "I really charged! I fought hard in the second run," said Shiffrin, who crashed two gates from the finish in Friday's GS to give up the win in that race. "[Yesterday] was a big disappointment, so I had some anger. I took that into today.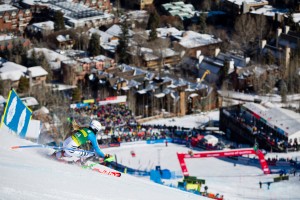 "Yesterday after the race I went back to my hotel room and I watched my run and I saw myself fall I was like, 'Oh my gosh, what were you doing?' as I don't fall very often," Shiffrin elaborated. "You have to learn the hard way and I am never going to lean into the second to last gate of the course. Yesterday I made the decision to let it fuel me for today."
Resi Stiegler, of Jackson, Wyo., was the only other American to make the flip, taking 15th place. It was her first race back after her knee injury.
"I was really nervous today. It was my first World Cup back and I did some intense coming back this time! I wasn't really sure where I was standing," said Stiegler. "I just went for it and tried to learn a lot since luckily we have two World Cups. We can really take something from today into tomorrow."
"My teammate Resi Stiegler gave a pretty epic course report," Shiffrin explained. "She said 'this thing is a ripper.' When you get through that flush and come over the breakover to the last pitch, she said, 'that's your section!'"
Lake Tahoe's Lila Lapanja — who was racing her first World Cup —and Paula Moltzan of Minnesota did not finish first run.
Shiffrin and her teammates will race slalom again on Sunday before she heads to Lake Louise for the super G. The race will air live in NBC at 3 p.m. ET.
OFFICIAL RESULTS
FIS Alpine Ski World Cup
Aspen Winternational – Aspen, Colo. – Nov. 28, 2015
Women's Slalom
| | | | | | | |
| --- | --- | --- | --- | --- | --- | --- |
| Rank | Nation | Name | Run 1 | Run 2 | Total | Diff. |
| 1 | USA | SHIFFRIN Mikaela | 48.01 | 51.80 | 1:39.81 | |
| 2 | SVK | VELEZ ZUZULOVA Veronika | 49.39 | 53.49 | 1:42.88 | +3.07 |
| 3 | SWE | HANSDOTTER Frida | 49.83 | 53.24 | 1:43.07 | +3.26 |
| 4 | CZE | STRACHOVA Sarka | 50.02 | 53.67 | 1:43.69 | +3.88 |
| 5 | SWE | PIETILAE-HOLMNER Maria | 51.16 | 53.80 | 1:44.96 | +5.15 |
| 6 | FRA | NOENS Nastasia | 50.73 | 54.33 | 1:45.06 | +5.25 |
| 7 | SUI | HOLDENER Wendy | 51.30 | 53.78 | 1:45.08 | +5.27 |
| 8 | CAN | GAGNON Marie-Michele | 50.88 | 54.38 | 1:45.26 | +5.45 |
| 9 | SWE | HECTOR Sara | 51.37 | 53.94 | 1:45.31 | +5.50 |
| 10 | CAN | MIELZYNSKI Erin | 51.25 | 54.22 | 1:45.47 | +5.66 |