Alta, UT – Ski resorts near and far are planning special festivities to celebrate the New Year and entertain holiday week guests, including fireworks, torchlight parades, champagne toasts and family-friendly options.
In Utah, Alta Ski Area will host its annual Torchlight Parade. Skiers will start loading the resort's Collins lift at 5:15 p.m., disembarking at the angle station for the ski down. This is one of the few torchlight parades open to the general public — anyone capable of skiing a groomed intermediate run slowly and confidently in low light can participate, and there's a $10 entry fee with all proceeds going to Utah Food Bank. Tickets are now available at the Wildcat and Albion ticket offices, as well as the Skier Services building. Children need to be accompanied by an adult and will need to have their own headlights or flashlights, while torches will be available for adults and creative light options are welcome. Dress warmly, get creative with your lighting and join other Alta skiers for a family-friendly night of fun.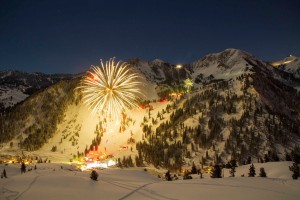 At Sun Valley Resort in Idaho, many things are planned including night skiing under the lights at Dollar Mountain, dancing the night away at the Duchin Lounge, bowling and ice skating, just to name a handful of activities throughout the day and evening.
Sun Valley's New Year's Eve activities begin at 10:00 a.m. with ice skating at the outdoor rink with music, family and friends until 8:00 p.m. Rentals are available.  Starting at 11:00 a.m., the fun can move indoors to the renovated bowling alley in the Lodge. Get ready to hit some pins and enjoy the last day of 2015 until 11:00 p.m. The bar and video games will be available until 12:30 a.m.
Once the sun goes down on 2015, the lights will go up with night skiing at Dollar Mountain. Get some turns in before midnight by hitting the slopes from 5:00 p.m. to 9:00 p.m. S'mores, music and fun terrain will make for a memorable last day of the year. Tickets are $29 for adults and $19 for kids who are 12 years old and younger. Kindercare will be available for children ages 18 months – 7 years old during that time on the mountain. Children can enjoy crafts, cookie decorating, hot cocoa and stories.
New Year's Eve would not be complete without dancing at the Duchin Lounge to the sounds of Brooks Hartell from 7:30 p.m. to 12:30 a.m. Also, if you already have your ticket, you can hit River Run Lodge for the annual Sun Valley Center for the Arts Bubbly Bash, starting at 9:00 p.m.
Live music will be happening at Sun Valley's base lodges on New Year's Eve and New Year's Day. The Andrew Shepard Band will be playing from 2:30 p.m. to 5:30 p.m. at Warm Springs Lodge on Thursday and Friday. The Maw Band will be kicking off 2016 at River Run Lodge from 2:30 p.m. to 5:30 p.m. on New Year's Day.
Back in Vermont, the New Year arrives early at Okemo Mountain Resort. Okemo turns New Year's Eve into a family celebration by moving midnight forward, allowing families with young children to ring in the New Year with events, activities and fireworks from 5 to 9 p.m., and still get a full night's sleep.
Following early evening mountain coaster rides, horse-drawn wagon rides, magic shows, ski movies, arts and crafts, marshmallow roasting, bounce-house bopping, a climbing wall, bingo games and a trivia tournament, families can ring in the New Year early with a DJ Dance Party and Pizza Buffet – and still get the kids to bed in time for a full day on the slopes the next day. Okemo's mascot, Calvin the Catamount, will lead the kids in some fun party games. Dux the balloon man will entertain party goers, plus there will be a photo booth, noisemakers and a 9 p.m. fireworks display to add to the New Year's Eve celebration at Okemo's Jackson Gore.
Okemo's New Year's Eve Activity Wristbands cost $35 for access to all activities excluding the Pizza and Dance Party. Timber Ripper Mountain Coaster rides are sold separately. Activity Wristbands that include the New Year's Eve Dance Party and Pizza Buffet at Jackson Gore's Roundhouse are priced at $45 for children 2 to 6, and $50 for ages 7 and up. Children attending the Pizza and DJ Dance Party must be accompanied by a parent.
This year's party at Pats Peak in New Hampshire, "New Year's In Motion", features skiing, snowboarding, snowtubing, a comedy show, Monte Carlo for raffle prizes, dancing to the sounds for The McMurphy's, and a midnight fireworks display, all the while sampling three tasting stations of Pats Peak's own gourmet chef, Guy Pelletier. Guests are invited to enjoy a range of entertainment that's suitable for families. The Comedy Show Line Up includes comedians Mark Scalia (Las Vegas, Comedy Channel), Mitch Stinson (Comedy Central, Boston area headliner) and opening act Joe Espi.
The party begins at Pats Peak at 6 p.m., and the slopes are open until 10 p.m. Guest can purchase a "Party & Skiing" ticket that allows access to every activity. "Party Only", "Skiing Only" and "Tubing Only" tickets are also available.
"Our New Year's Eve party is a great time for all ages to come together and celebrate ringing in the new year. It is one of the biggest events of its kind in New Hampshire," says Jim Wall, Director of Services at Pats Peak.
This is but a sampling of festivities scheduled throughout ski country; consult the events calendar at your favorite resort's website for other options in your area.