Oberstdorf, Germany – Peru, Vt.'s Sophie Caldwell scored a career first World Cup win on Tuesday in a 1.2k classic sprint, out lunging Norway's Heidi Weng in the finals of the Tour de Ski stage in Oberstdorf. It was the first time a U.S. skier has won a classic sprint and left Caldwell in third position in the Tour de Ski sprint standings.
"Wow. Today was an incredible day. I definitely did not expect this when I woke up this morning!" Caldwell said.
The key to Caldwell's success was staying in control on the first long downhill. The hill became problematic throughout the women's heats causing several crashes, including an opening round incident when Jessie Diggins, of Afton, Minn., was taken out. Caldwell handled the hill cautiously but with intense speed in each heat, advancing her all the way to the finals.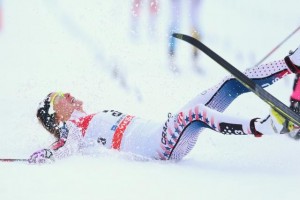 "I knew I had great skis and I am confident in my downhill skills, I tried to let it rip on the downhills," said Caldwell, who after qualifying third, won her opening heat with the fastest time of the round. She was second in the semifinals.
In the finals, Caldwell gradually moved her way up to the front of the pack, avoiding getting caught up in Swede Stina Nilsson's fall, and fought until the end, executing a picture perfect lunge to beat Weng at the finish line.
"I kept expecting a Norwegian or Swede to come flying by me in the finishing lanes, but I didn't see anyone until the end and then threw in the best lunge I could," said Caldwell. "It was funny because (Head U.S. Women's Coach) Matt (Whitcomb) was giving me lunge advice between each round in case I had to use it, and I guess I did!"
With her win, Caldwell became the third American woman to win a cross-country ski World Cup including Alison Owen Spencer, who won a race in Telemark, Wisc. in the early days of the World Cup, as well as Alaska's Kikkan Randall, who has 14 World Cup wins.
"I'm really psyched with today and feel extremely lucky to be a part of this team," said Caldwell, who comes from a Vermont family with a great legacy in the sport going back to grandfather, John Caldwell. "Everyone works so hard and I think the cool thing about it all is that we wake up each day and know it could be any one of us battling for that podium. Maybe today was my day, but tomorrow can be someone else's. At the end of the day, we're all going to be there supporting each other because it's the team behind each one of us that gets us here."
In the men's competition, Norway's Emil Iversen also claimed his first ever World Cup victory over Russia's Sergey Ustiugov. Iversen hung back in the final heat until the last rolling hill leading into the finish where he had the last boost of energy to out-sprint Ustiugov. The U.S. qualified one out of three men with Vermont's Andy Newell leading, qualifying ninth and finishing 17th overall.
"I am so excited to win today," said Iversen. "I am really surprised to be first. Ustiugov set the speed after the start and I tried to keep up. I was first on the top and I thought I could go for podium. I chose a good line in the downhill and to the finish. But I am still very much surprised to win."
Overall Tour leader Martin Johnsrud Sundby took fourth in the men's final to gain a few more seconds over Petter Northug Jr. in the Tour standings.  Northug settled for fifth place in the finals.  With his second place finish today Ustiugov leap frogged over Norway's Finn Hagen Krogh for third overall in the Tour standings.  Krogh fell in his semi-final heat at the start and did not advance to the finals.
The fifth stage of the Tour de Ski continues Wednesday in Oberstdorf with a 15/10k classic mass start.
OFFICIAL RESULTS
FIS Cross-Country Ski World Cup
Oberstdorf, Germany – Jan. 5, 2016
Women's 1.2k Classic Sprint
1. CALDWELL Sophie USA 2:46.38
2. WENG Heidi NOR 2:44.84 +0.10
3. OESTBERG Ingvild Flugstad NOR +0.80
4. INGEMARSDOTTER Ida SWE+3.95
5. JOHAUG Therese NOR +4.71
6. NILSSON Stina SWE +27.43
Men's 1.2k Classic Sprint
1. IVERSEN Emil NOR 2:25.21
2. USTIUGOV Sergey RUS +1.03
3. POLTORANIN Alexey KAZ +1.40
4. SUNDBY Martin Johnsrud NOR +4.86
5. NORTHUG Petter Jr. NOR +10.32
6. EISENLAUER Sebastian GER +14.19