Mt. Crested Butte, CO – The origins of mountain biking and their ties to Crested Butte, Colo., are well known by many, so it comes as no surprise that Crested Butte Mountain Resort (CBMR) has decided to welcome bikes during the winter months, too. With the rise in popularity of "fat bikes" within the biking industry, the resort realized the opportunity of allowing winter riding enthusiasts to enjoy the slopes with other uphill users.
Nearly three years ago, the resort launched an established uphill policy for skiers who were seeking to skin up the mountain before and after lift hours, due to the popularity of the sport at the time. The addition to include fat biking this year in the resort's uphill policy was an apparent next step. In recognizing that winter biking is an ever-growing trend, the destination is also hosting the first ever Borealis Fat Bike World Championships, January 28 – 31, which includes a conference, demos and a race (solo or teams) in North Village, located just one mile from the ski resort in Mt. Crested Butte, a race at Town Park and downhill laps on the mountain's summer mountain bike trails Awakening and Teaser.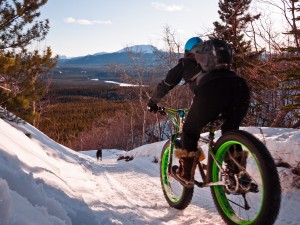 Erica Mueller, Director of PR and Innovations, explains, "At CBMR, we try to fit the needs and desires of all user groups. With Crested Butte being a popular mountain bike destination in the summer, it makes sense for us to continue the trend in the winter by being one of the first areas to offer fat bikers access on the resort."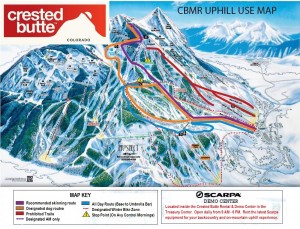 The Winter Biking policy is similar to the resort's Uphill Policy for skiers.
Winter biking is only allowed before and after ski resort operating hours, which are

9 a.m. to 4 p.m.

All bikers need to stop by the Adventure Center between

8 a.m. and 5 p.m.

to review the biking policy, sign a waiver and receive a sticker for their pass.
All uphill users are required to adhere to and obey all posted information and to be aware of trail closures and other operational considerations.
Bike riders are allowed on all groomed terrain to the top of the Red Lady lift and the top of the Painter Boy lift. Bikers are not allowed on the upper mountain or to drop into Paradise Pod.