Bridgton, ME – New England skiers and riders get a deal at Shawnee Peak this Friday.
It's New England Ski Day at the Maine resort, which means that you get an all day and night lift ticket for just $29 when you present a driver's license from any one of the six New England states. New Englanders can add all-day ski or snowboard rentals for $29, too, and kids get the same deal when skiing or riding with a New England license holder.
Shawnee Peak's snowmaking guns have been blazing around the clock since Sunday, and by this weekend resort officials expect to be skiing on more than 20 trails, possibly with all lifts in operation. A little natural snow is in the forecast for Saturday, too.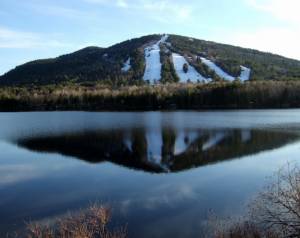 For 150 kids from Dorchester, Mass., it'll be even cheaper on Saturday. Those members of the Boys and Girls Club of Dorchester, ages 8 to 15, will be getting free lift tickets, rentals and lessons at Shawnee Peak to introduce them to a new winter sport.
Finally this weekend, Shawnee Peak is hosting a Red Cross Blood Drive from 9 a.m. to 3 p.m. Donate a pint of blood and you'll get a midweek, non-holiday lift ticket valid through the end of 2015-16 ski season.