Deux Alpes, France – A second high school student from Lyon has died following an avalanche on Wednesday in Deux Alpes, bringing the total death toll to three.
A 16-year-old male victim died on Wednesday in an area hospital, while his 16-year-old female classmate was pronounced dead at the scene. The two high school students were part of a school group from Lycée Saint-Exupéry de Lyon skiing at Deux Alpes, and the school teacher who led the group onto the closed Bellecombes piste is now facing a potential investigation into his actions. French education minister Najat Vallaud-Belkacem traveled to Lyon on Wednesday evening to speak with reporters and "support the school community and the families" as mourners laid flowers and lit candles outside the school.
"A judicial inquiry will say why the teacher, who was himself injured, took (the group) onto a piste which was not open," said the French minister for youth and sports, Patrick Kanner, although no individual has yet been placed under judicial investigation. "How can you think of taking children, following periods of heavy snowfall, onto a piste which was closed?"
An investigation into the cause and responsibility for the 20-meter wide, 300-meter long wind-loaded slab avalanche is standard procedure in France, and a spokesperson for the prefect's office in Isere confirmed that an investigation will determine if the expert-rated Bellecombes run had been properly marked as closed.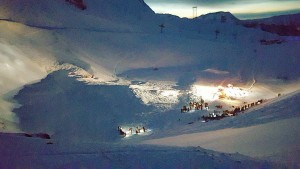 The third fatal victim of the Deux Alpes avalanche is a Ukrainian national unaffiliated with the school group. A total of four others trapped by the slide were transported to a hospital in Grenoble, 20 miles to the northwest of the resort, including the teacher and three students who suffered cardiac arrest. Searchers were still looking for other victims Wednesday night, although all other students and chaperones from the school have been accounted for. Darkness, temperatures dipping to -10ºC overnight, the risk of further avalanches and fresh snowfall predicted for Thursday are all hampering search efforts.
French police Commander Bertrand Host confirmed that an avalanche warning had been issued for the area on Wednesday. The north-facing Bellecombes run at Deux Alpes has been closed since December.
Wednesday's avalanche brings the death toll from snow slides in France to seven already in 2016.