Flachau, Austria – Veteran Resi Stiegler led the U.S. team in a night of "firsts" at the Audi FIS Ski World Cup slalom Tuesday night, taking 15th. But under the lights, it was a pair of young U.S. Ski Team members that shined, with Paula Moltzan and Lila Lapanja scoring their first career World Cup points.
Veronika Velez Zuzulova of Slovakia won the race for her third career World Cup win. Sarka Strachova of the Czech Republic was second, followed by World Cup slalom leader Frida Hansdotter of Sweden in third. Hansdotter still leads the slalom standings with 425 points, while Strachova and Velez Zuzulova sit second and third, respectively, with 351 and 320 points.
"I had to stay calm and focused before the second run and I managed it, so I am really happy to be on top of the podium tonight, because I had to wait a long time to win again," said Zuzulova, who previously won a slalom in Semmering, Austria in December 2012, and the city event a week later in Munich, Germany.
Moltzan and Lapanja joined Stiegler in qualifying for the second run on Tuesday night, and both scored their first career World Cup points. Lapanja, of Incline Village, Nev., was 23rd and Moltzan, of Lakeville, Minn., finished 25th. Jackson, Wyo.'s Stiegler, qualifying for the first time in her career for a second run at Flachau, was 15th.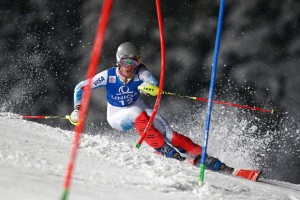 "I've been kind of a head case on this hill for a long time," Stiegler said after the first run. "I just need to start pushing it to the limit, and it doesn't matter if you go out, or make mistakes. I'm past the point of solid runs; I need to have something spectacular to make it into the top 10, top five."
Indeed, Stiegler displayed something spectacular on the second run. Letting the skis run, she compressed on a roll midway into her second run and got launched onto the tail of her skis. She recovered, and despite initially scrubbing some speed, made up time on the lower section of the course and crossed the line into third position.
"I went into the second run just knowing I had to go for it all out," she said. "I didn't think I was going to launch off that roll as much as I did, but somehow I just whipped it back and kept going for it. It was good mentally to fight for it all the way to the finish."
Skiing in only her third World Cup start, Lapanja came out of the 37th start position and laid down a smooth first run, finishing 22nd. Lapanja, who made her World Cup debut earlier this season in Aspen, went back to the NorAm circuit and won a pair of slalom races in Panorama, British Columbia, Canada last month before joining the team in Europe after the holidays.
"I had to be a little bit smarter with my tactics (on the second run), let the skis go out a little bit more, but I was a little bit impatient because I was so amped," Lapanja said. "I feel pretty good, but I'm a competitor and I already know what I want to do differently to go even faster. But this is an amazing start and I can't wait to see what the future holds."
Moltzan, the slalom champion at the 2015 Junior World Championships, put down two solid runs in her 14th World Cup start. She finished 26th on her first run and then charged the course on the second run to score her first career World Cup points.
"It's pretty exciting!" she said. "Second run wasn't quite what I was hoping for, but I fought the whole way down and scored my first World Cup points."
Up next, the women race another slalom under the lights again tonight in Flachau, followed by giant slalom on Sunday.
OFFICIAL RESULTS
FIS Alpine Ski World Cup
Flachau, Austria – Jan. 12, 2016
Women's Slalom
| | | | | | | |
| --- | --- | --- | --- | --- | --- | --- |
| Rank | Name | Nation | Run 1 | Run 2 | Total | Diff. |
|  1 | VELEZ ZUZULOVA Veronika | SVK |  52.15 |  54.43 |  1:46.58 | |
|  2 | STRACHOVA Sarka | CZE |  52.99 |  53.90 |  1:46.89 |  +0.31 |
|  3 | HANSDOTTER Frida | SWE |  53.47 |  54.16 |  1:47.63 |  +1.05 |
|  4 | HOLDENER Wendy | SUI |  52.69 |  55.02 |  1:47.71 |  +1.13 |
|  5 | LOESETH Nina | NOR |  53.23 |  54.63 |  1:47.86 |  +1.28 |
|  6 | VLHOVA Petra | SVK |  54.19 |  53.81 |  1:48.00 |  +1.42 |
|  7 | SWENN-LARSSON Anna | SWE |  53.38 |  54.70 |  1:48.08 |  +1.50 |
|  8 | NOENS Nastasia | FRA |  53.89 |  54.32 |  1:48.21 |  +1.63 |
|  9 | CURTONI Irene | ITA |  54.23 |  54.38 |  1:48.61 |  +2.03 |
|  10 | GISIN Michelle | SUI |  53.50 |  55.18 |  1:48.68 |  +2.10 |