Originally published: 12:16 p.m. MST February 1, 2016
Updated: 7:10 p.m. MST February 1, 2016
Fairfield, ID – A teenage girl from Twin Falls, Idaho died in an accident at Soldier Mountain ski area in Fairfield on Saturday.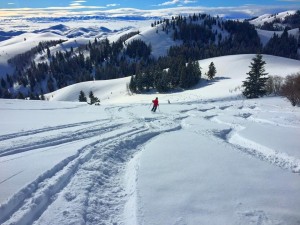 Taylor Biggs, 14, was a Twin Falls High School freshman who traveled with nine of her fellow students on a school ski club trip to Soldier Mountain. She was skiing downhill toward the resort's base lodge when she lost control and crashed into the side of a restroom building at around 11:20 a.m. on Saturday, according to witnesses.
Biggs was reportedly wearing a helmet at the time of the crash. She was airlifted to a hospital in Boise, where she succumbed to her injuries. The Camas County Sheriff's Office and Forest Service officials are continuing to investigate.
"Now that information has been released from her family, we would like to properly acknowledge the devastating loss of Taylor Biggs life," Soldier Mountain officials said in a prepared statement. "We can't ever know why she was taken from this world at such a young age and we can only hope she is in a better place now. Love and light to her family, friends and everyone in the community affected by Taylor's loss, including the Soldier Mountain ski patrol who worked tirelessly providing first aid until the helicopter arrived to take her to the hospital. May you find peace, Taylor."
Soldier Mountain is under new ownership this winter after being sold to a Bend, Ore. couple for only $149,000, the amount of its outstanding debt.