Tazawako, Japan – In his first World Cup appearance since 2014, Montana's Brad Wilson made a triumphant return to competition, taking the win in moguls on Saturday in Tazawako.
Wilson, a 2014 Olympian, suffered a knee injury at the World Cup opener in Ruka, Finland in December 2014. With the help of the U.S. Freestyle Ski Team coaches and medical staff, he spent the last year rehabbing and preparing for his return to the World Cup circuit.
"I owe a lot of thanks to the doctors and therapists for sticking with me every step of the way and making sure I was getting stronger," said Wilson. "We planned this summer to come back in Japan if I was ready, and if not we would just call it. The couple weeks leading up to Japan I was feeling really good, so we decided to send it. And here I am, I was able to put some good runs together."
Wilson was understandably nervous returning to competition, but he was able to stay strong mentally and physically to pull off the win ahead of Canada's Mikael Kingsbury in second and Australia's Matt Graham in third.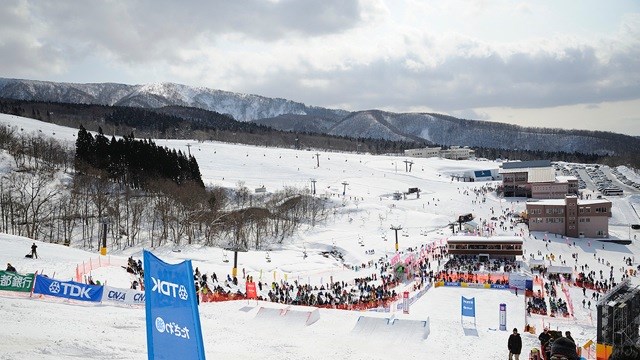 "I didn't get any sleep last night. I was almost more nervous than my very first World Cup back in 2011. To put down the first run to my feet and make the finals was a weight off my shoulders," said Wilson. "My finals run was some of the best skiing I've ever done. It felt really, really good. I was on top of it, I was going fast. It feels so good to be back. This is what I love to do, and to be here with my friends skiing, it feels like I'm back at home."
"Brad's win was very impressive for a rehab start," added Head U.S. Moguls Coach Matt Gnoza. "It says a lot about the physical therapy and strength and conditioning departments at the USSA's Center of Excellence. He's been diligently working down there to return to form. To have the fastest times of the day here after returning from his injury is unbelievable. He trusted his strength and technique, he hit his jumps, it was sick."
On the women's side, Perrine Laffont of France captured her first career victory. Canada's Chloe Dufour-LaPointe and Audrey Robichaud were second and third.
"I tried to stay focused and show my best skiing," said Laffont, "I did well on the course and jumps and ended up winning. It is my first podium and the first victory of the season for me, so it just feel amazing."
Nessa Dziemian, of East Hampstead, N.H., was the top U.S. finisher in sixth for her second top-10 finish on the World Cup this season. Mikaela Matthews of Frisco, Colo. earned her third top-10 of the season, finishing eighth.
OFFICIAL RESULTS
FIS Freestyle Ski World Cup
Tazawako, Japan – Feb. 27, 2016
Men's Moguls
Rank
Nation
Name
Score
World
Cup
Points
1
USA
WILSON Bradley
86.14
100
2
CAN
KINGSBURY Mikael
86.09
80
3
AUS
GRAHAM Matt
83.05
60
4
JPN
HARA Daichi
82.49
50
5
CAN
MARQUIS Philippe
82.18
45
6
RUS
SMYSHLYAEV Alexandr
81.18
40
7
RUS
PAVLENKO Aleksey
81.86
36
8
FRA
CAVET Benjamin
81.61
32
9
USA
DISCOE Joseph
81.56
29
10
FIN
SALONEN Jimi
80.88
26
Women's Moguls
Rank
Nation
Name
Score
World
Cup
Points
1
FRA
LAFFONT Perrine
78.91
100
2
CAN
DUFOUR-LAPOINTE Chloe
78.06
80
3
CAN
ROBICHAUD Audrey
77.83
60
4
RUS
RAKHIMOVA Regina
77.58
50
5
CAN
NAUDE Andi
74.96
45
6
USA
DZIEMIAN Nessa
70.78
40
7
CAN
DUFOUR-LAPOINTE Maxime
74.14
36
8
USA
MATTHEWS Mikaela
73.93
32
9
GER
GRASEMANN Laura
73.14
29
10
SUI
SCANZIO Deborah
73.05
26