Washington, DC – SnowSports Industries America (SIA), the ski and snowboard industry's member-owned trade association and The NPD Group – Sports and Leisure Trends have released retail sales numbers for August to December 2015. Total market projections are based on data collected from the point of sale systems of more than 1,200 snow sports retailers.
Sales in the snow sports market nationally were down 4% in dollars sold to $2.85 billion through December 31st this season.  Although the Pacific West was finally getting relief from a four-year (or longer) snow drought, retailers in the East and Midwest were suffering from a lack of winter weather and corresponding lack of winter gear sales.  Outerwear sales including fleece, shell, insulated shell and softshell tops and bottoms finished December down 3% in dollars sold to $1.2 billion and accounted for more than 40% of all dollars spent in the snow sports market during the 2015 holiday season.  Apparel accessories sales including handwear, headwear, socks and baselayer sales were down 8% to $348 million.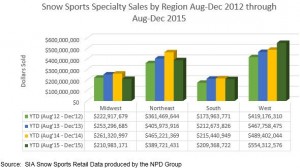 Overall, equipment sales were down on significantly lower sales in the Northeast and Midwest where many specialty retailers saw their sales plummet due to unseasonably warm temperatures and lack of snow.  Snowboard equipment sales were down 4% nationally to $176 million, but saw a 25% increase in sales across the Western U.S.  Alpine ski equipment sales fell 3% to $351 million nationwide, but sales in the West increased 8%.  Across all regions, cross-country equipment sales were down 22% to $17.5 million, and alpine touring equipment sales fell 8.3% to $9.6 million.
Snow Sports Specialty Shop sales decreased 5% overall in dollars sold through December to $1.4 billion nationwide.  Northeastern specialty shops' sales fell 16% to $390 million, Midwestern specialty shops' sales fell 19% to $211 million and specialty retailers in the South saw sales fall 3% to $209 million.  The West region, which covers the Pacific West and the Rocky Mountain areas, enjoyed a 13% increase in sales to $554 million.
Chain Store sales decreased 7% to $768 million through December. Online sales were flat to slightly down at $716 million through December.
SIA releases the top line results for snow sports retail seven times each season from November to May covering results of retail sales made between August 1 and March 31 each season.