Broomfield, CO – It's officially fall, and the whispers of winter grow louder. The mountains are calling, and due to their proximity, Colorado and Utah kids hear that call louder than others. Vail Resorts' Epic SchoolKids program lets elementary school age kids in Colorado or Utah ski for free and does not require any purchase. It also includes one free first-timer ski or snowboard lesson with free equipment rental, but you have to act by this Sunday.
With the program, any kindergarten through fifth grade child in Colorado gets 16 days of free access to Vail, Beaver Creek, Breckenridge and Keystone. Utah elementary school kids receive five free days at Park City Mountain, learning how to enjoy the many benefits of snow sports located right in their own backyard.
Registration is only available through Sunday, Oct. 9. Colorado residents may sign up in-person at Colorado Ski & Golf, Colorado Ski & Sport and Boulder Ski Deals locations throughout the Front Range.
"Living in Colorado provides kids a variety of ways to enjoy outdoor recreation, but skiing and snowboarding is synonymous with Colorado," said Kirsten Lynch, chief marketing officer of Vail Resorts. "We are dedicated to giving kids the opportunity to experience skiing and riding by providing free access through the Epic SchoolKids program. Last season, more than 30,000 Colorado children took advantage of Epic SchoolKids, and we hope to encourage even more families to give skiing or snowboarding a try this season."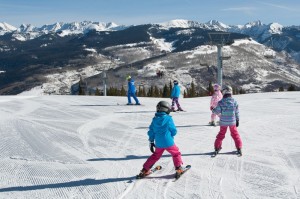 Utah families can sign up online at epicschoolkids.com/utah.
"Snow sports are a great way for Utah kids to stay active and connected with the outdoors throughout the winter months," said Bill Rock, chief operating officer for Park City Mountain Resort. "The Epic SchoolKids program is making the experience even easier for Utah families by offering kids free skiing or snowboarding at Park City Mountain."
Epic SchoolKids' free first-timer lessons are offered in December or January, allowing those new to the sport the opportunity to continue to take advantage of their pass for the remainder of the season. Introduced for the 2015-2016 season, Epic SchoolKids is Vail Resorts' way of giving back to the local community, while ensuring future generations have access to the sports of skiing and snowboarding.
For additional information about Epic SchoolKids and registration locations, visit www.epicschoolkids.com.