Eden, UT – Northern Utah's unspoiled Ogden Valley is home to Snowbasin Resort, Powder Mountain, Nordic Valley Ski Area and now, Whisper Ridge Cat Skiing. Now, it's also home to the Ogden Valley Winterfest, a brand new celebration of the snowy season ahead.
The event scheduled for this Friday and Saturday promises movie premieres, a ski swap, live music, a rail jam, food trucks and more at the base of Nordic Valley ski area in Eden. Doors open at 3 p.m. on Friday, and again at 10 a.m. on Saturday.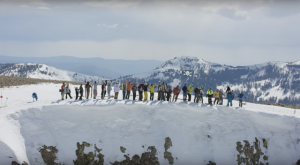 Movie screenings are set to include Level 1's Pleasure, Match Stick Productions' Ruin and Rose, Tanner Hall's Ring the Alarm and TGR's Tight Loose, among others. The Ogden Valley Ski Swap is open to the public from 3 p.m. to 10 p.m. on Friday, and again 10 a.m. to 10 p.m. on Sunday.
Two-day general admission costs $15, with children 12 and under admitted free. Proceeds this year will go to help local ski and snowboard coach Dustin Linker, who was recently diagnosed with stage 3 cancer. Advance tickets,  swap details, movie trailers and more may be found online at www.ogdenvalleywinterfest.com.