Killington, VT – The women's World Cup ski races scheduled for next weekend at Vermont's Killington Resort have received a positive snow control announcement from the International Ski Federation (FIS), the governing body of the Audi FIS Ski World Cup.
With that announcement, the giant slalom and slalom races scheduled November 26-27 are a "go", discounting concerns of some naysayers who doubted Killington's ability to cover its Superstar trail with World Cup-class snow by mid-November.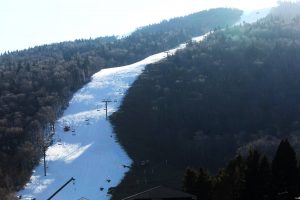 "This positive snow control news from FIS reinforces what we already knew – that Killington has ample snow on Superstar to host the world's fastest female ski racers, and our mountain operations team has the knowledge and horsepower to make more snow in the early season than any other ski area in the country," says Mike Solimano, president and general manager of Killington Resort and Pico Mountain. "Thanks to the hard work of our snowmaking team during every cold weather window this fall, we can now breathe a quick sigh of relief before jumping into the final stretch of preparation for this massive event."
Killington Resort opened to the public for skiing and snowboarding on October 25, and plans to make snow across multiple mountain areas during the current anticipated week-long window of very cold weather. With snowmaking now mostly concluded on Superstar trail, Killington snowmakers will work to add a training run for World Cup racers on Skye Lark while also connecting open ski terrain to K-1, Snowshed and Ramshead base areas for public use, and adding more beginner and intermediate terrain ahead of the holiday period.
"Killington has worked around the clock to ensure a successful return of the World Cup to the east for the first time in 25 years," said USSA Vice President, Events Calum Clark. "Killington and (resort operator) Powdr have been strong partners in this endeavor and we are looking forward to showcasing our sport in our largest membership region."