Glacier National Park, MT – A 36-year-old backcountry skier died on Thursday from injuries sustained in an avalanche within Glacier National Park.
Ben Parsons was skiing the south face of Stanton Mountain in the park with a companion when he was partially buried by the large soft-slab slide that broke 12-30 inches deep at 7,200 feet of elevation, about 500 feet below the summit. It ran for 1,200 to 1,700 feet down a narrow gully, although Parsons was not swept downhill to the base of the avalanche.
Parsons' companion contacted authorities by cell phone and rendered medical assistance until rescuers arrived. Parsons died of trauma sustained in the avalanche while rescue operations were still underway.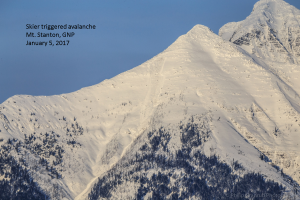 The Flathead Avalanche Center had rated avalanche conditions as "Moderate" at the time of the incident. All involved were carrying the requisite safety gear.
Parsons was a well-known firefighter, paramedic and ski mountaineer in nearby Whitefish.