Breckenridge, CO – Keystone and Breckenridge Ski Resorts in Colorado have announced plans for capital improvements due for next winter, including upgrades to both the Montezuma Express Lift at Keystone and the Falcon SuperChair at Breckenridge to six-passenger chairlifts, and plans to renovate and expand Keystone's Labonte's Smokehouse BBQ restaurant. These plans are all subject to U.S. Forest Service approval.
"We are thrilled to share with our guests several major capital improvement plans for next winter season at Keystone and Breckenridge," said Mike Goar, vice president and chief operating officer at Keystone. "We are committed to continually reinvesting in the mountain experience across Vail Resorts and are confident that these upgrades will elevate the guest experience at Keystone and Breckenridge."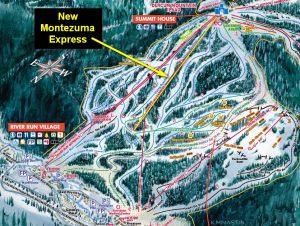 At Keystone, the Montezuma Express Lift is a primary lift on Dercum Mountain, serving popular front-side intermediate and beginner terrain. Keystone plans to replace the lift with a detachable six-passenger chair that will increase efficiency and capacity by up to 25 percent, while improving skier and snowboarder circulation on the mountain.
Keystone also plans to expand Labonte's Smokehouse BBQ at the base of North Peak with a new, 150-seat indoor facility for the on-mountain dining venue. Located at the base of Keystone's North Peak, Labonte's is a popular restaurant serving house-smoked meats and barbeque during the ski day. Currently the restaurant features a large outdoor seating area and "ski beach" with picnic tables and Adirondack chairs for dining, as well as a small warming hut. The Labonte's expansion will provide increased dining capacity for guests, as well as offer a more comfortable indoor dining environment for families, while maintaining the venue's signature outdoor "ski beach" area.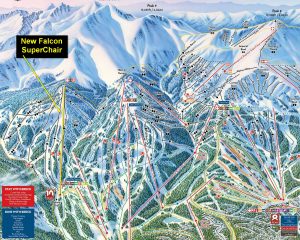 At Breckenridge, the Falcon SuperChair on Peak 10 services advanced terrain on the resort's southern-most peak. Replacing the lift with a new six-passenger chair will increase capacity by 25 percent, improving skier and snowboarder flow and allowing guests to get more out of their ski day. Peak 10 is a popular area for advanced skiers and snowboarders easily accessed from the Peak 9 base area.
"Peak 9 and Peak 10 offer a wide variety of progressive terrain on the south side of Breckenridge from beginner to advanced trails," said John Buhler, chief operating officer of Breckenridge Ski Resort. "Breckenridge has seen many large projects over the last six years and we're ecstatic to continue with a new Falcon SuperChair for winter 2017-2018."
Vail Resorts will launch its Epic Discovery menu of off-season offerings at Breckenridge this summer.
Plans for capital improvements at both Keystone and Breckenridge are subject to U.S. Forest Service approval. Additional details on the design and approval of these proposed improvements will be available in the coming months.