Denver, CO – Colorado Ski Country USA (CSCUSA) announced on Thursday that while total skier visits at its 22 member ski resorts were down eight compared to last year's first period visit numbers.
The first period skier visits cover Opening Day October 21, 2016 through December 31, 2016. CSCUSA's announcement comes just days after Vail Resorts announced a 13.2% decline in skier visits for a similar period. Vail Resorts operates four of the largest ski resorts in Colorado — Vail, Beaver Creek, Breckenridge and Keystone, none of which participate in CSCUSA — but it also operates three resorts in California and Park City Mountain in Utah that were also included in that overall 13.2% decline. Vail Resorts did not report attendance numbers specific to its four Colorado resorts.
CSCUSA still feels that those are strong results considering the unseasonably warm fall that contributed to a drier than expected start to the season, delaying some ski area openings. Last season's first period numbers, which this season is compared to, benefited from snowier early season conditions. CSCUSA officials also point out that this year's first period skier visits are still up three percent over the five-year average for the first period.
"The warm fall kept Coloradans' minds on summer activities and many Colorado-based skiers and riders from heading up to the high country until December," said Melanie Mills, Colorado Ski Country USA President & CEO.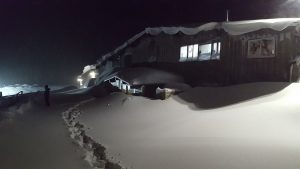 Despite the late start, Mother Nature arrived in force in December, dropping abundant snowfall throughout the end of 2016 and into the beginning of 2017, allowing ski areas to open significant terrain and guests to enjoy deep snow totals and excellent conditions during the busy holiday season. Several ski areas experienced all-time single day records during the week between Christmas and New Year's Eve. 
"The substantial snow totals heading into the holiday season created excellent conditions for in-state and out-of-state guests, which drove holiday visits up significantly," added Mills. 
The continued snowfall, which currently has the statewide snowpack at 54 percent above average, and a busy event calendar across the state is creating optimism for the rest of the 2016-17 season.  
"Colorado Ski Country USA member ski areas are well positioned for a strong season with continued snowfall, packed calendars and the traditionally snowier months still to come," continued Mills. 
Skier visits are the metric used to track participation in skiing and snowboarding. A skier visit represents a person participating in the sport of skiing or snowboarding for any part of one day at a mountain resort.