Stoneham (QC), Canada – A unique novelty has come to the slopes of Quebec's Stoneham Mountain Resort this winter: free videos sent to skiers and snowboarders almost instantly after having been filmed.
Kool Replay is a young Montreal-based company that approached Stoneham with the concept a few months ago. After downloading the Kool Replay App and skiing in the designated areas, riders receive the video of their performance directly on their cellphone.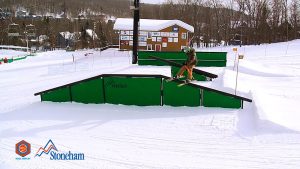 Resort management signed on to the idea, installing permanent cameras in a few key on-mountain locations. While installing the system in the terrain park, they decided to expand the system to the learning area so that beginners could see their first turns, too.
If you're headed to Stoneham, here's how it works:
Download the free Kool Replay app to your smartphone.
Find the cameras established in the terrain park and learning area.
Ski in the designated areas with your cellphone on you (it just needs to be turned on, in your pocket).
Wait a few seconds and receive your video directly on your phone.
Repeat as many times as you wish.