Beijing, China – A Squaw Valley Alpine Meadows "stoke delegation" this month visited the resort's sister mountain in China, Genting Secret Garden, as part of the two resorts' ongoing effort to spur interest in skiing and snowboarding in China in advance of the 2022 Beijing Winter Olympics, and as outbound tourism from China to the U.S. — and especially to California — grows.
The group, led by Squaw Valley Alpine Meadows President and CEO Andy Wirth and Olympic Gold Medalist Jonny Moseley, who grew up skiing at Squaw Valley and today serves as Chief Mountain Host for the resort, along with the Resort at Squaw Creek and Atlantis Casino Resort Spa also met with leading tour operators, retailers, government officials and others on their trip to China.
According to the China Ski Association, the number of skiers in China has gone from around 200,000 in the year 2000 to 12.5 million in 2015. Furthermore, California is currently the top U.S. destination for Chinese travelers, who spent $2.5 billion in California in 2015, according to research by Visit California.
Genting Secret Garden will be the venue for Olympic freestyle skiing and snowboarding events during the 2022 Beijing Winter Olympics. In a nod to Squaw Valley's successful hosting of the 1960 Winter Olympics, resort managers renamed the trail that will host the mogul skiing competition "Squaw Valley." The renaming ceremony concluded with Moseley, who won gold in mogul skiing at the 1998 Nagano Winter Olympics, christening the trail with a blistering run complete with huge airs.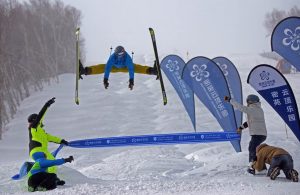 "It was awesome to watch Jonny, who grew up skiing Squaw Valley and whose kids are now skiing at Squaw and Alpine, still crushing it on this world-class and Olympic moguls venue! This wasn't your average trail naming and ribbon cutting ceremony…Jonny threw down an incredible run and a big air over the ribbon, on the very same course where young freestyle skiers training in Squaw Valley today will likely be competing for Olympic gold five years from now," Wirth said. "His run was a highlight of a wonderful visit to see our friends in northwest China. We are incredibly honored to have Squaw Valley recognized with the renaming of this trail where history will be made in 2022, and we thank the resort leadership at Genting Secret Garden and everyone we saw in China for being such warm and gracious hosts. We look forward to reciprocating when some of our Chinese friends come to see us later this season in Olympic Valley, where we are seeing record-breaking amounts of snow."
Moseley, who will serve as an NBC commentator for the network's coverage of freestyle skiing events at the 2022 Olympics, also extended a Squaw Alpine tradition to China during the visit – "Ski With Jonny." Just like visitors to Squaw Valley Alpine Meadows, Genting Secret Garden skiers and riders had the chance to take a run with America's hero of the 1998 Olympics. The extended session included mogul skiing tips from Moseley on the Squaw Valley run. The delegation's itinerary also included stops at a Beijing location of the retailer Halti, where Moseley signed autographs for an enthusiastic crowd.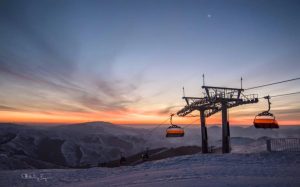 One Genting Secret Garden Resort season pass holder in attendance for the Squaw Alpine visit, Erin Gao, said it was incredibly exciting to see the international ski community deepening its relationships in China.
Gao, who has skied internationally in Canada, New Zealand, Japan, and most recently this winter, Squaw Valley, encouraged her fellow Genting Secret Garden locals to return the favor and see the resort for themselves.
"It was very exciting to see Jonny Moseley and his friends from Squaw Valley Alpine Meadows come all the way from California to ski at our resort in China," she said.