St. Moritz, Switzerland – After two days of snowfall canceled both men's and women's downhill training, the Salastrains course at the FIS Alpine World Ski Championships in St. Moritz was picture perfect on Tuesday. Twenty-seven-year-old Nicole Schmidhofer of Austria won today's women's super G, the opening race of the 2017 Championships. Tina Weirather of Lichtenstein was second and Swiss Lara Gut took third in front of the home crowd as American favorite Lindsey Vonn skied off course.
Weirather had the early lead, and held onto a slim advantage after the clear race favorite Gut came down, finishing 0.03 seconds behind. But Weirather, who already has three second-place World Cup finishes this season, could not break the bridesmaid curse today as she watched her dream of gold evaporate when Schmidhofer shocked the field with the fastest time of 1:21:54, 0.33 seconds better than Weirather.
Prior to today's race, Schmidhofer had only two World Cup podiums to her credit, the last coming in 2014 in the Cortina downhill. But today it was her chance to steal the spotlight as her time was not challenged by any of the later skiers. Two top names, Anna Veith (AUT) and Lindsey Vonn (USA) both missed gates and did not finish.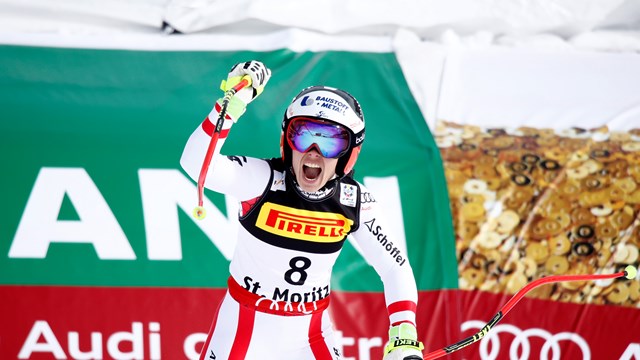 "The course set suited me really well today," said Schmidhofer after the race. "II should thank the Italian coaches who set the course because it was ideal for me together with the snow conditions It's just a perfect day."
It was the first World Championship medal for both Schmidhofer and Weirather, while Gut celebrated her fifth time on a World Championship podium. Gut now has three silver medals and two bronze medals to her credit.
Vonn struggled to grip her pole at the beginning of the run before going too straight at a gate and skiing out of the course. "I stayed on my feet, so that's the most important thing," laughed Vonn after the race. "I'm definitely disappointed about today—I lost my pole and kind of lost my concentration there for a minute. Then I tried to go too straight to make up for the time I lost and that was a bad tactic—I went too straight over the roll and had no chance to make the gate. It happens!"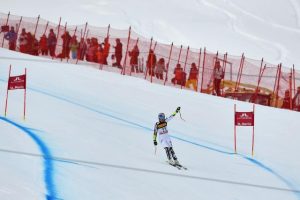 Vonn has had issues with her motor functions since breaking her arm in November and shared that she plans to duct tape her hand to her pole in Friday's combined and Sunday's downhill. But she doesn't plan on letting the super G results phase her. "I felt good," said Vonn. "I felt confident in the start. I wasn't nervous. I was ready. I attacked. Sometimes it just doesn't work—that's ski racing."
Dressed in a new Spyder speed suit designed to look like superhero Captain Marvel, Laurenne Ross, of Bend, Ore., overskied the course a bit but still took the best U.S. result in 14th. She plans to let her skis run in the downhill over the weekend.
"I'm trusting my skiing and trying to return to my foundational skills and just have fun and enjoy it," said Ross. "The best way to believe in yourself is remembering how passionate you are about it. I think I could have taken more risks out there—I overthought it a little and overskied it a little. I regret that, but I'm looking forward and staying positive and hoping for better in the downhills."
Young Breezy Johnson, of Victor, Idaho, raced in her first World Championships event to take 28th. Her U.S. teammate Jackie Wiles, of Aurora, Ore., did not finish.
Next, the women prepare for the alpine combined on Friday, while the men race their first World Championships event, a super G, on Wednesday. Swiss Beat Feuz was fastest in Tuesday's training for the men's downhill, where Jared Goldberg was the fastest U.S. racer in fourth, a mere 0.27 seconds behind Feuz.
OFFICIAL RESULTS
FIS Alpine World Ski Championships
St. Moritz, Switzerland – Feb. 7, 2017
Women's Super G
| Rank | NATION | Name | Tot. Time | Diff. Time |
| --- | --- | --- | --- | --- |
| 1 | AUT | SCHMIDHOFER Nicole | 1:21.34 | |
| 2 | LIE | WEIRATHER Tina | 1:21.67 | +0.33 |
| 3 | SUI | GUT Lara | 1:21.70 | +0.36 |
| 4 | GER | REBENSBURG Viktoria | 1:21.87 | +0.53 |
| 5 | ITA | CURTONI Elena | 1:21.89 | +0.55 |
| 6 | NOR | MOWINCKEL Ragnhild | 1:22.03 | +0.69 |
| 7 | AUT | VENIER Stephanie | 1:22.11 | +0.77 |
| 8 | ITA | BRIGNONE Federica | 1:22.18 | +0.84 |
| 8 | FRA | WORLEY Tessa | 1:22.18 | +0.84 |
| 10 | ITA | GOGGIA Sofia | 1:22.25 | +0.91 |