Mavrovo, Macedonia – "How
much is the bus to Mavrovo?" I asked the lady behind the counter.
She looked at me confused, and answered dismissively, "The
bus will come."
"OK. I want to buy a ticket."
"The bus will come," she repeated, then slid closed
the window for talking and looked away. She would not look back.
n
Macedonian was our language of communication, although I am
a native English speaker and she spoke native Albanian.  I wasn't sure who
was to be blamed for the communication breakdown; probably me.
I settled in the lobby with my book.  Paul Theroux was struggling
with rickety China, and I figured that Macedonia was very modern and efficient
by that standard.  An Albanian mother and her daughter were sitting next to
me.  "Mirdita" I greeted them as they stared silently back.  For
several minutes the daughter peered over my shoulder–an Albanian habit that
used to disconcert me but now just makes me laugh.
When the girl got bored with me, she turned back to her mother,
tugging at her shirt and giggling.
<SLAP!>  The mighty hand of the mother hit the
child, then <SLAP!> backslapped the other way.  I flinched.
The child reared back, then giggled and slapped her mother in
return.  They both laughed and hugged.
Whatever, I thought, and returned to my book.
That was the first time.  It happened again, several times,
this ritual of mother-child mutual abuse.  Remembering that staring is an
acceptable Albanian pastime, I turned to watch them for awhile, the child
giggling and tugging at her mother, getting slapped, being quiet for a moment,
then giving her a big hug.
This was the beginning of a Macedonian ski trip.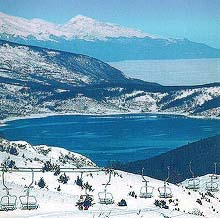 The village of Mavrovo.
I had made a mistake on my way to Mavrovo.  Since the direct
bus from Skopje left in the afternoon and wouldn't get into the ski center
until after dark, I decided I would take an early bus to Gostivar, a city
at the base of the mountains, then connect to Mavrovo.  I thought I was being
clever, and how was I to know people from Gostivar don't like to ski?
There was no bus to Mavrovo, but the bus to Debar left me at
a turnoff where a snow-covered one-lane road headed south.  There was a sign,
"Mavrovo 5 km".  One hour's walk, I figured, and set off on foot
with my pack.
It was surprising how little traffic there was on the road. 
After I had walked one kilometer a car passed.  I signaled for a ride, but
the driver indicated he wasn't going far and pulled over a hundred meters
ahead.
After 2 kilometers the second car on the road heeded my signal
and gave me a ride to the ski center.  I asked the driver where I could find
a cheap place to stay, and he recommended a guy named Goran who operated a
mini-motel called Campari, the cheapest place in town.
I pitcured Goran as a kind middle-aged ski bum in a pullover
fleece, sort of a Macedonian John Denver.  I imagined us spending the evening
by a fire, sipping hot cocoa, talking about the skier's life.  But when I
got to the hotel Goran wasn't there.  Instead there was Jordan, an unappealing
old man who acted annoyed by my presence and my accent.
"Who are you?" he snapped.  "NATO?  OSCE?" 
These are the detested friends of the Albanian guerrillas in Macedonia.  I
found him presumptuous to think that a 21-year old kid with a big backpack
was a NATO operative.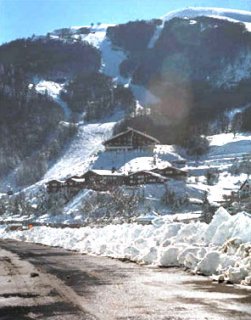 No one is likely to confuse the Campari with the Hotel
Bistra, pictured here.
Atop Mavrovo's summit.
"No, no," I insisted.  "I work for a humanitarian
organization in Skopje."
"A foundation?" he asked.  I didn't know what he meant
but since he was accusatory I decided he must mean one of those 'obnoxious'
peace organizations goading the Macedonians to stick to the cease-fire.  I
didn't need this, and had the Campari not been the cheapest place in town
I would have marched right out.  Instead, since money is more important than
pride sometimes, I bore out his insults and for $15 a night I settled into
an ample room, about thirty meters from the lifts.
I could have ordered a dinner from Jordan for $1.50, but I was
feeling too antagonistic for that.  In my room I brought out my backpacker's
stove and cooked a pot of pasta.  This involved no small amount of fire hazard
and I certainly wouldn't have done it if my idealized Goran was in charge,
but with Jordan managing–Captain Anti-America–I could not have cared less.
The next morning I decided to do an interview with a resort
official, trying my hand at professionalism.
"Now we have four machines to prepare the runs," the
manager of Mavrovo's accommodations department told me.  'Prepared' meant
groomed, I quickly gathered.  He leaned forward as he said this and exuded
pride.
"How many of the runs are prepared?"
"All of them!"
"Even the advanced runs?!"
"Every one!"
To the official, this was progress.  Looking up the mountain
I saw beautiful steep pitches, the kind where great mogul fields are born,
and I imagined the pristine bumps being wiped away.
"There isn't one mogul run?" I asked, trying not to
look sad.
"No.  Not one."  He was beaming.  Those pesky moguls
had finally been put down.
They had lots of new equipment at Mavrovo, he said, due to privatization. 
A company had bought the resort from the government, doubled the prices, and
were trying to turn a profit.
"Everybody was shocked when they doubled the prices,"
he said, "but now that they see our new equipment, they understand that
it's worth it."
The new owners have bought snowmakers too, although they haven't
been able to use them.
He explained, "Last year was too warm.  This year we have
enough snow."
"Do you think they were unnecessary?"
"Absolutely not!  They will be very useful, maybe next
year."
They also had updated their old chairlifts with new machines
and new cables.  "Those old ones were about to fall apart.  They were
totally unsafe," he told me, expecting me to be relieved that a horrible
accident was avoided, and now they're fixed.
"Tell me about Mavrovo ski culture." I asked, trying
to get a more human feel of the area.  He was confused by the question.  What
is ski culture?
"Well, are there any Macedonian ski bums?"
"Ah.  No.  I don't know anybody like that."
"What about après-ski?"
"Look, Mavrovo's a quiet place.  There's two bars but one
of them is closed this year because of the fighting.  We just built a covered
basketball court.  Hopefully that will bring more activity."
"So, do you think Mavrovo can become an international resort?"
He shot me a cock-eyed look, which I deserved for asking such
a dumb question.
"No.  We had no snow last year, and now with the fighting
and the economic collapse…we just want to get back to where we were when
Macedonia was still part of Yugoslavia.  Then we had 3,000 skiers a day."
"And now?"
He frowned and turned silent.  I told him it was time for me
to go skiing.
Beginner: Blue
Intermediate: Green
Advanced: Black
On the mountain I tried to estimate how many skiers were there
now.  At first I thought there were twenty, but then decided I was underestimating
and that there might be as many as fifty or a hundred.  Whatever the number,
it was a far cry from the 3,000 of halcyon Yugoslav days.
This emptiness gave Mavrovo a desolate feel, heightened by treeless
snowfields at the top meadow, comprehensive grooming, chairs without lift
attendants and a persistent fog.
But desolation can be a good thing.  There were no lines, and
the skiers hardly made a dent in the powder gathered over the night.
Of the few skiers at Mavrovo, I was the only one interested
in the ungroomed parts of the mountain, and so I skied peacefully alone through
powder.  The groomers had been everywhere they could, but some places were
too narrow or rocky or cliffy for them to flatten, and these had been preserved.
My anticipation of an empty day of sparse entertainment among
scattered jumps or quick forays into trees was not the case.  On my first
run I discovered the unaltered purity of the slope under the one-person chairlift,
and then there was no turning back.  The trees at Mavrovo have wide branches
that make tree skiing difficult, but not impossible, especially if one can
ski while ducking.  It was an intense day for me, dividing my time between
the trees and the narrow runs.  My muscles burned, and as the day ended I
was covered in sweat and snow.
Perhaps you, reader, are not a fan of the extremes as I am. 
If this is the case, then I can pass on a hardy recommendation.  Mavrovo's
intermediate and beginner skiing was ample, with perfect snow quality.  For
my fellow indulgers, Mavrovo is not intended for us and its charms are not
infinite, but for a small area tucked away in Macedonia it is not bad.  It
doesn't warrant a special trip, but if you're in the area it is worth a visit.
For me, the $30 for hotel, rentals and lift tickets was cheap
by Western standards, but too great a chip out of my $75 monthly humanitarian
stipend, and I made plans to leave.
Retrieving my bag from the hotel I met Goran, the Campari's
proprietor, who in fact was a very nice guy who spoke English well and wore
a cardigan rather than a fleece.  But he made me tarry too long.  I missed
the bus to Skopje and had to hitchhike home.