Ellicottville, NY – The warm rain washed away the early December snow that had fallen in copious amounts the prior weekend and frigid air was on its tails. The conditions for the coming weekend were looking like refrozen saturated snow, in other words "boilerplate" and "death cookies." The cold air worked up the moisture from the Great Lakes, causing bands of lake effect snow to reach across New York State that dumped up to a foot in some places on the lee side of the state's two neighboring Great Lakes. These bands of heavy snow gave us hope for powdery surfaces at the ski areas in the path of these bands.
As it was still "early season" by New York standards, some ski areas were not yet open, and some were struggling to get open, as days that are cold enough to make snow had been followed by warm winds and heavy rains. Many ski areas have powerful snowmaking systems that enable them to blow snow on their slopes and have terrain open in just two to three days. With the 24 hours of cold air prior to the weekend, snowmaking crews busted butt to get the slopes resurfaced into something skiable.
Looking to try something different within a three-hour drive from my home in Ithaca, New York, there were many options, including some with natural snow coming off the Great Lakes. Under consideration were: Snow Ridge, near Rome, New York; Bristol, south of Rochester; and Labrador and Toggenburg, just an hour east and north. Greek Peak was getting some of the lake effect snow as well. The Catskills were not seeing any snow. In Western New York, heavy snow was falling south of Buffalo. Though the hills are not very tall in that area, we thought it would be a good choice with so much snow seemingly coming off Lake Erie in the direction of Ellicottville, home of two of the largest ski areas in western New York State.
A BREEDER HILL
When you come from the flatlands of Cleveland, Pittsburgh, Buffalo, or Toronto, 750 vertical feet is a mountain, though merely a pimple compared to the mountains to the east. Holiday Valley attracts nearly 600,000 snow sliding visitors per year. Since so many people go there, we thought there must be something to this 750-foot bump. Just 2½ hours from Ithaca, it was not an unreasonable drive to check out what western New York has to offer and to chase the lake effect bands of snow.
Holiday Valley is located in Cattaraugus County, which is due south of Buffalo bordering Pennsylvania. Coming from the east, old New York State 17, now Interstate 86 made the drive quite easy to the Salamanca exit. Just 10 miles north of the highway, turn left across from the Burger King on New York Route 219 and you are at the Holiday Valley Resort. Driving up the resort access road you get a good look at the trails and many lifts. The snow guns were blasting and all of the slopes were white. They had more slopes open than most of the resorts in all of New York State. The snow report stated that six new inches of snow fell since the rain. While this may not have been the most bountiful ski day of the season, there seemed to be plenty of slopes to slide down at Holiday Valley.
We hopped on the Mardi Gras Express Quad, the resort's longest lift. It didn't take us more than a few minutes to get to the top of this high speed detachable. We skied their longest trail, a blue cruiser with the same name. We were back at the base in a jiffy, as conditions were firm and fast, and the slopes seemed shorter than what I am used to. Any powder that may have fallen was groomed solidly into the firm surface. We went back up on the same lift and dropped down a slightly steeper pitch on Yodeler, a black diamond trail that was one of the first trails cut nearly 47 years ago. The Yodeler lift was also a quick ride even with a fixed grip thanks to its short length. We traversed across the top of the ridge to access the newly opened Tannenbaum area. The Tannenbaum quad is a brand new high-speed detachable and another very quick ride up to slightly more interesting terrain and somewhat longer trails. In the Tannenbaum area there are some glades that did not have enough snow yet to ski, but looked like they had some potential. The trails were mostly wide, flat, fall-line cruisers, somewhat lacking in character.
Though we skied in three different areas, there was not much difference between them, at least not during our visit in the early part of the season. Certainly with more snow and open terrain, the mountain may be more interesting. It does not seem that the resort's layout takes advantage of their full 750 vertical feet in any run. The trails come off a ridge, taking the short way down the fall line into the valley. The trails we skied did not have much more than 350-500 vertical feet each. The 750 feet is measured from the highest point on one side of the ridges, across the ridge and down, all the way down to the highway in a somewhat lateral direction from the trails. As a result, the runs are quite short and for the most part not very steep.  Most assuredly, for those living on the fringes of the Midwest this hill is sufficient for a ski weekend.
Holiday Valley provides a lot of other things that the vertical can't, like fabulous facilities. There are five magnificent lodges, with fine details including beautiful woodwork, stone pillars and fireplaces. The Resort Services Center looks like the lobby of a fine hotel. This is where you'll find the hub of the resort business and administration.
The brand new Creekside Lodge houses the ski and snowboard learning center. There is a children's learning center on one side and a separate ski and snowboard school for adults on the other side. They offer special learning programs for all ages, including adaptive skiing. There are racing programs as well. Holiday Valley also has night skiing and caters to busloads of school children every day of the week.
Holiday Valley is what they call in the ski industry a "breeder mountain," a facility to introduce people to skiing and snowboarding for the first time. It is a friendly place with easy terrain. The resort focuses on providing the first time skier a positive and rewarding experience. In a short period of time, the novice skier will be able to cruise all over this mountain. If the novice skier/boarder has fun, they will return.  oliday Valley breeds skiers who will some day go on a ski vacation elsewhere to experience bigger and more challenging mountains, as well as purchase skis and related gear thereby contributing to the ski economy. Besides a quality learning experience, Holiday Valley offers other amenities that contribute to a worthwhile experience.
Holiday Valley's luxurious Yodeler Lodge is typical of the quality
facilites that the resort offers.
Ellicottville offers all of the amenities of a
true resort town.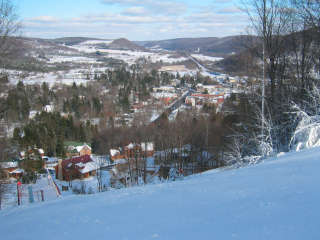 The slopes of HoliMont look down upon the
center of Ellicottville.
Click image to open a full-size HoliMont trail map.
The Cascade quad chair serves expert terrain at HoliMont's eastern
end.
HoliMont's Sunset Chair sits at the far western end
of the resort.
High quality dining options exist in three spacious lodges. The Clubhouse Chalet has a huge cafeteria that can seat hundreds of people. There is also a full service restaurant and a café that serves baked goods. The Yodeler Lodge has large round tables and wooden chairs in its cafeteria. There is also a beautiful cafeteria in the Tannenbaum Lodge. The facilities were so nice that they were reminiscent of Deer Valley, Utah. Everything was very fancy, new and clean. You can tell that the resort takes a lot of pride in this place, and the food is excellent. There were many fresh choices, including salads, subs, a self-serve soup bar, and hot entrees and grilled items. The baked goods were fresh and delicious. For those who care to bring their own burgers and steaks, there are large barbeques available on a first come, first served basis outside the lodge. There are plenty of tables and chairs outside as well. A north-facing mountain means south-facing lodges. Holiday Valley takes full advantage of this with a lot of outdoor decks with Adirondack chairs and picnic areas.
Since the 1980's, Holiday Valley has made over $55 million in improvements. Owned by the same corporation since its inception in 1957, Win-sum Inc has made Holiday Valley a first class resort. Besides the new buildings, investment has been made in the uphill movement. There are nine quad chair lifts, two of them high speed detachable, two double chair lifts and two surface lifts, delivering an immense uphill capacity of 22,050 per hour. They can really move people at this place. They have to, because it doesn't take very long to get back to the bottom to ride the lift again.
TWO SKI RESORTS IN A REAL RESORT TOWN
Just barely a mile north of Holiday Valley is historic Ellicottville, known as the "Aspen of the East" with its ski shops, cafes, restaurants, bars and microbrewery. The village has a historic district with a village green, church, museum and town hall. It is a very quaint and inviting place. The main street is lined with shops, boutiques and eating and drinking establishments. This small town of 1,000 full-time residents has over 20 eating and drinking establishments attesting to the large number of people that visit this western New York ski town. Ellicottville hosts many festivals and events year round to attract and entertain visitors and keep them coming back.
In view from the village are the slopes of HoliMont, the largest member-owned ski area in North America with 50 trails on 750 acres. Family membership costs $11,000, plus annual dues. This may sound like a lot, but it is an investment in a skiing lifestyle for the whole family for a lifetime. If a family of four belongs to HoliMont for more than a decade, it costs about the same as a yearly season's pass for each person at other ski areas of similar size. If you live in the flatlands of Ohio, Ontario or Buffalo and you want to belong to a skiing community within a short drive, HoliMont is the place. Nearly half of HoliMont's members are Canadian, and private ski areas are a very popular concept in Ontario. The Canadians understand the benefits of membership in this type of community.
The 725 vertical feet at HoliMont skied much longer than those at neighboring Holiday Valley located just one ridgeline to the south. Its fifty trails are varied and interesting, and offer steeper pitches and meanderings than its neighbor's. The black diamond runs on this mountain were a few notches up in difficulty from other Western New York resorts, and there are some beautiful glades that did not yet have enough snow for us to enjoy. Seven chair lifts and one T-bar provide an uphill capacity of 13,000 skiers per hour. While HoliMont may not have high speed lifts and fancy lodges that Holiday Valley offers, they make up for it in a friendly, cozy, homey atmosphere of community and effective use of terrain. The Main Chalet base lodge was warm and comfortable with a beautiful fieldstone fireplace and a café serving fresh food and baked goods.
HoliMont prides itself with its home-made snowmaking system that covers 100% of their terrain. Four members, three engineers and a patent lawyer got together and devised a snowmaking system that produces a higher quality of snow than other systems in the industry. They patented the technology and sell the system to other ski resorts across the country. HoliMont is able to cover many trails in just a few cold days with a snow that is made of particles nearly five times larger than those produced by other snowmaking systems, thereby increasing the space between the flakes to reduce the amount of boilerplate ice and create nice powdery and carveable surfaces.
In 1937, the first tow rope was erected on Greer Hill just outside of Ellicottville. By the end of World War II this small ski area died out. In 1964, 13 local people got together to resurrect the old ski hill, deciding to make it a private club. The old trails were re-cut and the first double chair lift was installed. HoliMont was born.
Now celebrating their 40th anniversary, HoliMont is the largest private ski area in the United States with 1,300 family memberships. Generations of families have become part of the HoliMont community. The mission statement characterizes the HoliMont as a "unique private club centered on the family unit providing the highest quality of dependable, safe, and economical skiing for all its member and guests in an atmosphere of social interaction, friendship, volunteerism and based on sound financial management." This is a club that any skiing family would want to be a part of.
HoliMont is also by definition a breeder mountain. They may not be milling out new skiers by the thousands, but HoliMont breeds skiing families. There are race programs and children's programs as well as community events and parties. The emphasis is on the family community. HoliMont is a place where childhood friendships blossom and grow on the slopes. Children grow up and have their own families that become members. The community spirit is passed on to the future generations of HoliMont members who have made lasting bonds with other skiing families through their affiliation with this unique club.
HoliMont also gives back to the community by participating in the Make-A-Wish Foundation and providing an adaptive skiing program, complete with adaptive equipment for rent, guides and instruction.
In the rental shop, besides the usual skis and snowboards, one can rent telemark gear, snowblades, snowshoes and cross-country skis. There are cross-country ski trails accessible from the lifts.
There is also an ice skating rink on premises.
A full calendar of events for both daytime and evening programs keep members busy. There is an extensive snowsports program for all ages that includes skier and snowboarder development, racing, freestyle and telemark skiing. There is also a halfpipe and terrain park. Kids are a large part of HoliMont and many programs and facilities were designed with children in mind. There is also day care, so Mom and Dad with tots can get out and enjoy the slopes on their own.
As a guest of this private ski area, we did not feel like outsiders. People were friendly and kind. It was clear to us that this was a nice place to be a member. HoliMont opens its doors to non-members on weekdays, and non-members may come as guests of members on the weekends and holidays. It is certainly worth a visit on a weekday for the non-member.
Western New York may never be a ski destination for snow sliders east of Rochester, though its small hills and 200 inches of snow per year provide plenty of fun for skiers from topographically deprived lands bordering the Midwest and the Great Lakes states. The town of Ellicottville adds to the attraction, keeping families and friends fed and entertained after a day on the slopes. Both ski resorts offer plenty of activities on and off the snow. There is no shortage of fun to be had in Ellicottville, the capital of skiing in Western New York.