Ludlow, VT (November 2004) – Jackson Gore is the newest addition to Okemo's already expansive mountain facilities. It includes the Jackson Gore Inn, the Jackson Gore Base Area and Jackson Gore Peak – a fifth mountain area, adding 14 trails and a learning area to this central Vermont resort.
Jackson Gore caters to families and those who desire a luxury ski trip with all the amenities just a few hours' drive of major northeastern cities and suburbs.
If you are coming from the east, then pass the Okemo Mountain Road and continue further west to the next entrance on the left where you might see the sign up on the hill. From the west, well…keep your eyes peeled and look over your shoulder, because you won't see the sign until you've passed it. It is the first right turn before the approach to Ludlow, just west of the junction of Vermont Routes 100 and 107 across from the VFW building.
Jackson Gore Inn (photo: Okemo Mountain Resort)
Once you find the entrance, wind your way up the maze of roads and parking lots. If you are staying at the Jackson Gore Inn, then pull right up. Once you check in, the valet parking staff will unload your car and check your skis as they whisk your luggage up to your room.
The rooms at Okemo's new Jackson Gore Inn are spacious, tastefully decorated and quite comfortable. Everything you need and more, like three televisions in one suite, is ready for you. These rooms and suites come in a variety of configurations and can be bought as a vacation property, or, they can be rented from the existing owners who got in on the action early, way before the Inn was complete. There are plans for additional buildings as units are being sold faster than they can be built. If you buy now, don't expect to be able to use it for another season, as the newest sales have yet to be built.
The Jackson Gore Inn is prime real estate for skiers who like fine slopeside accommodations in an urban village-type setting. Everything you need is within the same building complex, including a ski shop, ski school, daycare, a rental shop, restaurants, a fitness center, a year-round outdoor pool and hot tubs, a bar  and a fireplace lounge. They tried to achieve the pseudo-Vermont village effect in its architecture, though it is more like an apartment building as you must take elevators to get up and down from the lodging units. All the services you need are on the ground floor. The only thing you need to go outside for is the skiing.
For the day skier, escape the crowds at Okemo's main base area by driving over to the Jackson Gore base. There is ample parking available, and everything you need is right there, including rentals, ski instruction, a learning area, and children's programs. You won't have to climb lots of stairs or steep hills with all your equipment while sweating profusely in your ski clothes.
If you do start at the main base area, you can ski over to Jackson Gore, although it will require keen navigational skills to take you over three mountain areas via more than a half dozen trails to get there. It is definitely a scenic route and is worth the effort to explore this new terrain, no matter how you get there.
Once you get on the snow at Jackson Gore, there are 14 trails and two new gladed areas this season to sample. There's something for everyone, from an abundance of Okemo's long hallmark groomed cruisers, to somewhat steep trails, some with moguls. You can launch from Jackson Gore to the rest of the Okemo Mountain Resort via a network of over 115 trails and 18 lifts.
No matter where you start at Okemo you have to take at least two lifts to get above the learning areas onto higher terrain. The novice skier at Okemo does not have to go very far to have fun, as the learning areas are close to the base lodge.
ON THE MOUNTAIN
Okemo prides itself with its meticulous grooming. So, what you find at Okemo are dozens of trails that seem very similar, groomed shoulder to shoulder with smooth, firm surfaces. This makes for nice cruising and carving, providing novice and intermediate skiers and riders with pristine manmade conditions upon which to hone their skills. This is ideal learning terrain for the average skier. One friend had not skied in 35 years, yet he rented equipment and went from green circle to black diamond trails in just a few hours. The forgiving snow surfaces make skiing much easier, especially with today's modern shaped skis. Another friend who usually skis at nearby Killington once said, "I love Okemo…I ski much better there," testifying to the fact that wide-open well-manicured snow is much easier to ski, especially when it is on trails that are not terribly
steep.
Overall, Okemo is not a very steep mountain. There are a few steeper pitches, but mainly the trails are wide, groomed and mellow. Most intermediate skiers can handle the groomed black diamond trails at Okemo. The expert level skier will only find a few trails that will challenge. There are not many trails with a consistently steep pitch or many slopes left ungroomed, the way nature left them. There are some steeper sections, but they are of short duration.
Okemo is one of the few places where they actually make snow in the glades. There are two double-black diamond trails between the South Face lift and the Glades Peak lift that can entertain the expert skier for a few runs. These trails are left ungroomed and have steep pitches that sometimes have exposed rock, adding interest and challenge for advanced skiers. This is where you want to be on a powder day if loose snow is on your menu.
For the mogul meisters, the designated mogul runs are "seeded" so that evenly-spaced moguls form, giving the bumper perfect rhythm down the zipper line. If you get in over your head on one of these runs, there is a groomed swath at one side where you can escape and cruise down on a smooth surface. At Okemo, you won't find yourself stranded in a sea of bumps without an escape hatch. This is also ideal for people skiing in a group where some want moguls and others don't. They can ski the same trail and ski the side that they most prefer.
If it dumps overnight at Okemo on a weekend, don't expect to find 100+ trails choked with fresh powder in the morning. You will have to sniff out powder stashes in the glades. Most trails are groomed every morning, as the core of Okemo's customers prefer groomed terrain over fresh powder. This is not a mecca for powder. If you hit it on a weekend when it is snowing and seek out freshies, stay in the glades for the most fun.
Okemo has a stellar snow making operation, so even when there's less than average natural snowfall, there will always be a manmade base with fresh-groomed corduroy each morning. This also makes Okemo an ideal destination for early and late-season skiing. (see Early Season, OK). Okemo begins laying down its base early and makes large amounts of snow throughout the season.
As a part time and less-than-expert telemark skier, Okemo was a great place for me to free the heel and free my mind. I didn't have to worry too much about getting in over my head. Most of the trails are groomed and uncrowded with a lot of room to open up and make big, wide turns. I was also able to work on mogul skills in the bump fields, but after just a few turns in the deep troughs and a couple of crash-and-burns, I retreated to the groomed escape route. Free-heelers are not widely represented at Okemo, but the resort's abundance of forgiving terrain and superior grooming make it an ideal place to learn to telemark. There are plans to include telemark instruction and telemark gear rental this ski season.
BACK TO JACKSON GORE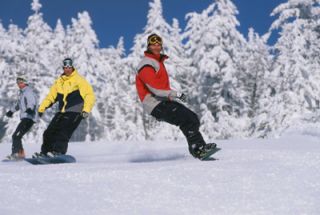 (photos: Okemo Mountain Resort)
From the South Face we rode two lifts to get back to Jackson Gore. Traversing the entire mountain seemed daunting, but it's not as challenging as it seems. Instead of taking the green trails over the top of the mountain, we skied the more challenging trails with more required lifts to get to Jackson Gore. The best thing to do is once you are at Solitude, take Escape over to Blue Moon which will put you on Lime Light to the Jackson Gore Express Quad. This lift quickly whisked us up to the top of Jackson Gore Peak, where we checked out the resort's newest black diamond offerings. Vortex was narrower than some of Okemo's other black diamond boulevards. Quantum Leap is a fall-line trail, and the designated expert terrain was a bit steeper in this new area. Unfortunately, there wasn't much else on that peak that was interesting to our group that day. Two new glades await visitors this season, but after three runs on Jackson Gore
Peak we were ready for the hot tub.
The Jackson Gore Inn has a lovely outdoor heated pool and multiple outdoor hot tubs, as well as indoor hot tubs. There is a fitness center, but I always wondered who would want to get on a treadmill or Stairmaster after skiing all day. All I wanted to do was to immerse my tired body in a pool of hot water. I especially enjoy doing this outside with snow falling from above while the steam rises from below.
I had hoped to check out the tavern on premises, but I was so drained from the pool and hot tub and a full day of exploring all of Okemo's mountain areas, that I could not get myself off the bed. The fridge was full of Long Trail Ale, anyway, so there was not much motivation to go anywhere else. After all, each room in the two-bedroom suite had a television. I ended up ordering room service and ate while reclined on the bed in front of the tube. Comfy sofas and a couple of friends gave us little reason to leave after a good day of skiing. The nice thing is that at Okemo's Jackson Gore, we didn't have to.