Tooele, UT – Phil and Steve Mahre's World Cup ski racing career ended in 1984, following gold for Phil and silver for Steve in slalom at the XIV Winter Olympic Games in Sarajevo and Phil's third straight Overall World Cup Championship. For ski racing's famed Mahre twins, however, the lure of speed proved too much to ignore. On Friday afternoon, the siblings could be found speeding around the dusty and wind-swept western Utah desert in relative anonymity at Miller Motorsports Park in their Ford Mustang GT race car at the season's final stop of the 2007 Grand-Am KONI Challenge Series.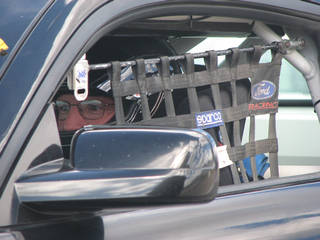 Steve Mahre sits at the starting line for the 2007 Grand-Am KONI Challenge race at Miller Motorsports Park in Tooele, Ut. on Friday.(photo: FTO/Marc Guido)
Few ski racing fans may be aware of the Mahres' auto racing career, and vice versa. It was in the late 1980s, however, that the two first dabbled in auto racing by entering endurance events, including the 24 Hours of Daytona.
"We went to driving school, and then said we'd give ourselves five years to figure out if we have any talent at this," says Phil. "Within those first five years we won a driver's title on the west coast, the National Championship in GT-1. It was a situation where we had the ability, and then it's just a matter of finding the finances to do it."
Their early career in auto racing ended abruptly in the early 1990s. The responsibilities of family and a need to fund their new thrill forced a decision between pro ski racing and auto racing. "We had two sponsors who pulled out of the sport, and we had kids, families we were raising," Phil explains. "We were on the road all winter, and then we were on the road all summer, and something had to give. Car racing took a back seat for the past 12 to 15 years, so we're just getting back into it."
Getting back into it meant buying the Mustang through Ford Racing and starting in the Grand-Am KONI Challenge Series.
Ski Racing to Auto Racing
The nine Mahre kids grew up on the slopes of White Pass ski area, 40 miles west of Yakima, Washington where there wasn't much else for a kid to do but ski. "We were basically 40 miles from our friends," Phil explains. "There were two other families up there. I think the population of White Pass was 22 and our family was 11 of it."
Listen to the entire interview with Phil and Steve Mahre.
(Running time 16:46)
Phil and Steve would hurriedly complete their homework on the 90-minute school bus ride home and then spend their after-school hours free skiing and running gates. Phil sees this proximity and frequency as a key element in the Mahre brothers' development to become two of the greatest ski racers in American history.
"As a youngster, when you're starting in any sport, the key is the quantity," Phil believes. "How often are you doing it? It's not necessarily about quality when you're young, it's how often and how much do you get a chance to do it. That was key in our development to becoming great skiers.
"We were just fortunate," Phil says modestly. "My dad was an orchardist, he was a rancher. He was struggling at that and got offered the mountain manager (job) and took it, and the rest is history. Had he not gotten that position, we might have been weekend warriors. We'd be great apple farmers today."
Sibling rivalry also played a critical role for the Mahres' success in ski racing. Phil and Steve would continue their internal competition honed on the slopes of White Pass into their years in World Cup competition. "I had a teammate that pushed me from a very early age in the sport," Phil says. "I always had to contend with Steve. He'd always be within tenths or I'd always be within tenths of him. We kind of pushed one another up the ladder. That just makes you a better skier. It wouldn't have happened I don't think if Steve had not been there to push me and keep me focused and challenge me throughout my career."
One need not look hard to see the parallels between ski racing and auto racing. Both are fast and dangerous, and ample analogies exist in reference to both the strategy and the forces involved. "It's very similar to skiing as far as line and those types of things," Phil explains. "Weight transfer on the car to get through corners and stuff."
Phil and Steve Mahre's 2007 Ford Mustang GT on the track at Miller Motorsports Park.(photo: FTO/Marc Guido)
But there are differences between the two sports as well. "The big difference is the concentration level. In skiing you concentrate for 30 seconds, 50 seconds, a minute and a half at the most," says Phil. "Out here, if you're in the car for an hour and a half, you have to concentrate for an hour and a half, and there's a lot more going on. It's not only in front of you, it's behind you and beside you sometimes."
Steve agrees, but adds a different perspective by comparing the ideal line in ski racing to finding the fastest line around a race track. "You have a gate for an apex in skiing, and you have a curve per se for an apex in cars. There's an ideal line around the track and you have to go out and find that line," Steve adds. "If you go too straight on one turn in a car, you're late for the next turn. Same thing in ski racing – you go too straight on one gate, you're late for the next turn, and it just compounds down the course or here, down the track."
Steve's competitive streak extends to the race track. "For me the thrill is having the opportunity to get in a car, and maybe somebody can get in that car and go two seconds faster than you. So you say, 'I know there's two seconds in that car – I've got to find it.' Maybe that's line, maybe that's braking, maybe that's accelerating better off the corner…whatever. That's a challenge, trying to be better every time I get into that car."
Both sports, of course, involve an adrenaline rush and an element of risk. Surprisingly, though, the Mahres feel more comfortable in a car than on skis. "You feel a lot safer in a car than you do on skis," says Phil. "And I'm comfortable at 80 mph on skis, it's just that when you take a tumble at 80 on skis, your body takes punishment instantly. In a race car you have a nice solid roll cage around you, you're in a six-point harness…you're strapped in there well. If you ever hit anything, it's meant to be hit. On skis you're the suspension, you're out in the elements. Eighty (mph) on skis feels a lot faster than 150 or 180 in a race car."
Still Skiing Competitively at 50
Despite their efforts to succeed in auto racing, the Mahres continue their involvement in skiing to this day. The two run the Mahre Training Center each winter at Utah's Deer Valley Resort, and at age 50 Phil has set a personal goal to reach the 2008 U.S. Alpine Championships on a competitive level.
"It's a doable deal. I think that the key is to get more training time," Phil admits. "I don't get paid to ski race anymore, so it costs me money out of my pocket to go do it, and I still have to make a living and pay other bills. It's a situation where often times I don't get enough training time because I'm off earning money to support the habit in some respects and also support the family. I know that if I put some sponsorship money together and I can go out and train five or seven days a week it's an easily doable deal."
Phil is currently lining up sponsors to do just that. Descente clothing has shown support, Phil says, and he's also turning to individuals in the Pacific Northwest who want to see his comeback happen.
"The key is to be at least ranked in the first 10 or 15 in the Western Region in one discipline and that will probably get me there," Phil concludes, but admits, "I have my work cut out for me, but consistency was lacking last year – I had great runs, terrible runs and never put two together really – and I think if I put two runs together anything's possible.
"I've got the 40-plus crowd in my corner," he adds, laughing. "I go out for these races and the kids I'm racing against are 19 or younger. They don't have a clue as to who I am, but their parents do, and even though they're there for their kids they're rooting for Phil."
Returning to ski racing may have positive benefits for Phil's auto racing career as well. "I think that it always helps if you stay competitive year-round. If you just take six months off and let your brain turn to Jello, not being in a competitive state or a competitive mode, bad things can happen," Phil concludes "We did that when we were in ski racing. We used to take the summers and race motocross, and so we were competing all year round, and I think it was a bonus."
Few on the auto racing circuit may be familiar with the Mahres' storied ski racing past, but a successful comeback in the U.S. Alpine Championships just may change all of that.