Cortina d'Ampezzo, Italy – It was gusto from the get-go. Diana, my longtime Italian ladyfriend, charged her last run of an ace morning on the grand ski slopes of Cortina d'Ampezzo, firing expert turns down a chute called Eye of the Needle, so named for the rock formation one threads at the top of a 50-foot-wide rock wall and 800 vertical-foot drop. I'd rapturously watched her descend, and then skied solo until last bell.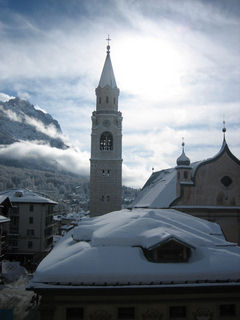 Cortina d'Ampezzo
(photo FTO/Jonathan Auerbach)
Textbook, yes, but Diana's true tutorial in Italian ski technique came later. The last cable car down whisked me from the steeps to Cortina's chalet-chic village, and onto its main pedestrian runway, the voguish Corso Italia, or "Corso." There the glitterati draped in plush fur coats and designer duds promenaded and prowled the designer boutiques, galleries and the Cooperative di Consumo, Cortina's Harrods.
I stopped for a glass of red at Enoteca Cortina, the intimate "in" wine tasting cellar, and later caught up with Diana, ensconced at the bar of the "Posta," the Hotel de la Poste, Cortina's famed inn and boîte. The Posta, a landmark on a prize corner of the Corso, dates back two centuries. Its bar is as storied a watering hole as Harry's Bar in Venice: same swells, same spirit(s). It's de rigueur to have the veteran barman Antonio prepare the house special Puccini (champagne and mandarin juice), which Diana was sipping. She gleefully recounted with tuneful Italianate flare her lunch on the sundeck of Son Forca, Cortina's choice mountainside rifugio, or open-air café. A sensory feast of antipasti and pasta putanesca, a carafe of vino rosso and desert of gelato con cioccolato caldo — that she'd shared with the guy sitting next to her now, a rakish Italian ski instructor demigod with a bravura tan…
My snow diva had staged a stylish reminder of what Italians never forget: skiing is romantic opera, a drama of victory and seduction. Hey, skiing was all downhill – ever since the Norse Frost Giant invented winter, and the ski-goddess Skadi shacked up with the ski-god Ullr, who gave birth to snow and mountains – until the Italians invented amore (and Jacuzzis). The allure of skiing the Italian way is not only about doing, but about doing nothing, what the Italians call La Dolce Far Niente, The Beautiful Doing Nothing.
Think sensuality with a side of skiing, and though the Euro has hit a high versus the dollar, consider the epic highs it buys. Add to the brio the boast of the well-endowed "boot" itself. Italy straddles two-thirds of the Alpine Arc, and has practically all of Europe's sunny southern slopes, more ski areas than France and higher terrain than Austria.
Cortina, a mere hundred miles north of Venice, nestles at 4,000 feet in the Dolomite range. These 11,000-foot peaks of multi-hued rock spires rose from the coral beds of a primordial sea. Peaks that freakishly change color with the sun from dawn to sunset, and of which Le Corbusier called "the most beautiful work of architecture ever seen."
One ski pass, the Dolomite Super Ski, links Cortina's three distinct ski complexes of Tofane, Faloria and Cristallo to the Dolomite circuit — 464 lifts and 700 miles of ski runs in 11 valleys at 38 different ski centers, comprising the most inter-country ski runs in Europe and the world's largest ski grid. And while experts can attain the outermost reaches and extremes of this ski space, lesser ski jocks will find themselves cruising more manageable dream slopes than anywhere else in Europe.
Most American skiers who've mapped the Alps know little of these stupendous snows, despite the 2006 Winter Olympics celebrated in Turin, Italy. This marked the second time Italy hosted the Olympic Winter Games, the first being held in Cortina in 1956. The official motto of the 2006 Olympics, "Passion lives here" is sporting tribute to the switched-on playful Italians themselves, the overwhelming number of skiers at their own resorts and what makes the getaway so sexy.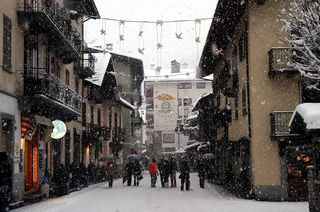 Courmayeur
(photo: Courmayeur Tourism)
Between the tease and the terrain, an Italian ski fling can indeed become a loving lifelong affair. Mine began a few years back in Courmayeur, a coveted hideaway ski village perched at over 9,000 ft. in Italy's Aosta Valley region atop the Italian-Swiss-French border, a two hour highway drive north of Milan. Churchs, monuments, and castles dating from the Roman era dot the valley, crowned by the awesome, famed peaks of Mont Blanc (15,771 ft.), Monte Rosa (15,200 ft.), and the Matterhorn (14,689 ft.) On Courmayeur's own Val Veny slopes, skier's and snowboarders can traverse 36 kilometres of blissfully superb wide open rolling pistes as well as hardcore off-piste challenges.
For the discerning, great digs come in small packages, and none better in Courmayeur for furthering intrigues at a fair price than the family-run chalet Auberge de la Maison. The European cognoscenti lodge there for the 33 elegant Alpine bedrooms, each with balcony and panoramic views of Mont Blanc. The topper is the sublime Franco-Italian fare, convivial service, a small spa and cozy 17th Century alpine salon with bar and roaring hearth. I'd holed up there through pasa parola, or word of mouth, referred by a friend of owner Leo Garin, whose goal is never a full house, but a welcoming one.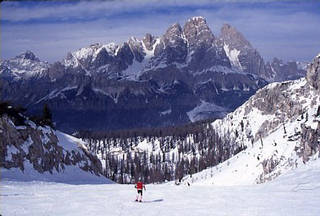 Cortina d'Ampezzo
(photo: FTO/Jonathan Auerbach)
Twist of fate on my second night at dinner in the hotel, there was Diana of Florence, on ski holiday, dining alone, all soignée, fixing me a thrilling look…leading to a week together of pure simpatico. Charmed ski days gave way to languorous après-ski strolls among the cozy bars and shops of the cobbled, traffic-free Via Roma, the central street of Courmayeur village. We'd taste classic pastries at Caffè della Posta and at Mario, such as "Tegole" (a local dry, chocolate glazed almond pastry), the "Baci" of Courmayeur (a chocolate filled biscuit) and the "Mont Blanc" (chestnut pudding topped with whipped cream and chocolate shavings). After dinner we'd forgo the discotheques and dancing 'til 4 a.m. at hotspots Bar Roma, Poppy's, and Le Clochard in favor of quiet time together.
Unbeatable was the ultimate Italian Jacuzzi: the Terme Pré-Saint-Didier thermal hot springs of the Aosta Valley, one of Europe's most spectacular baths, a 20-minute drive from Courmayeur. The Romans revered the Terme. The current spa building and connecting indoor-outdoor complex of pools, built in 1834, were a favorite retreat of the Italian Royal Family during the 19th century and the first half of the 20th century and are today a top draw in the Valley. Diana adored "taking the waters" of those 99-degree Fahrenheit mineral springs. I discovered the higher heights of relaxation in those mountain-spawned pools, thanks to the spectacular view of Mont Blanc.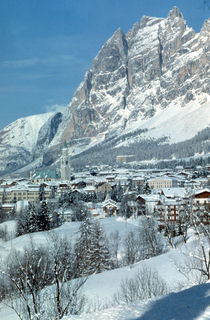 Rock spires of the Dolomite Mountains surround the charming village of Cortina d'Ampezzo, Italy.
(photo: Cortina Tourism)
Cherished are the euphoric Italian ski escapes we've since logged. Memories conjure the rush of alpine air on cheeks still glowing red, warmed by grappa at the hearth, toasting a matchless ski day, to be repeated tomorrow. And the friends made and re-visited each winter are spiritedly, theatrically Italian: ardent types like Marco Xausa, national-level racer and ski instructor of the Courmayeur Ski School, carefree lord of the slopes; or Igor Scappin, jokester and genius ski tech at the Ski Man Service shop in Cortina, venerated by the Italian national ski team for his gear skill – the friend to whom I've always entrusted my own boards for a tune-up of World Cup caliber.
Throughout, Diana herself has stayed true to her Italian nature — impressively on the make and a master of mischief. On skis she taunts and tantalizes, giving me the slip to schuss off-piste or to spring into a snow-bowl, hollering "Hop-la!" — the oft-spoken Italian skier's devilish dare to follow. Invariably, the scenario involves a stunt of drama and derring-do, an Italian movie moment.
One unforgettable go was on a frightfully steep Cortina slope named Staunies. A cornice-thin ribbon of snow, Staunies plunges down an abyss-like 1,000 vertical feet. From the top, the abyss stares back, enough to spook a yeti. I'd looked dizzily down this white elevator shaft, when suddenly Diana bounded in, initialing perfect figure eight turns, trailing on the wind refrains of that damnable "Hop-la."
I hated this lady.
Cortina d'Ampezzo
(photo: Jonathan Auerbach)
Snarling, I leapt after her; in an instant I got my groove, watching myself as in slow motion zoom past Diana waving me on.
I loved this lady.
And as that day waned, and the alpenglow of Dolomite rocks ranged from orange to rose to violet, we walked on air: a Puccini aperitif, then arm-in-arm down the Corso Italia for a dinner of grilled venison and bottle of Barolo at our favorite rustic bistro, El Zoco, and afterward a nightcap and dance at the trendy "VIP" at the Hotel Europa.
Ah, the heady eternal do-nothing beauty of the La Dolce Far Niente… Like I said, skiing in Italy is a saga, a dawn-of-time thing. And though it's always the gallant who thinks he courts the lady, it was truly she who had snared me. It hit me one night when she'd "taken the waters" of our Jacuzzi tub in our room at the Hotel de la Poste and beckoned me follow: Diana… the Roman goddess, the huntress. Who the myth says wanted to remain forever a wild young maiden chasing through the woods, who asked her father, the god Jupiter, never to make her marry – who after a grand hunt loved to bath in a quiet pool.
Better I let her propose.
If You Go
Go: To relish at relaxed pace a perfect pairing of Europe's loftiest ski resorts in all their connoisseur dazzle and dash.
No: If you're wired to sprint out the door trail mix in pocket for the day's first lift up and tuck it to last run.
Get to know: Courmayeur Tourist Office: www.regione.vda.it/turismo; Cortina Tourist Office: www.dolomiti.org
Getting There: Italian ski resorts are easily reached by car, train or bus from the major gateway cities of Milan, Venice, and Turin. Alitalia Airlines offers the most non-stops from New York, Chicago Newark, Boston, Miami, Chicago and Los Angeles, with the most connecting flights throughout Italy. The airline also participates in the frequent flier programs of United, Continental and USAir. Alitalia reservations and information at www.alitaliausa.com, or call 800.223.5730.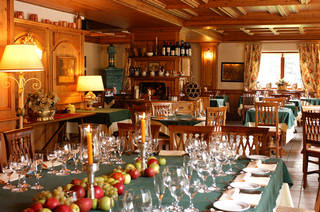 The Auberge de la Maison in Courmayeur.
(photo: Auberge de la Maison)
Passports: A valid passport is required in Italy.
Currency: the Euro, currently at around $1.45.
When to go: November to April. Prices vary substantially at Italian ski resorts according to the season. High season: Dec 19-Jan. 6; Feb.6-March 20; and April 3-April 17. Low season (opening) Dec. 18; Jan. 7-Feb. 5; March 21-April 2; and April 17 (closing).
Where to stay:
In Courmayeur at Auberge de la Maison. Winter rates vary from 120 to 390 Euros, half board per person.
Frazione Entreves, Courmayeur, AO 11013 Italy. Ph: 39.0165.869811, Fax: 39.0165.869759 Email: info@aubergemaison.it, www.aubergemaison.it.
In Cortina at Hotel de la Poste. Winter rates vary from 130 to 360 euros, half board per person. Piazza Roma 14, Cortina d'Ampezzo, BL 32043 Italy. Ph: 39.0436.4271, Fax: 39.0436.868435 Email: info@delaposte.it, www.delaposte.it
Where to eat:
In Courmayeur at Cadran Solaire Ristorante & Bar,
Via Roma 122, Courmayeur, AO 11013 Italy, Ph: 39.0165.844609; Christiania Bar & Restaurant on the Val Veney slopes of Courmayeur. Plan Checrouit 1.706 mt, Mont Blanc, Courmayeur, Ph: 39.0165.843572.
In Cortina: Sonforca Rifugio, Monte Cristallo 2235 m, Ph: 39.0436.866192; El Zoco Ristorante, Via Cademai 18, Ph: 39.0436.860041, www.elzoco.it
All restaurants are smoke-free since 2004, smoking allowed only outside.
Courmayeur Ski School: Family friendly, with 140 ski instructors (many speak English) and children 80% of the school's clients and an enclosed area, at 2400 m, entirely devoted to teaching beginners with daycare for tots. Snowboard & Ski School Courmayeur: Tel. 39.0165.848254; www.scuolascicourmayeur.it
Valley Blanche Descent: The experts-only unique breathtaking crossing of Mont Blanc on skis from Courmayeur to Chamonix, winding between granite peaks, crevasses and ice tunnels. www.courmayeur-montblanc.com
Terme Pre Saint Didier: hot springs outside Courmayeur www.termedipre.it
Cortina Ski Pass: www.dolomitisuperski.com
Cortina Ski Man Service shop: Outstanding ski tune & equipment rental. See "Ski Man" Igor Scappin at the base of the Faloria cable car in Cortina. Ph: 39.0436.867475,