Tahoe City, CA – There's something about the onslaught of spring that makes me long for a few last days on the snow. Maybe it's the simple realization that I won't venture onto a slope — at least not one covered in white — for more than six months. Or maybe I just kind of like that combination of sunshine, corn snow, and those tanned faces at the outdoor grill. Whatever the case it's about this time every year I start getting a little itchy to take one last, glorious road trip.
And no, by this time of year I don't mean March, or even early April. I'm talking the bitter end, past Easter, past tax day, past the time when most people have long put away their skis and instead are honing their golf swings or cranking up the miles on the bike. I'm talking late April – early May, the time of year when one area of the country reins supreme.
Obviously, I'm talking Lake Tahoe.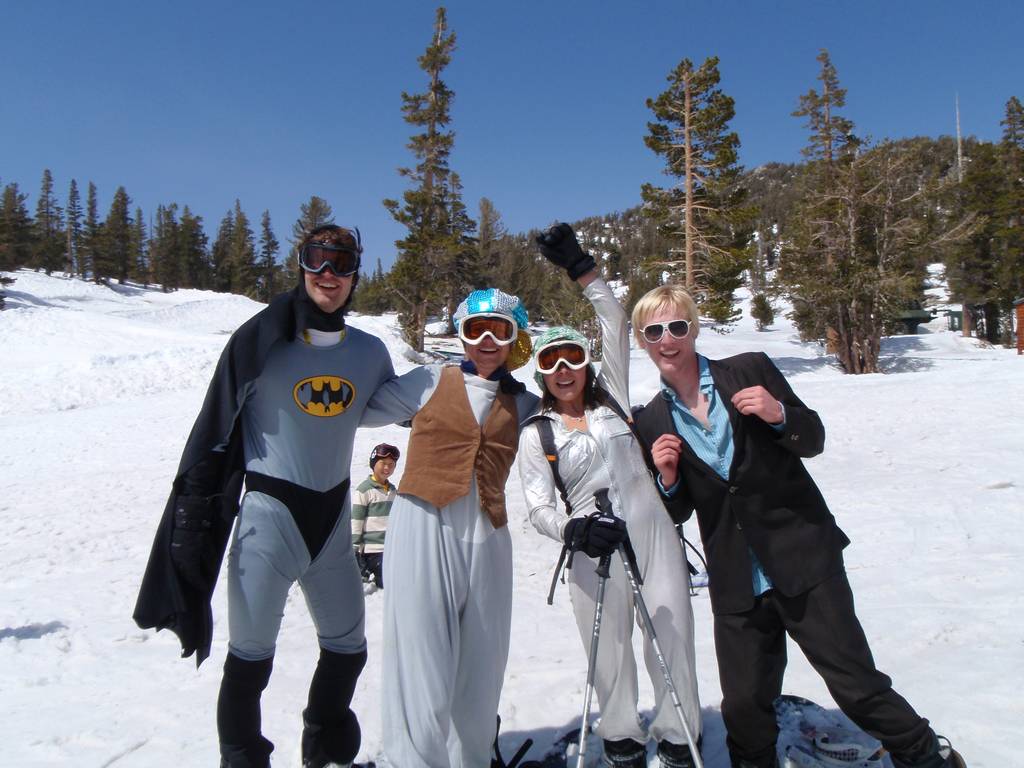 Only in the spring…closing day at Heavenly.
(photo: FTO/Jeff Hemmel)
Spring Skiing Capital
If you're a skier or snowboarder, you've probably at least seen pictures of Lake Tahoe. Trust me, they don't do it justice. Imagine a crystal clear, pristine lake, rimmed on nearly all sides by the snow-capped peaks of the Sierra Nevada Mountains. From the water, those peaks form an artist-worthy backdrop. From the top of a lakeside resort like Heavenly, that water makes for a one-of-a-kind photo op, as the slopes often appear to plunge right to its shores.
Straddling the western border of Nevada and the eastern border of California, Lake Tahoe is the eighth largest lake in the world, encompassing 519 square miles. At its deepest, the lake is over 1,600 feet deep. On a calm day, it reflects a near-perfect mirror image of the surrounding mountains. Seven ski resorts find a home in those mountains, including Squaw Valley, Northstar, and Alpine Meadows near the lake's northwest corner, Heavenly, Sierra-at-Tahoe, and Kirkwood to the south, and Mt. Rose to the northeast. Average annual snowfall for the region is 420 inches, in a season that can run from November through May.
This late in the season, a spring attack on Tahoe usually comes from two fronts — either Squaw Valley or Heavenly. Both are typically two of the last resorts to close in the area. And both offer world-class skiing and snowboarding. In many ways, both also couldn't be more different in locale. Squaw sits removed from the lake, in a quiet area outside the quaint lakeside town of Tahoe City. Heavenly, in contrast, towers directly over South Lake Tahoe, a miniature Vegas with casinos and plenty of nightlife.
Both were still open and promising snow as I, along with my wife Kris, flew into Reno on April 29th last year. If everything went according to schedule, my last day of riding for the season would be May 6th.
Or to put it into perspective, about three weeks shy of Memorial Day.
The Legendary Squaw
First on the itinerary is legendary Squaw Valley, home to the 1960 Winter Olympics. Squaw started in 1949 with a single chair lift, one rope tow, and lodge. Today, Squaw boasts 4,000 acres of terrain, 31 lifts — including the legendary cable car — and a reputation for world-class steeps. Squaw is a favorite of ski film pioneer Warren Miller for good reason. Miller started out as an instructor here, living in his VW in the parking lot.
We knew our visit to Squaw would be special when we checked into the beautiful Resort at Squaw Creek. It's peaceful setting, beautiful rooms, and pool overlooking the mountains are first class all the way. We knew it would be even more so when we discovered Miller himself would be honored the following night, and all were welcome to see the man himself, along with a collection of his film's legendary athletes.
But back to the mountain…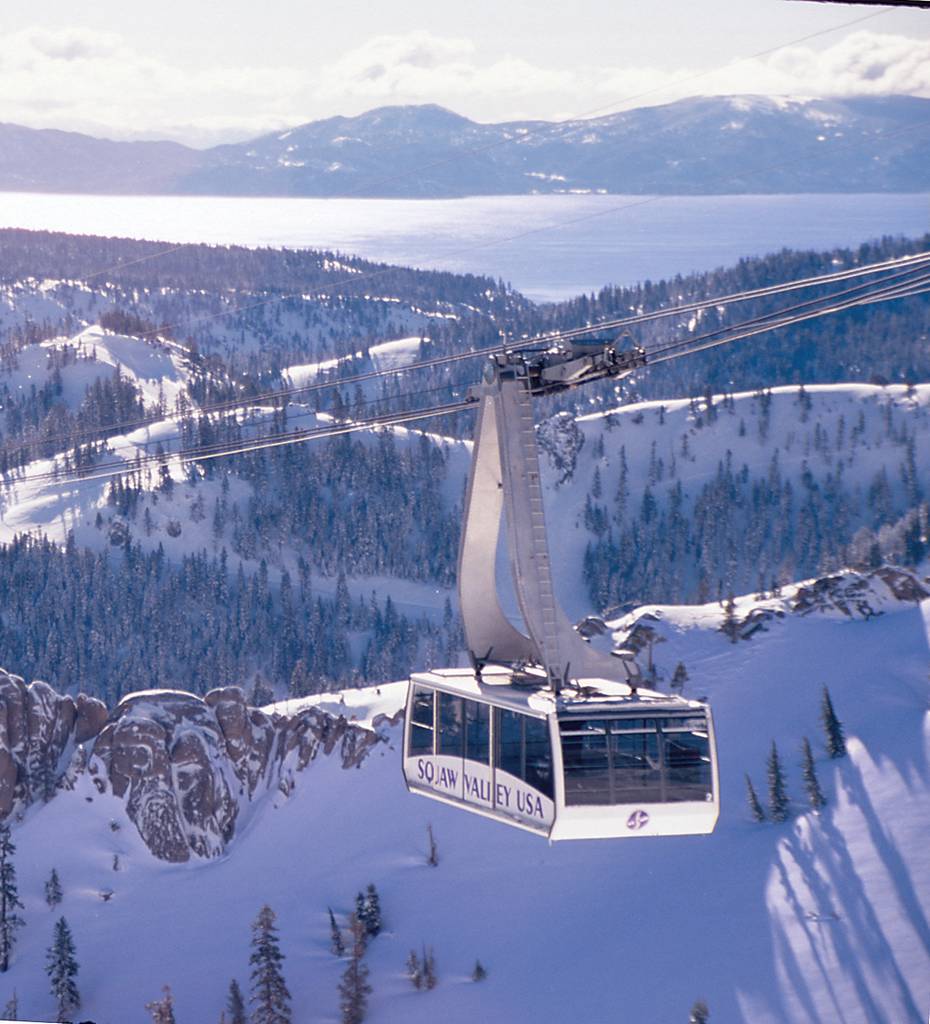 Squaw Valley's venerable Cable Car.
(photo: Nathan Kendall)
At this late stage of the season, limited terrain is still open, but what's available up top still offers plenty of potential considering how far we're pushing the calendar. We join with a pack of other skiers and riders looking to squeeze the last drops out of the season and board the Squaw Valley Cable Car for a picturesque ride to High Camp. It's a leisurely ascent of 2,000 vertical feet, giving us the opportunity to scan the area, ultimately seeing the lake peak out in the distance. At the top, another kind of water awaits. High Camp is not only home to the requisite restaurants, shops, and even an Olympic museum, but also a massive swimming pool and Jacuzzi. Yup, a swimming pool at 8,200 feet. Don't forget the sunscreen.
We take a moment to sightsee, and grab a photo below the massive Olympic rings that still sit atop the mountain. Ultimately, however, we're jonesin' for some riding time, so we say our goodbyes to High Camp and hit the snow. At 9 a.m., it's classic early morning spring conditions, meaning there's a crust of ice atop the groomed corduroy, but the beautiful Tahoe sunshine promises to soon soften things up. A short ride down Bailey's Beach and we're boarding the Links double chair, picking our way over to the Shirley Lake Express area for a day of riding.
Though extremely limited in comparison to all that Squaw would normally offer, there's something for nearly everyone still in good condition. We warm up on a succession of slopes, aptly titled Tree Runs 1-6 in Squaw's minimalist fashion. Later, we venture one lift further to Granite Peak, and enjoy the only black diamond runs still available. It's soon ultra-soft, but a fun ride nonetheless, with a memorable view off the top of the lift, and a few choices freshening up each descent.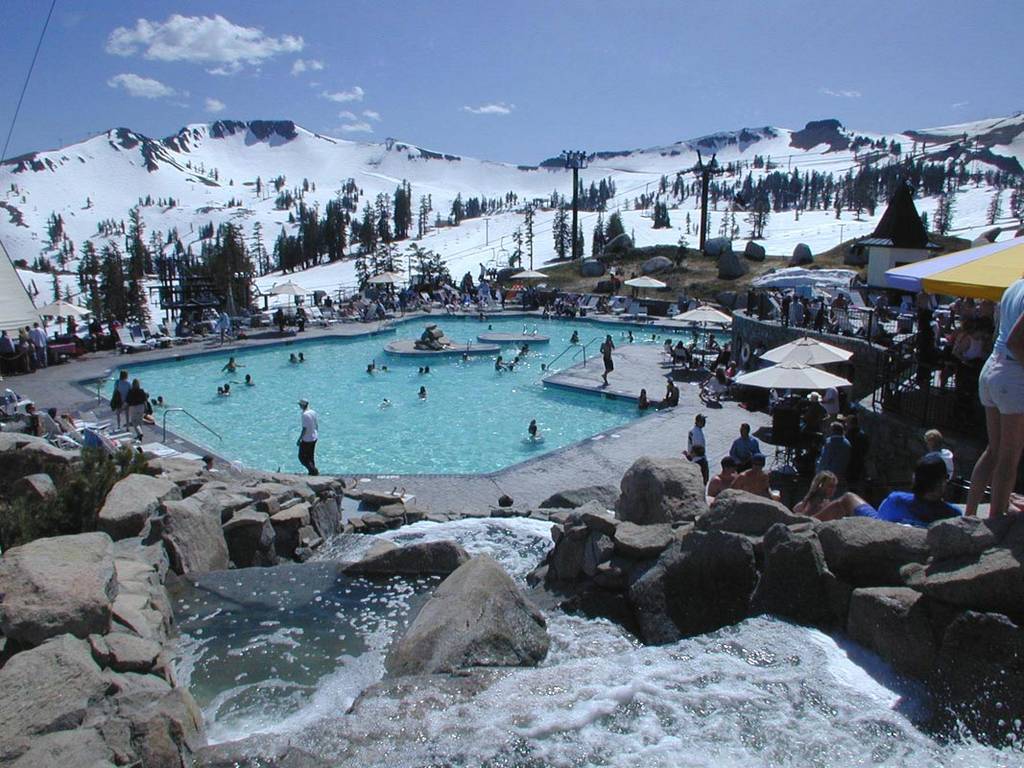 Squaw's High Camp Pool & Spa sits atop the Cable Car at 8,200 feet.
(photo Eric Brandt)
We're having a good time, so lunch is late. We grab a bite at the aptly named Poolside Cafe, shedding the layers and enjoying the sun. Later that afternoon we'd do it all again, even coming back the next day for a repeat performance. Along the way I even get nabbed by Squaw Valley Television, on the mountain capturing interviews for their weekly web and television update. I think it's got to be because of my fine riding skill, but it's probably my wife's blonde ponytail and hint of bikini strap. She tells them she's riding for much of the day, then hanging out at the pool, completing the perfect sound bite for the late season broadcast.
For last run, we bypass the cable car and instead take Mountain Run, an intermediate trail that is relatively gentle and weaves its way to the base area. Snow coverage on the trail has been well maintained, and we finish off the day in Squaw's base village, grabbing a drink at an outdoor café, before heading back to the Jacuzzi at the resort.
It's a weird juxtaposition. One moment we were riding Granite Chief; an hour later, wearing bathing suits and laying poolside. But isn't that why people come spring skiing?
Just Like Heaven
With the limits of Squaw Valley thoroughly explored, and Kris heading back east by week's end, I turn my sights south, and opt to hit Heavenly solo in its closing weekend.
In comparison to Squaw, and nearby Tahoe City's relative quiet, South Lake is another world. Its strip of casinos is bustling with people who look like they've come for anything but the snow. I check into the trendy MontBleu Resort, they look at me like I'm some kind of loner weirdo, then I hit the streets to familiarize myself with the layout.
Unlike Squaw Valley, which regards the lake at a distance, Heavenly is front and center. This close, however, you can't really see it. I just know it's there over the hill. I find the gondola station a short walk up the block, grab some dinner, and hit the sack in anticipation of the first day on a new hill.
By morning, I'm once again the loner weirdo, but this time because I'm walking the street in full snowboard regalia, while others are enjoying the near 60-degree temps and donning shorts. I'm sure this area has seen this before, but I guess the fact that it's the first weekend of May makes me a little more of a novelty than normal. Reaching the station, I get my lift ticket and hop in the first open car.

Unlike Squaw Valley, which regards the lake at a distance, Heavenly is front and center.
(photo: FTO/Jeff Hemmel)
The ride up from Heavenly Village is literally breathtaking. Once you clear the initial trees, the lake spreads out behind you in all its glory, and I'm once again reminded why Tahoe is such a unique spot. There's a Sky Deck at 8,500 feet; I don't get off, but later note the observation deck gets plenty of traffic over the course of the weekend.
The gondola dumps me off after about 600 more vertical feet and I'm ready to hit the slopes. Like Squaw, terrain is seriously limited when you consider just how vast Heavenly can be when fully open. In fact, only three of Heavenly's 29 chairlifts are running. That, however, was kind of the point. Again, I was pushing spring skiing to its extreme and seeing what resulted.
And the terrain off those three lifts was still pretty sweet, all things considered. Yes, it was overwhelmingly intermediate terrain. Still, I rode the Tamarack Express lift for the first hour, enjoying checking out the beginner-to-intermediate terrain park on the Cascade trail, as well as taking my trail map's suggestion to grab a photo of the lake from atop the California Trail. Conditions were again familiar, icy for the first hour, but then the forgiving and playful spring snow I've come to enjoy over the years.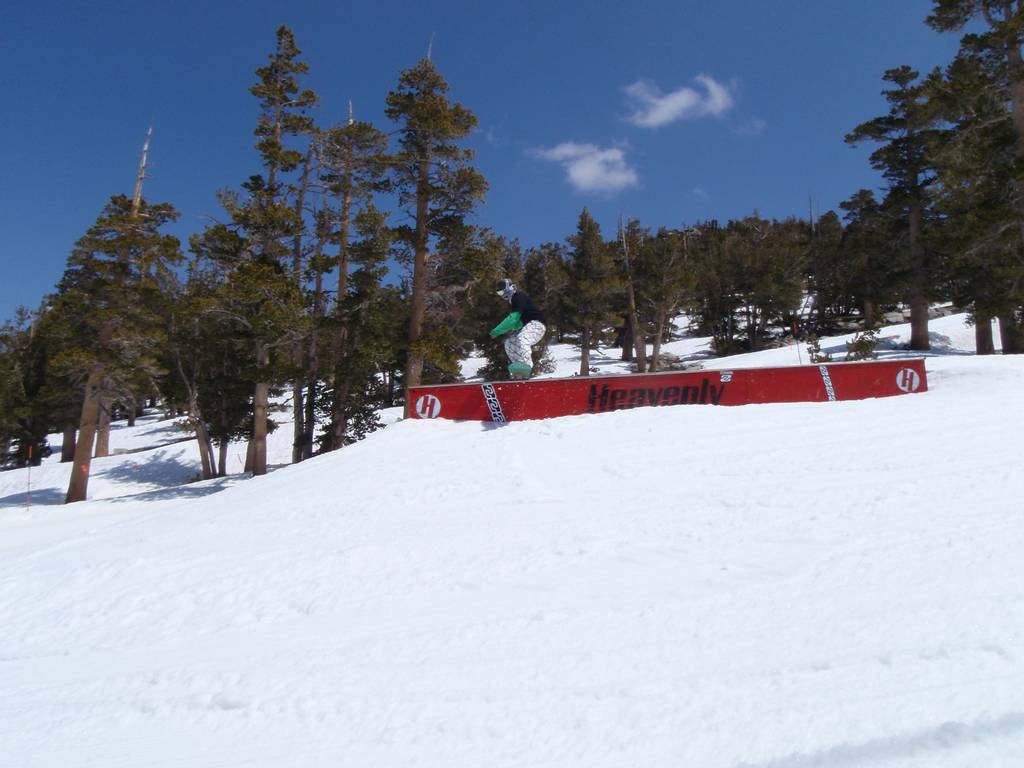 Heavenly builds an easier terrain park on its Cascade trail.
(photo: FTO/Jeff Hemmel)
I had been forewarned that meal choices would be limited, but the open-air Adventure Peak Grill and picnic area behind the gondola suited me just fine. Again, it was a beautifully sunny day, the food tasted like an outdoor grill should at a ski slope, and Heavenly employees even topped me off with handfuls of Hershey Kisses every time I cruised through the line. By afternoon, a yurt-style bar was cranked into gear, and plenty of sightseers had come up from below to slosh around in their sneakers, throw a snowball, and gawk at those of us who were actually using the place for its intended purpose. Good times.
By the waning hours I was almost exclusively riding the Comet Express and Dipper Express, two quad chairs that took me to a variety of runs, some, like Big Dipper and Orion, wide-open, others narrow cuts through the trees. The occasional local would point out a good spot, and then I'd return the favor with the next tourist if I thought they should be welcomed into the club. By 4 o'clock I had ridden just about everything with an open sign, met some cool people, and basically had a blast.
I'd repeat that pattern the next day, but only till about lunch. After that, thunderstorms and lighting started to roll in, and resort officials were forced to pull the plug early on the resort's closing day. Boarding the gondola for the ride down, I was greeted by a packed house of skiers who had just arrived to spend an afternoon on the hill. Upon hearing the news they'd be staying aboard for the trip back down, they regarded the liftie ushering me inside with disdain, then glared with disgust at the melting snow on my board and boots. Fortunately I remembered the pocketful of Hershey Kisses in my jacket, shared them with the crew, and tragedy was averted.
My season was now officially over.
Gotta Love Spring
Well, not quite over. I actually spent a day boating on the lake, before heading back to Squaw Valley for one last day in the spring sunshine. Squaw, in fact, would stay open for another five days, ultimately calling it quits on May 11th.
Yes, I only had a glimpse of what these two great resorts could offer. And yes, it was warm and slushy by the end. But warm temps, soft snow, and lots of sunshine are what are so incredibly great about spring.
And take it from me, Lake Tahoe has them all in abundance.
For more information:
Squaw Valley: www.squaw.com
Heavenly: www.skiheavenly.com
Resort at Squaw Creek: www.squawcreek.com
MontBleu Resort: www.montbleu.com