Dundalk, Ireland – Innovative Leisure Systems Ltd. (ILS Ltd.) of Dundalk and Briton Engineering Developments Ltd. of Scholes, West Yorkshire, U.K. on Tuesday announced their part in a major "flagship" development for Ireland that will include a dry ski slope. Developers promise to create more than 1,500 long term jobs when the project is fully operational, and to turn Dundalk and environs into a top leisure and tourist destination.n
"Altitude" is projected to be a multi-million Euro development covering approximately 140 acres of land, situated equidistant between the two major population centers on the island, and will provide a unique blend of indoor and outdoor leisure, entertainment and adventure facilities together with a large range of International retailing, fine dining, late night entertainment, and accommodation opportunities.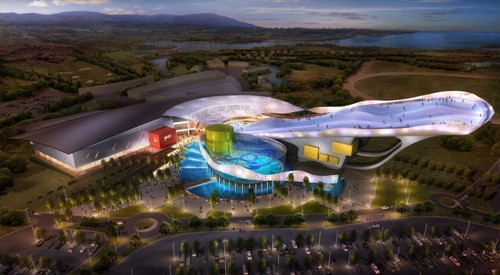 An artist's rendering of Altitude, a dry ski slope and entertainment complex proposed for construction in Dundalk, Ireland.
(image: Snowflex)
The ambitious project will include building a 13,500-square-meter Snowflex ski slope facility, indoor events arenas, indoor and outdoor adventure park with climbing, caving, ropes courses, children's play areas, white water rafting and a canoe slalom course. The project will also include a major family entertainment center offering the latest attractions and Ireland's first interactive golf driving range. Accommodation will include a family hotel, five-star resort hotel casino and spa, and self catering holiday lodges and serviced apartments, adjacent to the first all weather racetrack in Ireland.
Developers asser that the resort will encompass all the latest technologies to improve sustainability and energy exchange and recovery, designed to reduce the carbon footprint. It is expected that a "combined heat and power" solution will be developed with Bord Gáis.
The new Snowflex ski slope which would be the largest built in Europe to date will have a main slope approximately 200 meters long by 50 meters wide, plus a beginner's area approx 30 meters long by 60 meters wide. The combined slopes will have capacity for approximately 500 skiers and snowboarders.
"Altitude, with such impressive facilities as a Snowflex slope, will undoubtedly transform the economy of Dundalk, County Louth and the whole area. It will generate thousands of permanent and seasonal jobs for the area when fully operational," said Sam Curran of ILS Ltd.
Snowflex was chosen for the ski surface after much market research and was found to be the only credible alternative to real snow. It is low maintenance, requires no grooming as with real snow, and is softer to fall on than hard packed snow.
The slope design for "Altitude" will take into account the local skier and snowboarder experience and skill level as well as trends and local appetite for particular features, and will incorporate quarter pipes, halfpipes and spines as well as fun boxes, table tops, hips, bowls and a cornice.