Steamboat Springs, CO – At Steamboat Springs, everybody was talking about the snow.
They hadn't had any for months. The resort normally gets 300 inches per year, but just before our arrival in mid-February they had about as much snow as the resorts of Vermont. In fact, Maryland had gotten far more snow – albeit damper – than Colorado.
That changed a week before we came. The day we flew from New York to Denver, then drove three hours northwest to Steamboat Springs, they had received five days of steady snow.
"You guys picked a good time to come," said the hotel manager. And indeed we had.
What followed was six days of skiing at three of Colorado's biggest resorts: Steamboat, Vail and Beaver Creek. How would these three world-class destinations compare? Would Steamboat's famed tree skiing trump Vail's vastness? Or would Beaver Creek's poshness turn us into skiing snobs?
We'd have to ski and see.
Steamboat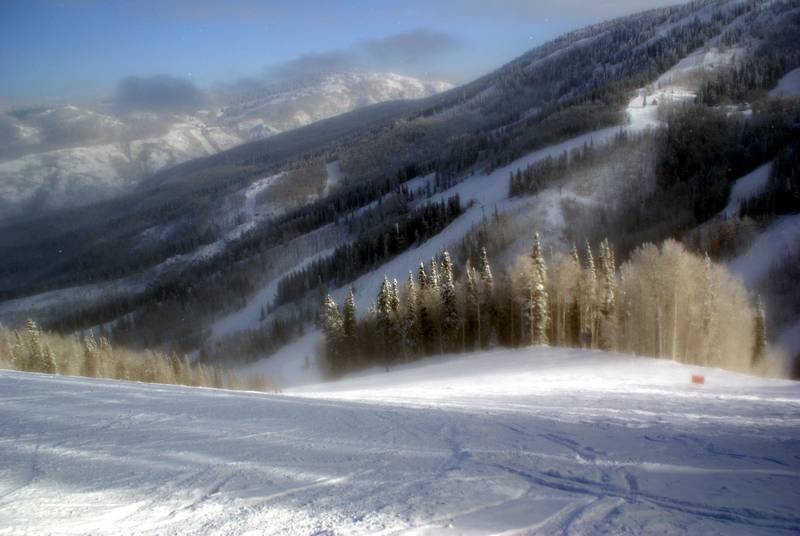 Fresh snow and solitude at Steamboat.
(photo: FTO/Alan Weschler)
The town was coming out of a storm when we arrived, but the clouds weren't that generous. In all, Steamboat received about 15 inches over five days – tiny, speck-like flakes. Steamboat, which patented the term "champagne powder" (it's true – they even include a little trademark symbol next to it) was offering merely flat ginger ale. But even 15 inches of that made for pretty good skiing.
By the time we hit the slopes at Steamboat, there was little on the trails, but plenty in the woods. And what woods!
Steamboat is known for its glades. In fact, Skiing Magazine has rated it number one in that category. Is it true? Certainly there's stiff competition. Sierra-at-Tahoe has delicious tree runs that start at the top of the chairlift and run interrupted for 1,500 feet. Jay Peak in Vermont has a half-dozen glades big enough to get lost in. And you can't go wrong in the trees at Utah's Alta, Solitude or Park City.

Steamboat's famed tree skiing lives up to its hype.
(photo: FTO/Alan Weschler)
That said, Steamboat's tree skiing lives up to its reputation. At any point all over the mountain you can duck into the woods and find skiable terrain. And with all that new snow, I needed little encouragement to do so.
My friend Mike and I began the day exploring around Storm Peak, at 10,372 feet the mountain's second-highest summit. Triangle 3 glade offered some fresh stuff, but overall the snow in that area seemed heavy. The mountain had only picked up two inches in the past day, and most of this area was tracked out.
After a few runs, we headed to the other side to explore Morningside on Steamboat's sunny back. This is where we should have started. The snow was deeper and more prevalent, and the sun helped take away the bite of the 9ºF air.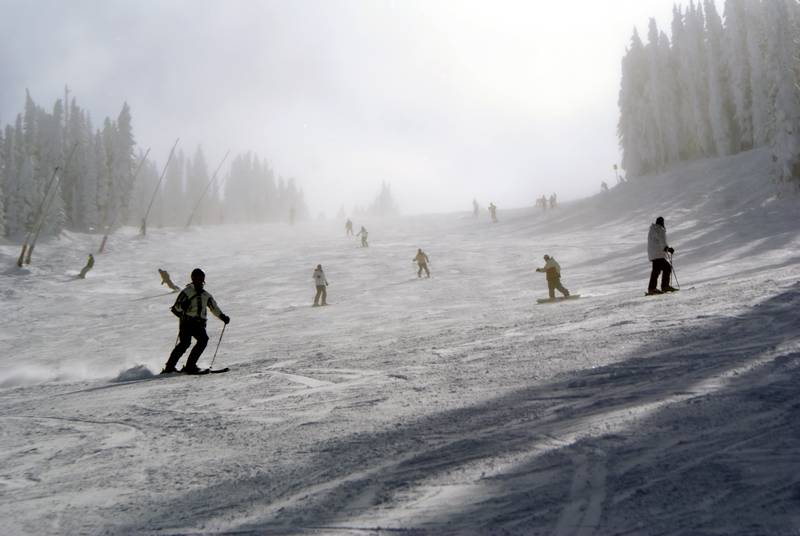 A typically popular blue square run at Steamboat.
(photo: FTO/Alan Weschler)
Steamboat is a gigantic place, with 3,000 acres of skiing, six peaks and 3,668 feet of vertical. It's easy to wind up in a place you hadn't intended to be — especially when you wander into the trees. My companion is strictly a groomed run skier, so that meant separating at the top of the lift and meeting up again below. But in two days, we only lost each other once.
On this non-holiday week there were virtually no lines anywhere. And from our well-appointed slopeside room at the Ptarmigan Inn (except maybe it's time to upgrade the VCRs?), we were a 10-second ski to the gondola.
It wasn't until the end of the first day that I stumbled onto the true treasure of the mountain, the Pony Express area. Here, on skier's far right, are a half-dozen trails and glades that merge together into one big playground of snow.
"No one here, huh?" I remarked to the lift operator as I got on for the first time.
"Yep. It's always like that."
He wasn't kidding, There were few other skiers, and plenty of powder to chase. The fact that no trails off this lift are groomed probably helps keep skiers away. In any event, I spent the rest of the day ducking in and out of the ski area boundary rope (homemade catwalks at the bottom guide the unwary back to civilization).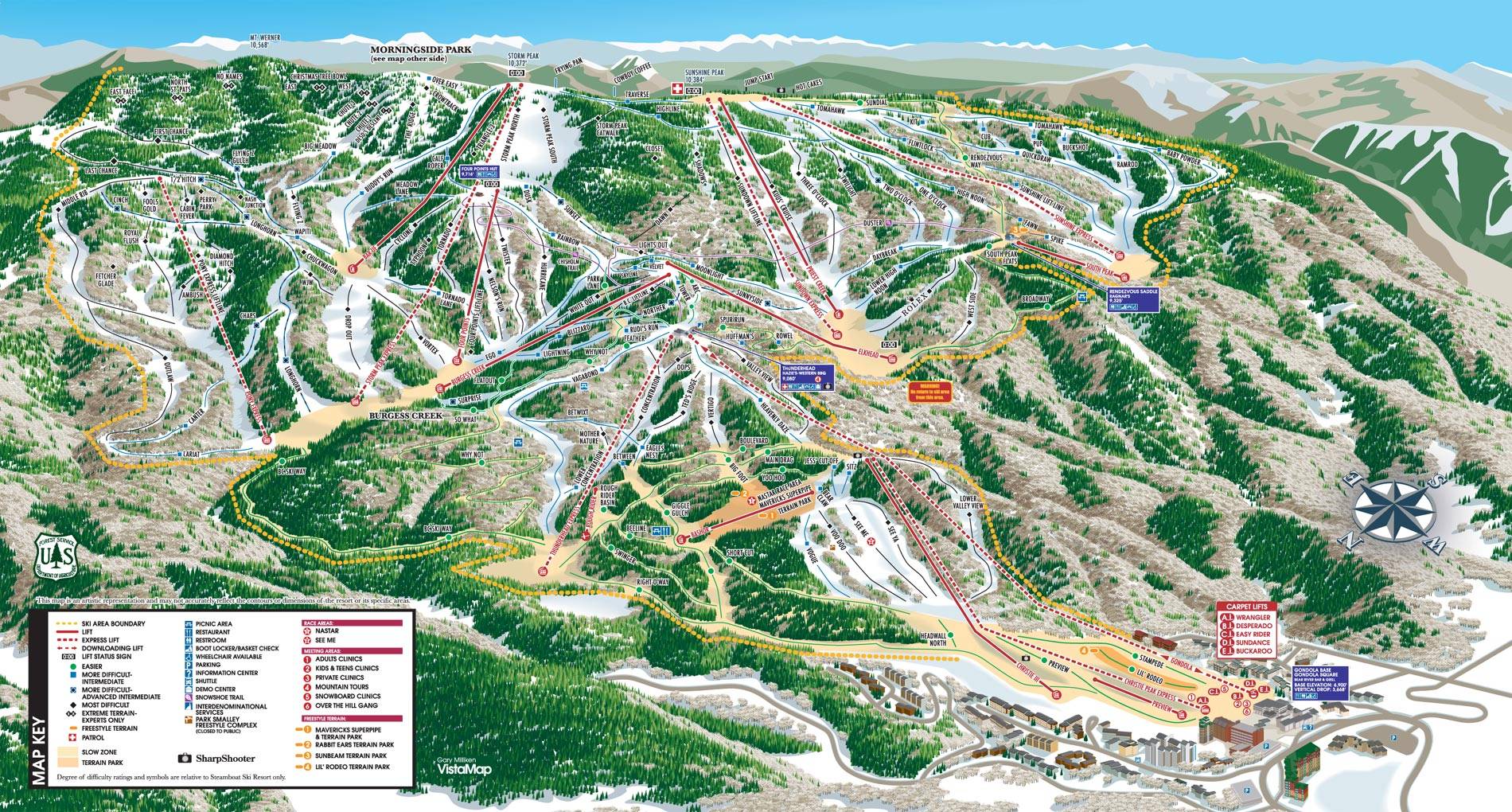 (Trail map image: Steamboat Ski & Resort Corp.)
On the second day I braved a look into Steamboat's chutes. Chute 3 looked narrower than something I felt ready to commit to, so I traversed over to the more tolerable Chute 2. It was steep enough to get me sweating, but had plenty of soft powder to make it a quick and enjoyable descent. A traverse in from the left side avoided the rocky upper headwall, although other skiers dropped in from the very top without any problem.
Adventurous skiers will find plenty more extreme terrain a short – or long – hike along the Mt. Werner ridge. The only problem is once you go down it takes two lifts and another hike to get back, so lapping the double-blacks takes a bit of work.
Steamboat Springs plays on its mining heritage and its isolation — The Gateway to the West. Well, it's certainly hard to get to. But if you want a ski community that looks like it hasn't changed since the horse-and-buggy days, try Crested Butte. Steamboat, despite its iconic pictures of stallions pushing through deep powder, is hardly a paragon of untarnished Western frontier heritage.
In fact, it's a typical, thickly-developed ski town, with block after block of hotel and condo complexes at the base of the resort. The downtown is rife with high-end furniture and clothing shops, galleries of giant nature prints and real estate offices with pictures of million-dollar homes in the windows. The only thing unique about it, really, is the smell of sulfur wafting over from the bubbling natural springs down the street.
Where the area pulls ahead, however, is its unwavering friendliness. Steamboat is a year-round home to 10,000 people, and clearly they feel lucky to live here.
Soon after our arrival, we stopped at the Mahogany Ridge Brewery and Grill, a local brew pub. As soon as we entered, we were accosted by a friendly woman named Susan who owns a local gallery. Within a minute, she bought us beers and introduced us to her friends. The food wasn't too shabby either — we were both impressed by the blackened salmon over noodles and the fish and chips. Though my noodle dish failed to fill me up, Mike's leftover beer-battered halibut did the trick.
A trip to Steamboat is not cheap. But budget travelers take note: Steamboat has low-cost options in both dining and lodging (but not skiing, where there are few ways to beat the $95 daily ticket). A half-dozen motels in town, many not listed on any web site or guide, offer rooms as low as $34 for a midweek single. And amid the pricey restaurants are some pretty good deals, such as the Tequila's Family Restaurant, a Tex-Mex joint where everyone is greeted "hello, amigos" and a good dinner can be had for $10 or so (but should a "family restaurant" be named for a strong alcoholic drink?).
And if you have any money left, you can always spend it at the nearby oxygen bar ($1 per minute).
Perhaps the most exotic nightlife may be at the undeveloped Strawberry Hot Spring, at the end of a one-lane road that requires four-wheel drive or chains. There, pools of various warm temperatures are surrounded by small cliffs and snow-covered trees. It's open until 10 p.m., and after sunset is clothing-optional, free of electric lights and adults only. But at $10 for entry and another $20 for the shuttle bus, we decided the hot tub at our hotel was natural enough.
Vail Mountain
"Are you a doctor or lawyer?" asked the Australian next to me on the chairlift.
"Neither. Why?"
"I've been coming here for 30 years," he said. "Seems like everyone I meet is either a doctor or a lawyer."
What can you say about Vail? How about expensive? It costs $25 to park your car — if you're here for the day — and a pass is $98, so damn close to $100 they might as well just go for broke. Beers in the huge and booming base village run around $7, and lunch on the mountain – at least of any stomach-filling substance – will set you back a good $12 to $15. And don't even talk about lodging.
Fortunately, we had found a good deal on the Internet – a one-bedroom condo at Marriot's StreamSide in West Vail. Our three-night stay cost us about $110 per night, easily half the normal cost. The condo was great, with hot tubs and an indoor/outdoor pool, plus outdoor gas barbecues, large-screen TVs, a fireplace and a full-size kitchen. A shuttle bus brought us to Lions Head base – not the most convenient place to set off, but it would do – thus saving us the ridiculous parking charges.
And of course, once you've got your skis on, you quickly stop worrying about the cost. For Vail is huge. Vail is beautiful. Vail will never leave you bored.
It's just so massive. It's the size of three giant ski areas. It's newest area, Blue Sky Basin, is bigger than many major ski areas. You could spend a week here and not ski everything.
The trick is how to ski it.
We elected to see as much as possible, but that meant devoting much of the day to traversing the mountain. After stowing our lunch at Eagle's Nest, the restaurant atop the Lion's Head gondola, we headed into the famous back bowls, traversing eastward on a blue run. This brought us, eventually, to the base of Blue Sky Basin.

Blue Sky Basin, viewed from the summit of Vail Mountain.
(photo: FTO/Alan Weschler)
Blue Sky is the mountain's controversial addition, which opened in 2000 after much protest that the expansion might endanger the lynx habitat. It was this 1,900-foot-vertical area that inspired environmental zealots to burn down Vail's on-mountain restaurant.
I can't speak from the lynx's point of view, but from atop my boards the addition looks fantastic. Glades galore, a host of black diamond runs, and what probably amounts to the prettiest blue run in the history of American skiing. The Big Rock Park run brings skiers down a smooth, groomed cruiser full of islands of evergreen trees that developers left in place. For those who never tried tree skiing, this is a good introduction.
While Mike was happy to go down the same majestic blue runs, I dived into the ample glades, finding a new route and dodging evergreens amid the freshies. At one point, I happened to cross tracks with a snowboarder.

Vail Mountain front side.
(Trail map image: Vail Resorts)

Vail Mountain's Back Bowls.
(Trail map image: Vail Resorts)

Vail Mountain's Blue Sky Basin.
(Trail map image: Vail Resorts)
"Great day, huh?" he said.
I agreed that it was.
"This is what this sport's about," he said, shaking some snow from his hat.
"Yup," I replied. "Powder snow and the hint of danger."
We loved Blue Sky much we spent much of two days here, even though it meant 90 minutes of traversing to get there and back. Probably the best strategy is to ski over with lunch (that is, if you're bringing your own) and staying here until the lifts close at 2 p.m.
Not having had that foresight, we elected to ski until our stomachs ached and our legs buckled from exhaustion, then headed back to Lion's Head for a late meal.
Vail is most famous for its Back Bowls, formed by a forest fire many decades ago. I've got a love-hate affair with the bowls. They're majestic and unique, that is true. But they're also a bit monotonous – one tends to look the same as another. And the ungroomed snow gets rather unpleasant a few days after a dump due to the southern exposure.
But the main problem is I've only been here on gray or snowy days. And skiing the bowls in a snowstorm will give anyone a serious case of vertigo. With no trees to provide reference, it's not clear if you're skiing up, down, left or right.
When we got back to Eagle's Nest for lunch the first day, we found that our backpack, stashed under a table in the cafeteria, had been taken away by management. The manager had been nice enough to stow it in his office instead of sending it down to the base lodge, which apparently is their standard procedure for such things.
The rationale is what threw me, though – he said a left bag in the cafeteria was a "security risk." Apparently, the specter of eco-terrorism carries on a decade after the fire. After that we left our bag on top of the $8 lockers one floor below, where nobody seemed to worry about whether a bag contained sandwiches or explosives.

Views from Vail Mountain include Colorado's rugged Gore Range.
(photo: FTO/Alan Weschler)
After lunch, we didn't have time to return to Blue Sky, so we settled on exploring Vail's vast frontage. Even if Vail's Back Bowls didn't exist, this would still be a world-class mountain. In two days, we couldn't even begin to ski all the trails — not that we didn't try. There's treasures everywhere, for skiers of all abilities.
Beginners will love the long, sweeping runs, some of which go from top to bottom (our favorite easy run was a banked track meant for kids, tucked away somewhere near the Avanti Express Lift). Intermediates have a variety of top-to-bottom routes, notably Riva Ridge, Simba and Bwana. And experts? Don't get me started.
Highline, front side on skiers far right, is a never-ending trail of moguls that's popular with locals and ignored by many visitors. But my personal favorites were right below the Vista Bahn Express lift that brings skiers up from Vail's main base. Cady's Café is a hidden gem — a narrow chute of a trail that follows a gully, seemingly forever. Pump House will pump your thighs as you slip your way down one of the steepest parts of the mountain. And other double-blacks in that area — The Narrows, Frontside Chutes — won't fail to thrill.
If you've got any energy left after all that, know that Vail's après-ski is some of the best in the world. You won't find a more thriving ski town west of Chamonix.

Vail Village
(photo: Jack Affleck)
When we arrived to Vail Village one evening, we learned we had just missed a free concert – The Stockholm Syndrome, if you must know — that attracted hundreds of reveler.
Women wearing fur coats strode down the European-style street, next to snowboarders in their 20s still wearing their ski apparel five hours after the lifts closed. We wound up at the Red Lion, standing next to a table of Canadian women — draped with flags, caps, gloves and any other patriotic clothing they could get their hands on — cheering for their Olympic team on a nearby TV. We would have stayed for the band, but the rocker seemed more interested in socializing than actually playing music.
Which leads me to the biggest complaint about Vail, aside from the cost: most bands in this town don't get started until 10 p.m. or later. Some of us like to get up early and ski, you know.
Besides the free show, there were other post-skiing events we managed to miss, such as free lectures by a world-famous mountain climber and a WW II veteran of the famous 10th Mountain Division's soldier-skiers. We were sorry not to have seen them, but it's nice to know that, on mountain or off, Vail visitors will never be bored.
Beaver Creek
The mountain's slogan is "Not Exactly Roughing It," and that's about right. What other ski resort has a Ritz-Carlton as a base lodge?

A typical understated Beaver Creek hovel.
(photo: FTO/Alan Weschler)
You're struck by the opulence before you even see the mountain. Visitors drive through a gatehouse – the only gate I've ever driven through to get to a ski area – where a greeter directs you to the appropriate place. In our case, it was the slopeside Pines Hotel, with tasteful and upscale room and hot tub built below a man-made waterfall. Free soup and chili at lunch and cookies and hot chocolate at 4 p.m. completed the deal. But one quickly gets the impression that any hotel at Beaver Creek will be four-star.
Like Vail, the Creek is not cheap. But there are ways to save money. For instance, day visitors can park near Route 70 for free (shuttle bus available) or will have to pay $33 if they want to park right near the base area. On the plus side, they'll find escalators to whisk riders up to the slopes…no tedious stair-climbing here.
Again, lift tickets are nearly $100. Many Colorado locals buy the Epic season pass, which costs $599 and gets access to a half-dozen resorts, including Vail and Beaver Creek. With no blackout dates, anybody planning to come to Colorado for more than a week should consider it.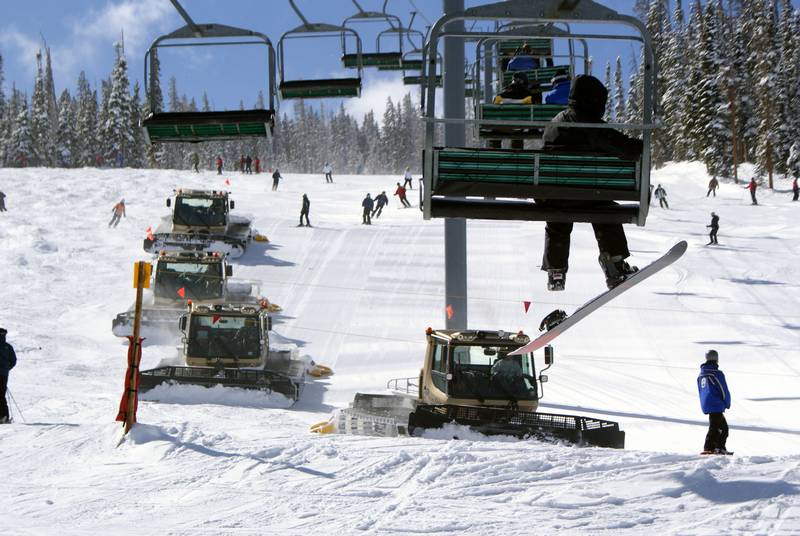 Chasing the groomers at Beaver Creek.
(photo: FTO/Alan Weschler)
Beaver Creek prides itself on being a family resort, and it's easy to see why. It's rife with green and blue groomers, wide and inviting. A fleet of snow cats came is often seen driving through the resort, sirens running in warning, turning the early morning bumps into new corduroy. Skiers flock behind the vehicles like kids running after an ice-cream truck.
Only a few of these moderate trails stand out from the rest. Larkspur, one of the mountain's few bowl-like experiences, is a popular run that was a mass of people during our Saturday morning visit. Camprobber Road gives intermediates the only way down the otherwise expert-only Grouse Mountain lift (which is a good place to be on a busy day). And there were many enjoyable easy trails in the Bachelor Gulch (home of the aforementioned Ritz-Carlton, a jaw-dropping creation that lives up to its name) and Arrowhead Mountain, which was once a separate resort.

Beaver Creek (Trail map image: Vail Resorts)
Those two sections drop way below Beaver Creek's main village, and the snow here is inferior to that higher up. Indeed, with a 4,000-foot vertical drop, it's easy to dress for spring skiing down below, only to freeze at the summit.
The Creek feels more like an eastern resort than any other we've visited out west, with its lack of bowls and tightly-spaced evergreens (which makes glade skiing a dangerous proposition in many places). Still, there are challenges here. Serious skiers will want to spend much of their day on the Grouse Mountain or Birds of Prey lifts, which access most of the resort's diamond terrain. And the best place for powder is off the Royal Elk or Stone Creek glades. Take a dive beyond these gates and you'll easily spend 15 minutes in a dense, wild and powder-filled wonderland. If your ski partner skis blues, you'd better hope he's patient as he waits for you to emerge from the woods, covered with broken evergreen boughs and grinning from ear to ear.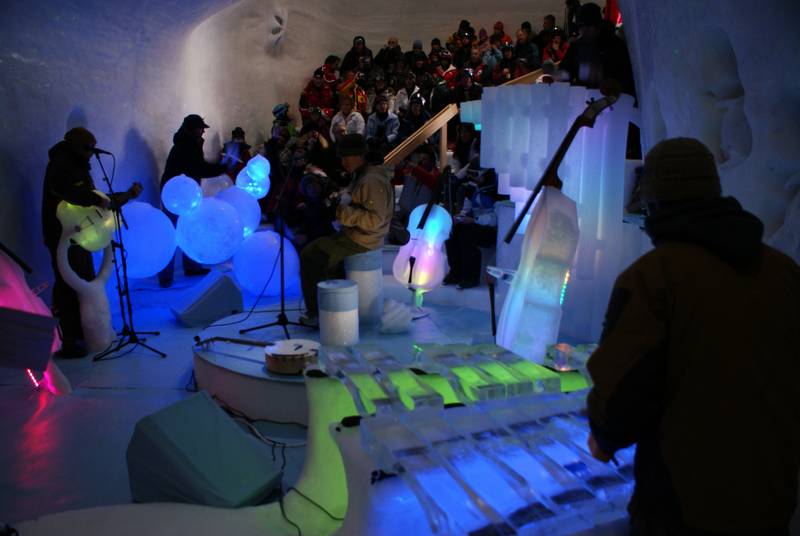 Live music on ice in Beaver Creek's Crystal Grotto.
(photo: FTO/Alan Weschler)
We ended our trip with a visit to the Crystal Grotto, a concert hall made entirely from snow and ice. For $10, the audience sits on ice steps (you get a foam pad for insulation) and listens to a band playing instruments made of ice.
It's pretty cool. No pun intended.
There was an ice guitar (steel strings and pickups attached to an ice body) an ice upright bass, an ice marimba, and tubular bells made of ice. The drummer played white balloon-like spheres with foam pads, the only weak link in the musical chain. The whole ensemble was put together by Beaver Creek's resident ice sculpture-in-residence (didn't know they had one? C'mon – this is Beaver Creek).
It was a unique 45 minutes as the musicians, actually members of a local bar band, played a fairly random selection of rock, bluegrass and jazz standards.
When the show was over, I suggested to the band they include more ice-themed songs. Why not "Ice, Ice Baby," or "Cold as Ice," or "Cold, Cold, Cold" by Little Feat?
Band members said they'd think about it. But I think I got the cold shoulder.
For More Information:
Alan Wechsler is a freelance writer based in Albany, N.Y. Contact him at
alwechs@juno.com.