Roundhill, New Zealand – Two of the Canada's most talented young skiers gave the Canadian Alpine Ski Team a boost Wednesday when they made a triumphant return to snow on the other side of the world.
Anna Goodman, of Pointe Claire, Quebec, and Larisa Yurkiw, of Owen Sound, Ontario, strapped on their skis at a team camp in Roundhill, New Zealand, marking an important step on their road to recovery following time out due to injury.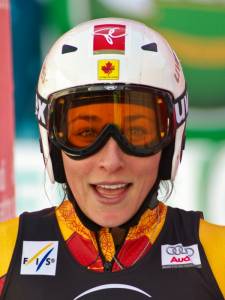 Yurkiw, a former Canadian champion in downhill and super G, hasn't skied competitively since she suffered a knee injury during training in Val d'Isere, France, in December 2009. Slalom specialist Goodman, meanwhile, returned from a knee injury last year only to suffer a nagging hip problem that disrupted and eventually ended her season.
"It feels amazing to be back," said Goodman, 25, after completing her first day of skiing in Roundhill. "Last year I hurt my hip and the whole season I was in pain. I'm really happy that I'm healthy right now – it's been a long time since I haven't felt any pain.
"It's such a good feeling to have the wind in your face. It's awesome."
Yurkiw's return provides a lift to a team that's short on speed specialists with veteran Kelly VanderBeek, of Kitchener, Ontario, still recovering from a long-term leg injury and Whistler's Britt Janyk deciding to hang up her skis at the end of last season. But Yurkiw knows a lot of patience will be required in the coming weeks and months.
"First run, I didn't know what I was doing. The second run felt better . . . I've got a lot of work to do but I feel so comfortable," said Yurkiw, 23, who took part in a ski camp for prospect skiers in April and has spent the summer doing dryland training with the rest of the women's team in Calgary and Canmore, Alberta. "I have a lot of phases still to go through. This is definitely my first big camp and I plan not just to survive it. I have big goals still to accomplish."
Hugues Ansermoz, head coach of the women's alpine team, has 13 athletes taking part in the team's camp in New Zealand, including five prospect skiers.
"The snow is soft. It's winter – perfect conditions," said Ansermoz. "It's really good that Larisa and Anna could be back for the beginning of the first camp. With Larisa, we have to be patient. Before she got injured she had some great results. Fitness-wise, it's going well – it's just going to take her some time. Anna looks like she's going to come back quickly. She had knee and hip injuries but she didn't miss a full winter."
Yurkiw, who had a top-10 World Cup finish in downhill in 2009, isn't going to rush her recovery.
"It's day one. I had a lot of nerves, but good nerves," said Yurkiw. "My feet were cramping today but everything's good.
"There's amazing communication between the staff and me. There's going to be tons of unknowns but I'm not worried. There's a good understanding of what the big picture is."