Calgary (AB), Canada – Reigning world downhill champion Erik Guay headlines a team of 10 speed skiers who will fly the flag for Canada as the Lake Louise Winterstart World Cup gets underway in Alberta this week.
The 30-year-old from Mont-Tremblant, Quebec, was the first Canadian to record a podium in Lake Louise when he finished second in the downhill in 2003. He is part of a veteran men's Canadian Alpine Ski Team lineup that also includes Calgarians John Kucera and Jan Hudec, who claimed World Cup victories at Lake Louise in 2006 and 2007, respectively.
Rounding out the men's team for the first downhill and super G races of the 2011-12 Audi FIS Ski World Cup season are Whistler, British Columbia, team veteran Robbie Dixon, Louis-Pierre Hélie, of Berthierville, Quebec, and young guns Ben Thomsen, of Invermere, British Columbia, Kelby Halbert, of Bradford, Ontario, and Dustin Cook, of Lac-Sainte-Marie, Quebec.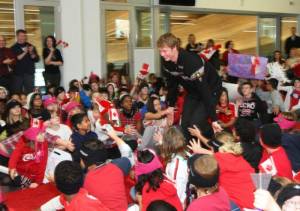 "I'm looking forward to kicking off the season. I get excited about every race but especially Lake Louise," said Guay. "Because it's at home, because my friends and family come to support me, because it's always the first race of the year, it's always a little bit of a special one. I had my first podium there (in 2003) and since then I haven't gone back on the podium there. I don't know what the reason is for that but hopefully this will be the year."
The Lake Louise Winterstart World Cup gets underway this week with men's training runs scheduled for Wednesday, Thursday and Friday. The men's downhill race goes Saturday, Nov. 26, followed by the men's super G on Sunday, Nov. 27. Women's downhill and super G races are scheduled for the following weekend, Dec. 2 to 4.
Kucera, the 2009 downhill world champion, is hoping to make his competitive comeback on the same hill where he broke his leg during a World Cup super G race.
"I'm pretty excited to be coming back, two years later, at the same place where my injury happened," said the 27-year-old, who re-injured his left leg while forerunning during his first comeback attempt earlier this year. "It's something I'm really looking forward to. I really enjoy racing Lake Louise and being there with friends and family.
"The way the injury happened, there was a lot of bad luck – it's not like it's a hill that freaks me out. It was an innocent fall. There are going to be some nerves but I'm looking forward to getting my head back into the game – that's a big part of it. The leg feels great."
Kucera isn't the only veteran who has battled injuries. Dixon recently returned to competition following a serious concussion and both Guay and Hudec spent the summer battling back issues.
"It's really important for the guys coming back from injury to take a steady, methodical approach to the race, do all the right things and build from that," said Paul Kristofic, head coach of the Canadian men's team.
Manuel Osborne-Paradis, of Vancouver, British Columbia, is set to miss out due to injury but the three-time World Cup winner – who won gold in Lake Louise in 2009 – has been given the green light to get back on snow and is targeting a return to competition in the new year.
The women's team for the Dec. 2 to 4 races includes Marie-Michèle Gagnon, of Lac-Etchemin, Quebec, and Whistler's Madison McLeish, who is hoping to make her World Cup debut. Veterans Kelly VanderBeek, of Kitchener, Ontario, and Larisa Yurkiw, of Owen Sound, Ontario, are both on the comeback trail following long-term injuries and are progressing well, but won't compete in Lake Louise.
At the team unveiling at Canada Olympic Park in Calgary on Monday, over 200 students from Our Lady of the Assumption School in Calgary signed a giant good luck mural and presented members of the Canadian Alpine Ski Team with hand-drawn posters. The children, aged eight to 14, took part in a school project to design posters and other good luck messages for Canadian Alpine Ski Team athletes and coaches. As they arrived at Canada Olympic Park on Monday to meet their heroes, they were presented with TELUS cowbells and stuffed toy critters.
"TELUS is ready to cheer on all Canada's elite competitive skiers, and we are especially thrilled to see the return of world champion John Kucera to the fold," said Olympian Steve Podborski, TELUS director of community investment. "We also applaud the entire Alpine Canada Alpin team for their continued commitment to get our youth involved in this incredible sport and their ongoing development of our Canadian athletes."
The Canadian team is due to take part in a school visit in Banff, Alberta, today before heading for The Fairmont Chateau Lake Louise, the team's base for the duration of the Winterstart World Cup.
As part of the World Cup festivities, the weekend downhill and super G races will feature a Kid Zone where children can meet athletes and take advantage of free hot chocolate and temporary tattoos. With the purchase of an adult lift ticket at Lake Louise, families can get two free tickets for children aged 12 and under which are valid Nov. 26 and 27 and Dec. 2 to 4. In order to qualify for the promotion, those purchasing tickets at The Lake Louise Ski Area must say "Go Canada Go" to get the deal. WinSport Canada is also offering a C$95 round trip ski package from Calgary to Lake Louise and back. For more details, visit www.alpinecanada.org/winterstart.