Park City, UT – It appears that reports that Utah's Park City Mountain Resort (PCMR) and Talisker Corporation, owner of the nearby Canyons Resort, were close to settling a lease dispute may be premature.
In March, PCMR filed a lawsuit against Talisker, based in Toronto, Canada, over lease agreements for a portion of the land upon which PCMR operates ski lifts and trails. At the time of the lease's last renewal Talisker had not yet purchased Canyons Resort, its first ski area acquisition, from the now defunct American Skiing Company. A review of court documents indicates that PCMR officials may have missed a deadline to submit written notice of their intention to extend their lease of that land. PCMR officials maintain, however, that although it did not enter into a formal lease extension for tracts of land owned by Talisker, the parties' actions demonstrate that PCMR exercised its right to extend the leases until 2051.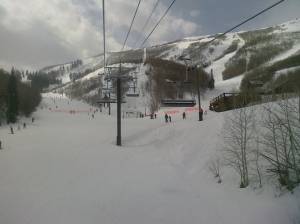 In a motion filed on May 15 opposing Talisker's motion to dismiss, PCMR set forth some intriguing new facts. PCMR alleges that one of Talisker's related entities (United Park City Mines, owner of one of the tracts that is the subject of the lawsuit) obtained a reduction in its property taxes by arguing that the property was burdened by the PCMR lease until 2051. PCMR's motion quotes several Talisker-UPCM representatives who appeared before the Utah State Property Tax Division, including its appraiser, a BYU law professor serving as a law expert and Talisker-UPCM's lawyers, all of whom stated that the leases ran until 2051. If PCMR's quotes included in its motion are reflective of the totality of the record, the quotes could spell trouble for Talisker.
At the heart of several of PCMR's causes of action is the assertion that Talisker made representations that the leases would be extended or were in place until 2051. As such, PCMR argues Talisker should be estopped from arguing the lease expired in 2011. Estoppel, or "equitable estoppel" in this case, is a legal doctrine that bars a person from adopting a position in court that contradicts his or her past statements or actions when that contradictory stance would be unfair to another person who relied on the original position. The statements before the Tax Division would seem to support PCMR's estoppel argument.
In its most recent May 21 set of pleadings, PCMR filed a motion to amend its complaint to include two antitrust causes of action. Generally, courts are fairly permissive of permitting plaintiffs to amend their complaint at least once, so it is likely the judge will allow PCMR to include these new antitrust allegations. According to a statementon PCMR's website, Talisker has "unlawfully attempted to shut down Park City Mountain resort or to increase dramatically the Resort's cost of operations, thereby disabling it as a competitor. Plaintiffs allege that defendants' objective has been to obtain ownership and control of Park City Mountain Resort, thereby monopolizing or attempting to monopolize the relevant markets for skiing and snowboarding."
Antitrust laws are designed to regulate trade, in part, by preventing unlawful restraints, price-fixing, and monopolies. In other words they serve to promote competition. PCMR is alleging that Talisker's actions were motivated by a desire to drive PCMR out of business. Doing so would remove a competitor and allow Talisker to purchase the land and create a partial monopoly. Of course, as Talisker will almost certainly point out, there are 11 ski resorts in the greater Salt Lake City area. Simply removing PCMR would not create an absolute monopoly.
As summer kicks off this weekend, one thing is certain – many folks in the Salt Lake area already have their eyes squarely fixed on next winter wondering what will become of PCMR.
Author David B. Cronheim, Esq. is the Chief Legal Correspondent for First Tracks!! Online, an attorney at Norris, McLaughlin & Marcus, PA in Bridgewater, N.J., and author of the ski law blog – Ski, Esq. Please feel free to contact the author at DBCronheim@nmmlaw.com. The opinions expressed herein are the author's own and do not necessarily reflect the opinions of First Tracks!! Online Media or its principals.