Snowbird, UT – The November snowstorm that left one to two feet of snow in Salt Lake City over the weekend deposited 50 inches of snow at Snowbird Ski and Summer Resort between Friday and Sunday, allowing the Utah ski resort to open for the season this Thursday, two days ahead of schedule.
"This is the storm we needed to get the season started off right," said Bob Bonar, President of Snowbird. "Lake effect made a good storm into a great storm leaving more than four feet of snow throughout the mountain."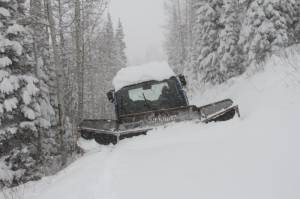 The resort installed new snowmaking equipment over the summer, doubling its snowmaking capacity and allowing more terrain to open earlier in the season. Snowbird also updated the Little Cloud chairlift to a high speed detachable quad. The new lift will have its grand opening with a celebration on Dec. 1.
Gadzoom, Mid-Gad and Chickadee chairlifts will be open on Thursday. Beginner terrain will be available on Chickadee. Intermediate and advanced terrain will be available on Bassackwards and Big Emma. The Aerial Tram is scheduled to open with skiing on Regulator Johnson on Saturday, conditions permitting. The remainder of the mountain will be closed to all guests, including hikers.
All-day tickets will be sold at a reduced price yet to be announced.