Mammoth Lakes, CA – Winter air service to Mammoth Mountain ski resort resumes on Dec. 19, just in time for California residents to experience a snowy holiday. Offered by both United Airlines and Alaska Airlines, the flights will originate from Los Angeles, San Francisco, San Diego and Orange County to Mammoth Yosemite Airport.
The flight schedule for winter and spring 2012-13 will benefit several markets with earlier flights into Mammoth Lakes and later flights out, meaning more time in the mountains and on the snow. Daily non-stop service to and from San Diego on United will now arrive at Mammoth just after 9 a.m. and depart around 4:45 pm. Weekend flight service on United out of Orange County will add a Monday flight, allowing guests additional travel flexibility.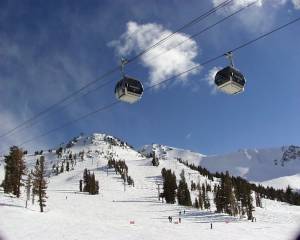 United service also includes non-stop flights daily throughout the winter from San Francisco with a second flight four days per week. Daily non-stop Alaska Airlines service from LAX resumed on December 1st with a second daily flight (other than Saturdays) beginning December 19th.
"Last year we introduced expanded air service from several new markets, making it easier than ever before to access Mammoth," said Howard Pickett, Mammoth's chief marketing officer. "This year we've adjusted the schedule to allow our guests more time to experience all that Mammoth has to offer. The snow is already flying up here and we're excited for opening day, all signs are pointing to a great season at Mammoth."
Travelers who take advantage of the first flights of the season will be able to celebrate the return of the Night of Lights at Canyon Lodge on Saturday, Dec. 22. An annual tradition, the Night of Lights celebrates the magic of the holiday season with a winter lights show against the backdrop of Mammoth's ski slopes. Guests of all ages are invited to ride the complimentary Village Gondola to Canyon Lodge where they can enjoy a fun-filled night complete with a firework show, torchlight parade, live music and more. Prior to the event, visitors can get in some holiday shopping in The Village, with an atmosphere more relaxed than the standard city mall.
Mammoth Lakes Yosemite airport is located just 15 minutes from Mammoth Mountain Resort. Complimentary airport shuttles are available to all guests who book their stay at www.Mammothmountain.com or through 800.MAMMOTH.