Big Sky, MT – It didn't take us long at Big Sky to ask ourselves, "Where is everybody?"
It was a Sunday in February on a non-holiday weekend, with a brilliant blue sky and temps in the mid-30s. All the chairlifts were running and most of the trails were open. But at times it seemed like we had the place to ourselves.
That's the beauty of Big Sky. One may be tempted to call Big Sky "undiscovered," but that would be a stretch. It is, after all, one of the nation's great destination ski resorts. It's just that most skiers don't make it their destination.
It's true that Bozeman, Mont., the nearest city to the resort, is not easy to get to (my flight from Albany, N.Y. took eight hours and required stops in both Washington and Denver). But Jackson Hole and Aspen are not exactly airport hubs either, and they're both skier darlings.
A look at skier visits paints a picture of Big Sky's quietude. Vail's biggest year got a whopping 1.75 million skier visits, according to news reports. Breckenridge got 1.6 million, Whistler Backcomb just under two million, Killington 640,000 and Jackson Hole 485,000.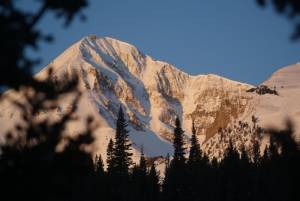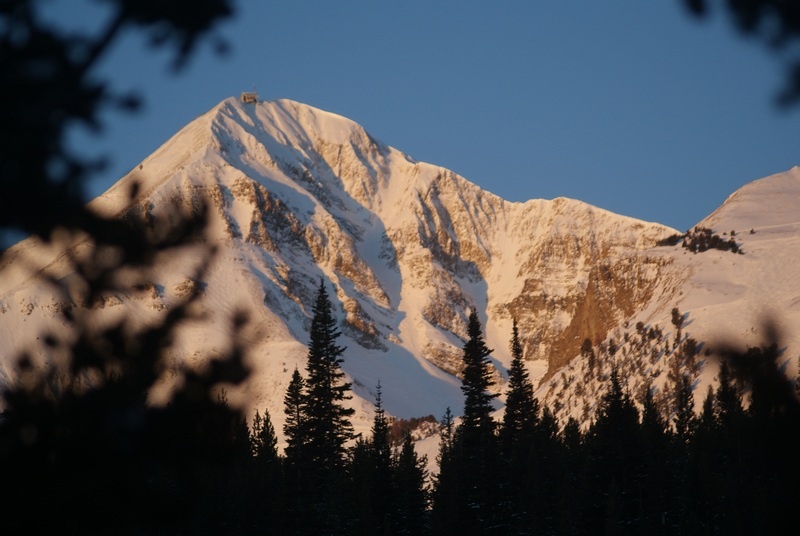 Big Sky, in contrast, got 340,000 skier visits last year, its most successful. Imagine all the visitors to Telluride in a place as big as Vail, and you get an idea just how empty this place is. At the very least, you don't have to worry about lift lines.
My friend Mike and I had four days to ski both Big Sky and adjacent Moonlight Basin to explore the answer to why Montana doesn't get the crowds. We never did figure it out, but we sure had a good time not doing so.
* * *
I met Mike, who lives in Connecticut, at the Bozeman airport. He had arrived before me, and when I found him in the parking lot he was standing proudly next to a shiny black SUV. We had ordered an intermediate-sized sedan, but somehow he had gotten us a free upgrade.
SUVs are great for ski vacations because you're almost guaranteed to get up the hill in the event of a snowstorm. This, however, would not be an issue for us — Big Sky hadn't had seen any new snow for more than a week, and there was nothing but sunny skies in our immediate future.
It's only an hour's drive from the airport south along Highway 191 , paralleling what is considered to be one of the nation's best fly-fishing streams, before the turn-off and long climb up the hill to the Big Sky base. We had two nights booked in the Huntley Lodge ($169 to $400 per night). This is a well-appointed and charming hotel, where the bellhops wear dusters and cowboy hats and there's a giant bronze sculpture of a bear in the lobby. The rooms were generously proportioned and offered such good views of Lone Peak from the window I was afraid lights from the grooming machines might keep me up at night.
Our first order of business the next morning was breakfast. The hotel offers a $17 buffet that turned out to be one of the best deals of our trip — we stuffed ourselves on several types of scrambled eggs, fruit, pancakes, sausage and myriad other dishes, then made ourselves PB&Js for later (although generally removing food from buffets is frowned upon, no one seemed to mind). This took care of both breakfast and lunch.
Another thing you'll find in Montana is incredibly friendly service. Like the chipper, young hotel employee I met at the breakfast buffet.
"What time do the lifts open?" I asked him.
"9 a.m.," he answered, quickly adding, "Are there any other questions I can answer for you? I love talking about the mountain."
"Where's the bathroom?"
As we finished topping off our stomach, I glanced out toward the lifts. Skiers in two and threes were walking across the snow, heading toward the quads, but on this weekend morning thus far there wasn't a line to be seen.
And so, our ski jackets bulging slightly from both stomach and sandwich, we grabbed our skis from the free valet and headed out toward the slopes.
* * *
Big Sky is pure Montana. Built by former NBC News Anchor Chet Huntley, a Montana native, it opened in 1973 and pretty much never stopped growing. Today, it's large enough that you just can't see everything in one day. Even the trail map requires two full sides.
We started on the Swift Current High Speed Quad, which brought us clear to timberline. The front section of the mountain offers a combination of fun blues and a couple of blacks.
Intermediate skiers have loads of options on this mountain. And when you're done cruising the front trails, it's time to explore.
Head to skiers' right and you can ride a variety of easy blacks, some groomed and some not, or jump into a wide selection of glades. Even further right is the Dakota Lift, so far from the village that it feels like it's in a different state. From here, you can peer into several private ski areas, including the infamous Yellowstone Club.
But don't be jealous. Dakota seemed like a private resort all its own — I didn't see a soul the whole time I was there, except for the liftie. Head all the way over for a wild ride under a huge series of cliffs that mark the resort's boundary.
Meanwhile, ski in the other direction from the top of Swift Current, and you work your way over to the base below Big Sky's spindly summit, and the amazing Lone Peak Tram.
This 1,450 vertical-foot round tram whisks skiers to the 11,000-foot summit in three minutes. Built in 1995, it was one of those "It can't be done!" sort of lifts, and completely changed what the world thought about Big Sky. The tram opened up terrain that previous was available only to the hearty ski-hiker — dozens of hair-raising chutes and bowls, including the resort's signature run, Big Couloir.
Big Couloir is a narrow chute that leaves right from the top. Even walking to this spot requires care — you have to negotiate a rocky knife-edge with heart-palpitating drops. The couloir itself is only a few ski lengths wide at the top, has a fair amount of rocks and has 1,600 feet of exposure to the bottom, with a don't-miss-it-or-you'll-die elbow about a third of the way down. Skiers are required to have a partners and carry an avalanche beacon.
Resort spokesman Chad Jones entertained me with a story about how his predecessor once led a ski magazine writer down the route, only to fail at the first turn. His 1,600-foot tumble did not result in physical injury, but his pride certainly took a scraping — especially since the reporter led with the incident in the subsequent article.
Thankfully, the route was closed when we were there, which was just as well, since I wasn't sure I wanted to take my life in my hands.
* * *
Mike and I were at Big Sky during the winter of 2011-12, which was one of the most snowless ski winters in memory. Of course, the winter before was one of the best in modern memory, and the locals were still talking about its sheer epic-ness. Still, despite the thin conditions this year, the snow was still pretty good, especially off the summit. I stuck to the more popular bowls, forsaking the intimidating A-Z Chutes for the popular and less-intimidating steeps off the front face.
I once braved the double-black Lenin/Marx gullies. It was steep enough to get me sweating, and a fall would have dropped me into a nasty-looking rock bottleneck. But I aced the soft snow and made it back to the tram to have another go.
With the mind-blowing skiing and the views to match, it's easy to lose half a day lapping the summit. But there was still way more to explore. Andesite Mountain (named for the nasty rocks that poked through the snow in many places, laying waste to my ski base) is worth a day all its own. Its cruisers of all levels lead all the way down to the floor of the valley, and has some of the best greens on the mountain.
On the other side, the experts-only Challenger lift brings skiers to the other end of the summit ridge. Even below treeline here, the skiing is still demanding. Mike lost an edge while skiing down a bumpy trail called Highway, and found himself ass-over-teakettling downhill like a truck jackknifing on black ice.
It took two of us to retrieve his lost equipment, but by the time we reached him he was smiling and uninjured (though that would be his last expert trail of the day).
* * *
Once skiing was over, our evenings at Big Sky were quiet affairs. This is no Summit County or Park City.
One night we watched the Super Bowl at a crowded bar in a building called Mountain Mall (based on the cheers, there were more Pats than Giants fans on the mountain). The burger was delicious.
Another evening we drove down the hill to find very reasonably priced and tasty pizza, served in the sort of sticky-tabled pizzeria one expects to find in a blue-collar neighborhood, not a world-class resort. No, I'm not complaining — it's nice to see that Big Sky hasn't been completely glitzed over like some resorts.
Still, it would be nice to find some good music in town. The best we could do was the Crazy Austrians, a trio of "musicians" that seemed more interested in crowd participation than playing actual songs. But they were amusing enough, and they certainly have an impressive horn — one of those 20-foot-long jobs from the cough drop commercials, which requires two people to hold and sounds like a dying yak.
After two days at Big Sky, we were sorry to leave. But we had an appointment to ski the mountain's newer next-door neighbor, Moonlight Basin.
* * *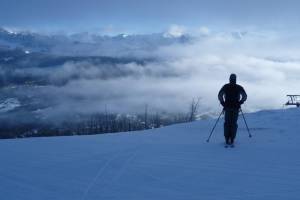 Moonlight is one of the nation's newest ski resorts, having opened in 2003. It shares the same mountain with Big Sky, and even some of the trails (there's no set border, and it's easy to cross into the other resort's terrain; presumably lift operators are reasonable about letting you ride back home).
It's a north-facing mountain that sees little direct sun, and on the day we were there it was bitterly cold, a painful contrast to Big Sky's warm southern exposure. The Basin has a mere five lifts, but one of them is the massive Six Shooter, which whisks you to treeline from the resort's diminutive base lodge.
If Big Sky seems undiscovered, Moonlight appears positively private, with a paltry 100,000 skier-visits per year to enjoy its isolated, twisting trails and never-ending tree runs.
The biggest drops are found in the North Summit, which is actually accessed through Big Sky's Lone Peak Tram (you need a combo pass, $98, as well as a partner and avalanche equipment is recommended). Other expert trails can be accessed by the Headwaters Chair, but given the temperature I decided to stay below treeline.
It warmed slightly by late morning, and Mike and I spent the day exploring the mountain. It was easy to meet up again at the bottom of each run, as most trails led back to the Madison Village, where you can buy a basic but tasty lunch in a lodge made from a giant tent.
My only complaint at Moonlight, aside from the temperature, was the layout of the mountain. To get to about half the trails, skiers have to ride Six Shooter, cruise a long traverse and ride the Lone Free lift. It's a tedious, time-sucking process to access some of the best runs on the mountain.
Another base lift to that side of the mountain would solve this problem. Moonlight officials say they have no plans for one at the moment, but given the relative youth of this resort it's easy to cut them some slack (one trail is even named "Future Lift Line," implying more chairs to come). I look forward to returning in a few years to see the "future terrain" promised on the ski map.
* * *
The best part of the mountain is the Moonlight Lodge, a magnificent stone and wood building that offers fine dining and a spa. Inside, the great room was designed around a huge, free-standing chimney with stuffed mountain goats and a fireplace on three sides.
We were staying in one of the lodge's cabins, which was only a few feet from a groomed run that led right to the mountain's base lodge. The cabins ($285 to $589 per night) are cowboy-chic, with rustic furnishings and a million-dollar view. But we eschewed the provided hot tub in favor of the one at Moonlight Lodge.
There, the posh, crescent-shaped tub sported waterfalls and a stone wall, as well as a view of the mountain in the darkening sky (and an unfortunate proximity to idling grooming machines). There, despite the exhaust fumes, we soaked away the soreness of the last three days and contemplated an important choice.
We had one day left to ski. Moonlight or Big Sky? It was difficult decision. But with not much else to do this night, we had plenty of time to think about it.
Statistics
Big Sky:
Elevation: 11,166 feet.
Vertical drop: 4,350 feet
Trails: more than 150
Snowfall: 400 inches
Terrain breakdown: 14 percent beginner, 26 percent intermediate, 40 percent advanced, 20 percent expert
Ticket price: $89 adult
Moonlight Basin:
Elevation: 11,166 feet
Vertical drop: 2,720 feet
Trails: 102
Snowfall: 400 inches
Terrain breakdown: 20 percent beginner, 21 percent intermediate, 33 percent advanced, 26 percent expert.
Ticket price: $66 adults