Big Bear Lake, CA – Over 40 top international snowboarders competed in the 10th Annual Hot Dawgz and Hand Rails on Saturday at Southern California's Bear Mountain. At stake: bragging rights, and $15,000-worth of cash prizes.
The men's first place winner, Tommy Gesme, took home top honors and $10,000. Dillon Ojo finished second and took home $2,500, followed by Jordan Small who placed third and took home $1,000. Jaeger Bailey took home the best trick award, and $500, for his 50-50 hardway 270 transfer. Women's first place went to Melissa Evans, who was awarded $1,000. This was Evans' fourth win at Hot Dawgz and Hand Rails.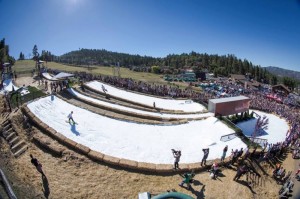 Both men and women's first place finishers and the best trick winner were presented with one-of-a-kind, customized iPad Minis. Provided courtesy of Fusion of Ideas, the iPad Minis displayed the digital checks and headshots of winners at the award ceremony. These winners also took home GoPro cameras customized by Fusion of Ideas.
Thousands of spectators watched as top jibbers showcased their talents and their craziest tricks on over 140 tons of man-made snow and urban-style steel features, which will be available for the public to ride in the Red Bull Plaza at Bear Mountain this winter season.
"This year's event was bigger and better than ever," said Clayton Shoemaker, Director of Park Development and Youth Marketing for Bear Mountain. "Hot Dawgz and Hand Rails is the ultimate winter kick-off party. If we can put on an event like this before winter even arrives, imagine what the park is like when the season hits."