Greenwood, ME – Building on an existing partnership, Maine's Mt. Abram announced today that it has hired Mountain Rider's Alliance (MRA) to manage the ski area in Greenwood, located just southeast of its much larger neighbor, Sunday River.  Led by General Manager Dave Scanlan, MRA personnel will fill other key positions of Mt. Abram's leadership team. 
"I'm very excited to lead the dedicated team of Mt. Abram employees into a new era of the mountain's fabled history," says Scanlan, co-founder and Project Manager of MRA. "I also look forward to integrating with the community and supporting the goals and ideals that will lead to a bright and prosperous future for all local residents and businesses."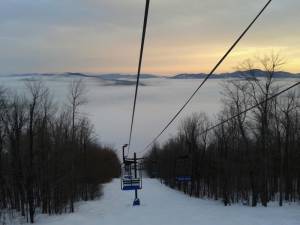 Mt. Abram and MRA, a group dedicated to creating environmentally conscious rider-owned ski areas, began working together during the 2011-12 season and members of MRA formed part of the management team last season. 
"We couldn't be more pleased with MRA's dedication to our mountain. We align with their values and look forward to a bright future," said Mt. Abram co-owners Rob Lally and Matt Hancock. 
Additionally, MRA has outlined a road map to convert Mt. Abram's ownership into one of its community-owned "Mountain Playgrounds". A co-op steering committee has been formed and the work has begun to create the new entity. 
"Building on a collaboration that began three years ago, we look forward to implementing new strategies, continuing Mt Abram's focus on environmental stewardship, and working towards the end goal of creating a new communal ownership structure that other similar soulful ski areas can follow,"  said MRA's CEO Jamie Schectman, who will serve as Mt Abram's Director of Marketing and Community Development.