Meribel, France – Deep in the Haute-Savoie lies the bucolic Tarentaise Valley, one of France's most stunning national parks and, for snow lovers, something akin to Mecca. Home to the legendary resorts of La Plagne, Les Arcs, Tignes and Val d'Isère, it also contains Les Trois Vallées, the largest ski area in the world, with almost 200 working lifts, capable of transporting over quarter of a million skiers per hour.
Now a multi-million dollar concern, the Three Valleys represents one of France's most enticing tourist draws. Just fifty years ago, however, it was a sleepy mountain outpost, just beginning to be discovered by intrepid skiers. Although once forested, the farmers eking a living from the mountainside felled thousands of trees over a period of seven centuries or more. What resulted were the wide open pistes, interspersed with hamlets of traditional slate-roofed buildings which set the foundation for a world-class ski area.
I first came here in the early 1990's on a university trip and immediately fell in love with the old world charm and great night life. Seven visits since then hasn't even dented the breadth of opportunities The Three Valleys have to offer.
Peter Lindsay discovers Meribel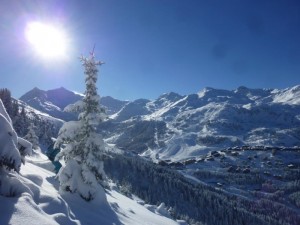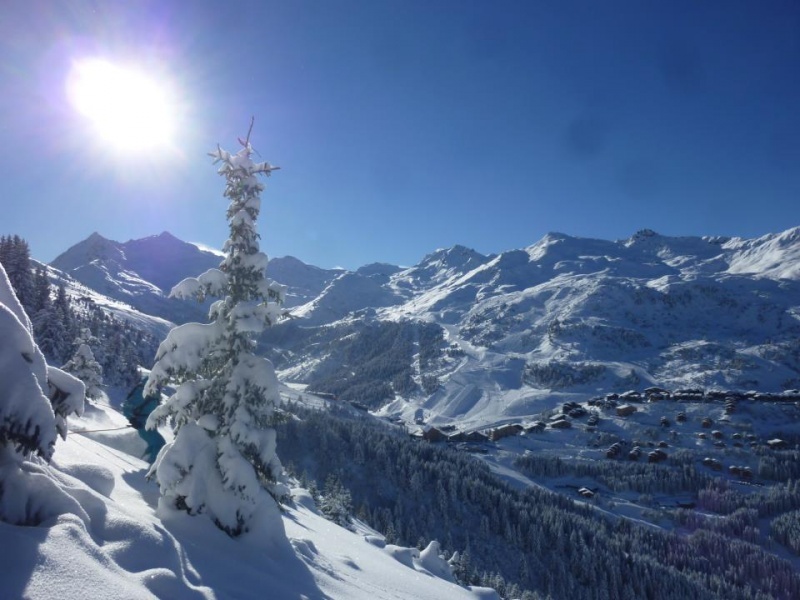 As the locals love to tell you over a beer, one of the first foreigners to discover Les Trois Vallées was a wandering Scotsman named Peter Lindsay in 1936. A passionate skier, Lindsay was taken on the epic 12km ski run Saulire to Bride, finding it one of the most superb wild skiing experiences of his life.
With the prospect of war looming, skiing in German Bavaria or Austria was becoming less and less appealing: Lindsay decided at once he had found the perfect solution, and set about raising funds to develop the stunning region he'd discovered. Within a few years, the world's first lift was in operation: basically a motorized tractor dragging a giant sled up the mountain.
Lindsay would spend the rest of his life building Meribel into a world class location, always with an eye to retaining the traditional ambience. These days Lindsay's son David retains a close relationship with the resort and leads groups here himself from time to time.
Modern Meribel
Now much expanded and a bustling resort year round, Meribel is now the generic term for three areas: Méribel Les Allues, Méribel-Mottaret and Méribel Village. Though most popular with British skiers, making up an estimated 40% of the total visitors, it retains a
distinctly Savoyard feel about it, with a thriving local patois, and authentic regional cuisine.
The mountain architecture relies on stone, timber and the sloping slate roofs which inhibit too much snow build up. Most of this has been retained and, even the modern purpose-built chalets generally conform to the local style, giving the resort a typically French mountain charm about it. For me, this is was always one of the things which has made Meribel stand out: it offers a genuine cultural experience which many of today's concrete and glass resorts overlook in their quest for efficiency.
Despite the British influence, Meribel will always be distinctly Savoyard, too, which I love! One of the staff in the bakery gave me a Savoyard lesson one day: this local dialect has marked differences to French it seems, including – much like the Eskimos – a number of extra words for snow.
Where to Stay
At 1450 meters (4,757 feet), Mottaret offers the highest accommodation in Meribel, and has become popular with serious skiers intent on skiing back to their front door even at the ends of the season. In close proximity to the awesome Combe Saulire piste, it's also close to a nice grouping of red and blue runs beyond the Roc de Tougne which makes it my place of choice.
Meribel Centre, particularly the lower half, is the preferred location of night-owls and party animals, for whom the resorts bar and club scene offers a perfect counterpart to the white stuff. It's recently become the home of the resort's first genuine luxury hotel, too: La Kaila offers 42 rooms, a world-clas spa and a gourmet restaurant.
Families and budget skiers tend to be congregate in Meribel Village, where there's a congenial atmosphere and well-priced chalets. The lower elevation of 1400m (4,953 feet) mean skiing home becomes a little more tricky beyond March, but that's a small price to pay for a fantastic bakery, some great bars, and the proper local atmosphere.
The skiing
Beginners: Take the Morel Chair from Altiport 1600 if you're a beginner: you'll find a range of undulating green slopes perfect for practicing those snow ploughs. Rond Point is another spot for beginners, with some lovely cruising blues favored by the ski schools.
Intermediates: The Three Valleys, easily accessed in its entirety by the combo lift pass, offers what most agree is the best intermediate skiing area in the world, with over 100 red runs to choose from. Close to Meribel, our advice is to ski the Tougnète (2434m) side first thing in the morning: it catches the early sun so it's warm first thing during the colder months and, towards the season's end, less icy. Higher up the La Face run, which was the women's Olympic downhill course in '92 offers a superb crisp descent. Other favorites, including a bit of off-piste if that's something you're learning, are the run under the Adret Chairlift which is unbeatable in fresh powder, and the Mauduit – named after local legend Georges Mauduit – which is a red, verging on a black that will have you whooping with delight.
Experts: For the truly gun skier, Meribel isn't as good a fit as some other places, but nevertheless there are some exciting options to keep most skiers happy. Hopping the Mont du Vallon gondola takes you to just under 3,000 meters, from where the Combe Vallon piste offers a thrilling descent of 1,000 vertical meters. North facing, it retains its snow pretty much all season, and the twists and turns of this piste have caused many a top skier to stop for a breather halfway down. Another recommendation, worth getting up early for if it's snowing when you go to bed, is the the "Les Bosses" black run directly under the Plan de L'Homme chair lift. Les Bosses is what the French call moguls, so this one can be fast and furious.
My insiders Tips
This far in to my love affair with Meribel, I've discovered a few spots which are worth sharing.
Snacks: Staying in Mottaret generally, it didn't take me long to discover a little hole-in-the-wall cafe inside the mini mall, whose Raclette (local cheese) sandwiches topped with gherkins and hot sauce are one of the best things you could ever eat, particularly welcome after a morning ripping it up in some fresh powder. Not bad for 6 euros.
Dog Sledding: You might think this is something to save for your trip to the North Pole, but Meribel might save you the wait. Especially if travelling with kids, who might be tired by too much time on skis, learning how to dog sled can be a lot of fun: the Savoyard dogs are perfectly adapated to the terrain here.
Avoid the French School Holidays: No offense to our hosts, I'm sure their children are quite lovely, but the slopes can get a bit hectic during these periods! My advice, to ensure your annual trip is as chilled as possible, is to check the web for the dates and book accordingly!