Park City, UT – Entering its 19th season, the Sprint U.S. Grand Prix has a long legacy of creating Olympic freeskiing and snowboarding champions. This year many of them will return to compete on the 2014-15 tour, including 2014 Olympic champions Maddie Bowman, Joss Christensen, Kaitlyn Farrington, David Wise and Sage Kotsenburg.
Over $400,000 in prize money will be awarded at the three Grand Prix tour stops. The season opener will be held at Colorado's Copper Mountain Resort. California's Mammoth Mountain will host stop number two and Utah's Park City Mountain Resort will host the tour finale.
"The success of the Grand Prix over 19 years has been based in great part on having the support of key resorts. Copper, Mammoth and Park City are all classic Grand Prix venues that provide domestic training and competition opportunities for U.S. snowboarders and freeskiers," says Grand Prix Tour Director, Eric Webster. "This support has lead to a tradition of success for U.S. athletes at elite and Olympic levels."
A stalwart early season stop on the Sprint U.S. Grand Prix for the past four seasons, Copper Mountain will kick off the 2014-15 season for both halfpipe skiing and snowboarding Dec. 3-6. Copper will be a standalone halfpipe event for both sports, welcoming back to competition 2014 Olympic medalists Farrington, Kelly Clark, Wise, and Bowman. The freeskiing events at Copper will be FIS World Cup and AFP Platinum level. The snowboarding event at Copper will be co-sanctioned as both FIS World Cup and TTR World Snowboard International Level competition. The halfpipe competition will be held on Copper Mountain's Main Vein, boasting the first 22-foot halfpipe to open in the 2015 season.
An iconic tour stop on the Sprint U.S. Grand Prix since its inaugural season, Mammoth Mountain returns again to host halfpipe and slopestyle skiing and snowboarding Feb. 4-7. The snowboard event at Mammoth will be a qualified competition on the World Snowboard Tour Pro Series that features the top tier of elite level snowboarding events globally. The freeskiing events at Mammoth will be an AFP Platinum level. Mammoth's Unbound halfpipe and slopestyle course each have a long Grand Prix history and served as the naming site for both the 1998 and 2014 U.S. Olympic snowboarding teams.
"The Grand Prix has hosted some of the most premiere events in snowboarding and I'm looking forward to another great year," says Clark, a three-time Olympic medalist in halfpipe snowboarding. "I'm especially excited for the Mammoth Mountain stop – it's my hometown and being in the middle of the season everyone will be in good form and it should make for a great event."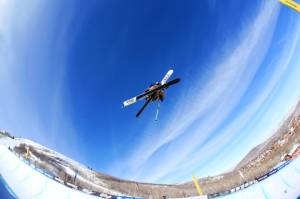 The site of the famous 2002 Olympic men's halfpipe snowboarding sweep, ParkCity returns to host the final event of the Sprint U.S. Grand Prix season Feb. 25-March 1, with television coverage including live broadcast of the Visa U.S. Freeskiing Grand Prix halfpipe finals. This year's event will be the first time Park City Mountain Resort will host Grand Prix halfpipe and slopestyle skiing and snowboarding, and it will preview the Utah resort's facilities that will play host to the 2019 FIS World Championships in freestyle, freesking and snowboarding. The freeskiing events at Park City will be FIS World Cup and AFP Platinum level. Snowboarding events will be FIS World Cup and World Snowboard Tour International Level. The halfpipe will be held in the legendary Eagle Superpipe, site of the Olympic Winter Games and the final Olympic qualification event to determine the 2014 Olympic freeskiing team.
"I'm really stoked for the Grand Prix this season. With both slopestyle stops being at Mammoth and Park City I think they're going to be really good contests," says Christensen, the 2014 Olympic champion in slopestyle skiiing. "Both resorts have amazing parks so it will be awesome to see how it goes!"
Each stop on the Sprint U.S. Grand Prix will be broadcast on NBC and NBCSN television, as well as Universal Sports Network.
2014-15 SPRINT U.S. GRAND PRIX TOUR
Copper Mountain, Dec. 3-6, 2014 (Grand Prix Tour Opener)
Sprint U.S. Snowboarding Grand Prix – Halfpipe * **
Visa U.S. Freeskiing Grand Prix – Halfpipe * **
Dec. 5 – Halfpipe skiing finals* **
Dec. 6 – Halfpipe snowboarding finals * **
Mammoth Mountain, CA, Feb. 4-7, 2015
Sprint U.S. Snowboarding Grand Prix – Paul Mitchell Halfpipe, Sprint Slopestyle
Visa U.S. Freeskiing Grand Prix – Paul Mitchell Halfpipe and Slopestyle
Feb. 6 – Slopestyle snowboarding finals ***
Feb. 6 – Halfpipe skiing finals **
Feb. 7 – Halfpipe snowboarding finals ***
Feb. 7 – Slopestyle skiing finals **
Park City Mountain Resort, UT, Feb. 25-28, 2015
Sprint U.S. Snowboarding Grand Prix – Halfpipe and Paul Mitchell Slopestyle
Visa U.S. Freeskiing Grand Prix – Halfpipe and slopestyle
Feb. 27 – Slopestyle snowboarding finals * **
Feb. 27 – Slopestyle skiing finals * **
Feb. 28 – Halfpipe skiing finals * **
Mar. 1 – Halfpipe snowboarding finals * **
Sanctioning Key
* FIS World Cup
** AFP Platinum
** TTR World Snowboard Tour International
***TTR World Snowboard Tour Pro Series