N. Vancouver (BC), Canada – Mt. Washington Alpine Resort on Vancouver Island has extended complimentary skiing and snowboarding to Mt. Seymour season pass holders as officials at Mt. Seymour, located outside of Vancouver, await more snowfall.
The offer is effective immediately and is based on the operational status of Mt. Seymour's Mystery Peak Express quad chair, which first opened this season on January 5 before again shutting down. Once that lift is up and running once more, Mt. Washington's offer will expire with one week's notice.
"We are pleased to accept this kind offer from Mount Washington Alpine Resort and will extend the same offer to Mount Washington season pass holders in the event that they need to," commented Eddie Wood, General Manager and President of Mt. Seymour Resort. "We are as eager as all of our pass holders to receive additional snowfall, and hope that by offering complimentary skiing and snowboarding at Mount Washington Alpine Resort, our pass holders can continue to enjoy the snow."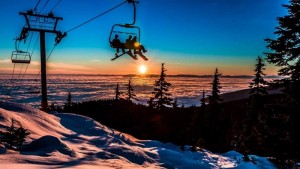 Don Sharpe, Director Business Operations and Marketing at Mount Washington Alpine Resort added, "We are pleased to offer this opportunity to Mt. Seymour Resort pass holders. We have been in the same situation and we understand that pass holders are avid skiers and boarders. Hopefully Mt. Seymour's guests can get a chance to experience the snow on the Island."
Mt. Seymour has received only 135.5cm (53 inches) of snowfall to date this season. Despite the dearth of natural snowfall and persistent warm January temperatures, Mt. Seymour's Goldie Meadows Learning Area, Bear Bowl, Rockstar Terrain Park, Mushroom Terrain Park and the Tobogganing Area all remain open.