Mt. Elbrus, Russia – Located in the western Caucasus Mountains near the border with Georgia, Mt. Elbrus is an 18,510-foot dormant volcano and Europe's highest peak.  This winter, it will also be home to Europe's highest aerial ski lift.
Not to be outdone by their Alpine counterparts, Russia is building the third and highest stage of a gondola that will top out at 3,847m (12,621 feet), eclipsing the famed Aiguille du Midi tram on Mont Blanc at Chamonix, France, by a mere seven feet. It will only be Europe's highest aerial lift, as the V2 surface lift on a glacier in Zermatt, Switzerland, reaches a lofty 12,850 feet.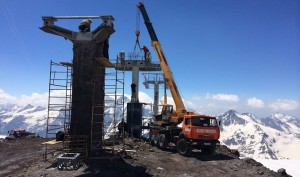 The Russian government awarded the project to OJSC Northern Caucasus Resorts, a colossal tourist project begun in 2010 to construct numerous mountain and seaside resorts to drive tourism in the country. Their goal is to build 228 updated ski lifts across the Caucasus region in a project valued at $15 billion.
It is hoped that tourism development in the region will quell terrorism by anti-Russian guerrillas, who in 2011 bombed and destroyed a gondola at the nearby ski resort of Baskan hours after opening fire on a mini-bus filled with tourists, killing three and injuring another three.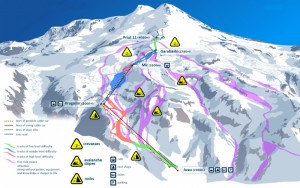 The $15 million USD third stage of the eight-passenger gondola being completed this fall will rise from the lift's current top Mir station (3,455m/11,335 feet) to the Garabashi station (3,847m/12,621 feet). The lift extension, manufactured by the French company POMA, will initially have an hourly capacity of 750 skiers and riders, to be later increased to 1,500 per hour once additional gondola cabins are installed on the line.
For those who want to sample the skiing action on Mt. Elbrus this winter, if the prospect of separatist guerrillas doesn't sufficiently dissuade you, the resort is located 160 km from the international airport at Mineralnye Vody and 70 km from the regional airport in Nalchik, the capital of Kabardino-Balkaria.