Salt Lake City, UT – For the start of this ski season, the continent remains split, with more resorts in the West announcing openings ahead of schedule while resorts in the East are having a hard time getting started.
That trend, evident over the past several weeks, is continuing with several more western resorts indicating that they'll open early. The latest to do so are Steamboat, Colo. and SilverStar, B.C., plus one Arizona ski area that gets a special shout-out for a remarkable opening. Meanwhile, the latest warm weather casualty to delay opening in the East is Stowe, Vt.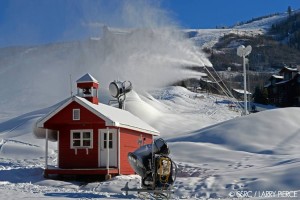 Thanks in part to 41 inches of snowfall season-to-date at mid-mountain,  Steamboat will offer a special preview weekend this Saturday and Sunday on its 1,100-vertical foot Christie Peak Express chairlift, from 8:30 a.m. to 4 p.m. each day. This will be the first early opening for Steamboat since 2002.
"We're excited to be opening ahead of schedule and couldn't think of a better way to usher in the new season for pass holders, guests and locals while celebrating all the early season powder," said Rob Perlman, president and chief operating officer for the Steamboat Ski & Resort Corp.
Lift tickets this weekend will be priced at $49. Daily operations at Steamboat will begin as scheduled on Nov. 25.
Up north in Canada, SilverStar will get the party started with a bonus weekend of its own this Saturday and Sunday with three chairlifts running, 25 runs open and half-price lift tickets.
"We are thrilled to offer our alpine passholders and guests this bonus weekend prior to the official start of our 2015-16 winter season," said Anne Haight, SilverStar's director of sales and marketing. "The entire SilverStar team has pulled together so skiers and boarders can enjoy first tracks this Saturday. The season is certainly shaping up to be a good one."
Many of the resort's food and beverage outlets will be open for the bonus weekend, including The Red Antler, SilverStar's newest restaurant and pub.
After the bonus weekend, SilverStar will close for three days and open on Thursday, Nov. 26 for full winter season daily operations.
Any time a resort opens with the majority of its terrain available, that's noteworthy — especially when that resort is in Arizona.
After picking up over three feet of snow in the past two weeks, including a foot on Monday, Arizona Snowbowl near Flagstaff will open this Friday, from 9 a.m. to 4 p.m. This will be the earliest opening for Arizona Snowbowl since 1979.
Snowbowl will start off with its Hart Prairie and Sunset chairlifts running, plus the Little Spruce conveyor, serving over 35% of the mountain. By Saturday, that will jump to over 80% of the mountain with the Agassiz chairlift open to the top.
Hart Prairie Lodge will be open Friday, and both Hart Prairie and Agassiz Lodge will be open daily starting Saturday, when Snowbowl will begin daily operations for the season. The resort's new Humprey's Peak Quad, its first new lift in three decades, is on schedule to open in mid-December.
The situation back east is less rosy, where warm weather has hampered snowmaking operations and delayed openings. The latest victim is Stowe Mountain Resort in Vermont, which announced yesterday that it won't open this weekend as originally planned.
With mild weather forecast for the rest of this week, Stowe officials threw in the towel. The resort's new scheduled opening date for the 2015-16 winter season is Wednesday, Nov. 25, weather permitting. The delayed opening also means that the pre-opening day event for 2015-16 season passholders will not take place, because as soon as Stowe can open, it'll be open for everyone.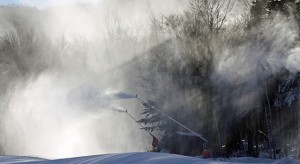 Stowe is making snow at every opportunity, and during a brief window of weather earlier this week they had the snow guns running from top-to-bottom on Upper Lord, Lord, Ridgeview, Lower Ridgeview, North Slope, Lower North Slope, and around the base area of the FourRunner Quad. The next big snowmaking opportunity will take place this weekend into early next week.