San Francisco, CA – With snow already blanketing mountaintops across the country, many resorts will be officially open by this week's Thanksgiving holiday. Online and mobile lift ticket marketplace Liftopia is giving skiers and boarders one more reason to celebrate: this Saturday, Sunday and Cyber Monday, everyone can register to win Liftopia gift credits, anywhere from $10 up to $250. 
"While many people will be online scouring the Internet for the best deals on everything from TVs to this year's chia pet equivalent, many of them would rather be out enjoying the snow," said Evan Reece, co-founder and CEO of Liftopia. "Our Cyber Monday Gnarbot giveaway gives everyone an excuse to plan that extra ski trip, guaranteeing everyone a gift credit that can be applied toward lift tickets for a holiday vacation or an adventure in the mountains anytime this winter."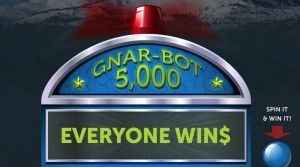 Between 12:01 a.m. MST this Saturday and 11:59 p.m. MST on Monday, visit gnarbot.liftopia.com, enter your email address and spin the "Gnar-Bot 5000" virtual slot machine for a guaranteed chance to win between $10 and $250 in Liftopia gift credits. Then check your email for the Liftopia gift credit code for the amount you've won. Gift credits may be used to purchase lift tickets at www.liftopia.com.
Liftopia offers skiers and boarders the ability to save on lift tickets all season long, with savings up to 85 percent compared to walk-up window rates when purchased in advance.  Some examples of savings on lift tickets for this winter where you can apply your Gnar-Bot winnings include: