Burlington, VT – Burton Snowboards has announced a new traveling snowboard tour called the Burton Qualifiers, an all-new contest series debuting this winter with seven stops throughout North America. This free series will be open to all riders with a $10,000 cash purse up for grabs, as well as the opportunity to win a spot to compete in the 2016 Burton Rail Days event to be held in Asia next fall.
Burton has partnered with seven resorts known for their ability to build some of the most epic parks. As hosts of the Burton Qualifiers these resorts will be stepping up their offerings with uniquely themed park builds that reflect the defining qualities of each individual resort. These seven exclusive courses will be built solely for Burton Qualifiers participants.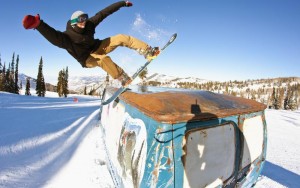 The Burton Qualifiers are open to 100 riders at each of the first six stops competing in two divisions — Open and 15 & Under. The format is jam style with riders in each division given an hour to impress the judges who will be scoring based on two categories: style and trick execution.
The top three riders in each division will take home a cash prize, with those top six riders earning a spot to compete at the final event at Pennsylvania's Seven Springs resort. The finals will include competitors from the six preliminary events battling it out for cash prizes and major bragging rights. Plus the top finisher in the Open category will also earn a spot to compete in the 2016 Burton Rail Days in Asia, which offers a chance at a $27,000 cash purse on the global stage.
"The Burton Qualifiers Series is going to be radical!" says Burton Brand Ambassador Alex Andrews. "I can't wait to see who gets some cash and a chance at Burton Rail Days. It's one event that's worth throwing down for, it's also a great way to shred with all your friends and see who's on fire that day."
Registration for each stop will take place from 9 to 11 a.m. on the day of the event. Participants should plan to arrive early as participation is capped at 100 riders per stop. More information is available at burtonqualifiers.com.
Burton Qualifiers Schedule
December 19th: Trollhaugen, WI; Theme – Whale Tails & Rails
January 2nd: Loon Mountain, NH; Theme – Log Splitters
January 9th: Northstar, CA; Theme – Bash At The Stash
January 23rd: Powder Mountain, UT; Theme – Mystery Hits
February 6th: Woodward Copper, CO; Theme – The Great American Camp Out
February 20th: Beaver Valley, ON (CAN); Theme – Beaver Valley Classic
March 26th: Seven Springs, PA; Theme – Settled At Seven